---
Summary
Changing the Billing panel password is vital for BisectHosting account security. The billing panel holds sensitive information, such as payments and personal data. Regular password changes help lower the chance of unauthorized entry, safeguarding personal and financial information. For more information on the Billing panel and how to access it, click here.

How to Change the Password for the BisectHosting Billing Panel
1. Log in to the BisectHosting Billing panel.

2. Under Account Settings, select Change Password.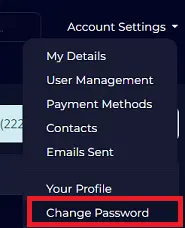 3. Fill in the Existing Password and New Password fields.




4. Click Save Changes.