Minecraft Servers
11+ YEARS OF MINECRAFT SERVER EXPERIENCE
We've been in the Minecraft server business for over 11 years, and we've used that time to create a best-in-class experience via our servers and our customer support team. Our Premium and Budget plans include a number of high-quality features that other Minecraft hosts charge extra for, so you can be sure you're making a sound investment when you choose BisectHosting.
Let our experts help you pick a plan!
OUR FEATURES
PORT 25565 ON PREMIUM SERVERS
We offer port 25565 on all of our Premium servers, completely free of charge. No need to add any extra port numbers to the end of your IP!
24/7/365 SUPPORT
We have
support teams
working across multiple time zones to ensure that you have support for your Minecraft server when you need it. Our average response time is under 15 minutes, so you can get back to playing right away!
DDOS PROTECTION
We include DDoS protection on all our servers free of charge, so there's no need to worry about players trying to take your server offline.
1,000+ SERVER MODPACK INSTALLS
We support all Minecraft server modpacks and versions that you can easily run on your server with one-click. On our Premium servers, you can switch whenever you want, free of charge.
NVME SSDS
We only use NVMe drives to ensure that your server—and its world—load as quickly as possible.
LOCATIONS AROUND THE WORLD
Our Premium Minecraft servers come with the option to host from one of 20 different locations, ensuring that you have the best latency possible wherever you want to play.
Easy to use control panel
We have a completely custom control panel, so you can easily manage your server.
seven DAYS OF BACKUPS
All of our Premium servers come with seven days of backups, plus three custom backup slots for regular backups. That's right—no more lost builds!
INSTANCE MANAGER
Want to run a modpack one day and switch to Vanilla Minecraft the next? You can easily shift between different modpacks and server types with our Instance Manager, allowing you to play different versions in seconds!
LET'S CONFIGURE YOUR PLAN
What version of Minecraft do you play?
PREMIUM VS BUDGET
WHAT'S THE DIFFERENCE?
| | | |
| --- | --- | --- |
| | | |
| | | |
| | | |
| | | |
| | | |
| | | |
| | | |
| | | |
| | | |
| | | |
| | | |
| | | |
| Server Monitoring Plug-in | | |
| | | |
| Automatic Modpack Installs | | |
| | | |
| | | |
| | | |
| | | |
| | | |
EASY TO MANAGE
Our custom control panel allows you to control all aspects of your server. With features like seven days of backups, instance management, 1-click modpack installation, and full console and file access, you can run your Minecraft servers with ease.
FRIENDLY AND PROFESSIONAL SUPPORT
Our support team is made up of Minecraft server experts, and they're more than happy to help you when and how you need it.
24/7/365 SUPPORT
Our team is located around the world, so you can get help any time, any day! That's how we keep our average response time to 15 minutes.
QUALIFIED STAFF
Our support team is truly ingrained in the Minecraft community—with over 150 years of combined Minecraft experience between them. No matter what issue you are having, they are always happy to help!
PERSONALIZED SUPPORT
There are no bots here. Our staff are 100% human and 100% ready to help with any server questions you may have.
Worldwide Server Hosting Locations
Click on a location for more detailed info.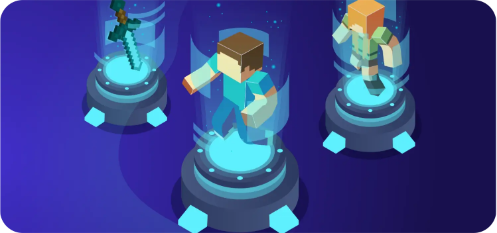 CHOOSE FROM 17+ SERVER LOCATIONS
We host our Premium Minecraft servers at 17 different locations and use the best datacenters. Choose the one closest to you for lower latency and better gameplay.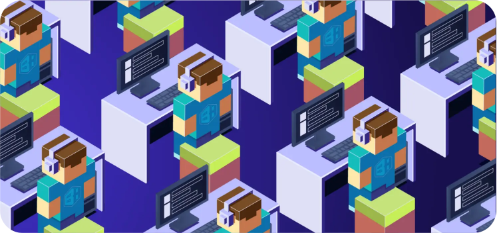 HIGHLY CUSTOM SERVER CONTROL PANEL
We have a fully custom control panel, allowing you to manage all aspects of your servers with us. Here's just a few notable features:
One-click Minecraft Modpack Installation

Instance manager

7 Day backups + Custom backups

Full File Access

Free Subdomains
SEE MORE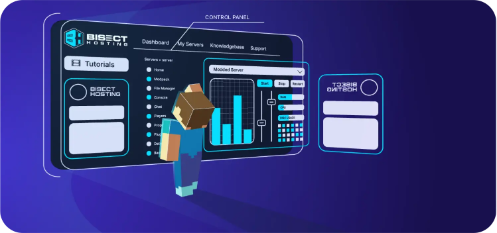 EXPLORE THE WORLD OF MINECRAFT WITH FRIENDS
Playing on Minecraft with your friends has never been easier! Get your server up and running with us in seconds and get playing with your friends, no matter where they are.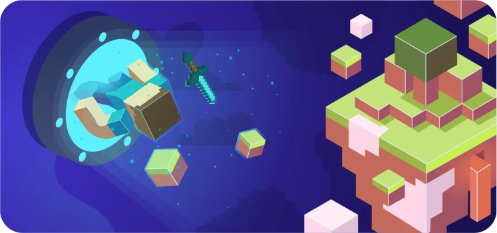 1,000+ MODPACKS
Want to play modded Minecraft? We offer over 1,000 modpacks that you can install on our one-click installer. From RLCraft to Vault Hunters, we have the most! If we don't have the modpack on our installer, we can get it installed for you in minutes through our
support
—or you have full access to your server to create a completely custom modpack with individual mods.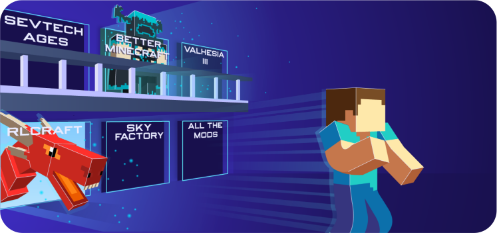 FAST, RELIABLE SERVERS
We use enterprise hardware, NVMe SSDs, and fast, low latency connections to ensure that your server runs optimally. With redundant network and DDoS protection, you can be sure that your server will be up and running when you want to play. Plus, our servers are all backed up seven days a week to ensure that your world and settings remain intact.
You've heard enough from us! Now see the reviews from our verified customers!
"The servers are amazing"
The servers are amazing, one of the best I have bought, a lots of options to make sure you get the right server you want and what you need to have fun with your friends or content if you do YouTube
"The best server host"
If you get confused about anything theres most likely a video prepared to help you on their website. If not their support team is insanely quick to answer and are extremely nice.
"So far it's been great"
So far so good. Fast support reply 24/7 and have patience per question, no matter how simple our question are.
Frequently Asked Questions
Click on each question for the answer.
DO SERVERS RUN 24/7?
CAN I CHANGE THE MODPACK RUNNING ON MY SERVER?
IS MY SERVER DDOS PROTECTED?
WHAT'S THE DIFFERENCE BETWEEN THE PREMIUM AND BUDGET PLANS?
HOW QUICKLY ARE SERVERS SET UP?
WHAT IS THE BEST MINECRAFT HOSTING PLAN TO CHOOSE?
LET US PICK THE PERFECT PLAN FOR YOU
Choose your hosting