Summary
Valheim+ is a popular mod for the survival game Valheim, which adds various new features, improvements, and tweaks to the base game. Valheim+ is currently experiencing a delay with updates; however, community members such as Grantapher have continued to release updated versions of the mod temporarily while the mod makers are on hiatus. This version is acquirable through github and functions the same as the original mod.


How to Install Valheim Plus Locally
1. Download the Thunderstore Mod Manager.




2. Open the Mod Manager and Search for Valheim; choose Select Game.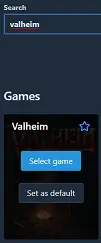 3. From the Get mods tab, Search for Valheim Plus. 4. Select the ValheimPlus_Grantapher_Temporary mod. 5. Choose the Download button.



6. Confirm to Download with dependencies. 7. The dependency download will include BepInEx if not installed. 8. Launch the game with the Start Modded button. ---
How to Install Valheim Plus on a Valheim Server
1. Go to the Grantapher (ValheimPlus) GitHub.

2. Scroll down and download the ValheimPlus.dll file.



3. Log in to the BisectHosting Games panel.

4. Stop the server.




5. Go to the Files tab.




6. Find the following directory: /home/container/BepInEx/plugins .




7. Choose the Upload button.




8. Select the ValheimPlus.dll file. 9. Start the server.




10. If everything is done correctly, valheim_plus.cfg will appear in the /home/container/BepInEx/config directory.