---
Summary
BDSX is a modified Minecraft Bedrock server version that supports node.js. It comes with all the features of vanilla Minecraft and offers additional functionalities, such as the ability to hook functions and packets to alter behaviors. BDSX is a powerful tool for server administrators, allowing for greater customization and control over the server's behavior and gameplay mechanics. Switching to BDSX is easy with a Bedrock Server package. Follow this step-by-step guide to start using BDSX for a Minecraft Bedrock Server.
| | |
| --- | --- |
| Note | Back up any files locally to not lose any necessary files. |

How to Install BDSX on a Minecraft Bedrock Server
1. Log in to the BisectHosting Games panel.

2.Stop the server.




3. Under Server Type, select BDSX from the dropdown menu.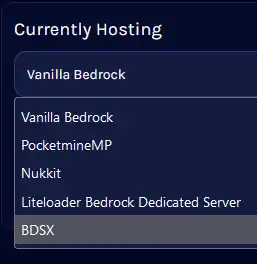 4. Select Delete current files and reinstall (Fresh Install) from the dropdown menu.




5. Click Change & Reinstall. This may take a few minutes.




6.Start the server.