 Other
Top 5 Things Your Minecraft Server Needs
For much of the Minecraft community - the game is best played with others in multiplayer, and so millions flock to Minecraft servers catered to how they want to play the game.
And while no Minecraft server is created equal - here's a list of 5 things your Minecraft server should have depending on how you want to play!
A Carefully Chosen Mod Pack
Minecraft multiplayer has one common drawback across the board - a lack of support for individual mods without support from the entire server.
With mods being able to change the Minecraft experience so drastically, making the right choices for your supported mods is very important to your Minecraft server.
This means that common quality of life mods you may use elsewhere may not be accessible on your favorite Minecraft server.
To improve your Minecraft server tremendously, spend a lot of time curating and carefully selecting a mod pack for it.
DON'T MISS IT: Minecraft 2020 Year in Review: The Biggest Moments of the Year
Whether your server is PVP intensive, PVE intensive, RP intensive or something else entirely - there are Minecraft mods catered to your playstyle. By curating a good list of Minecraft mods that improve your community's experience, you can really level up gameplay on your Minecraft server across the board.
A Good Minecraft Hosting Service
Minecraft servers are a difficult thing to handle on your own. When it comes to hosting, maintenance, updates and more, most Minecraft players are overwhelmed by the process of Minecraft server hosting.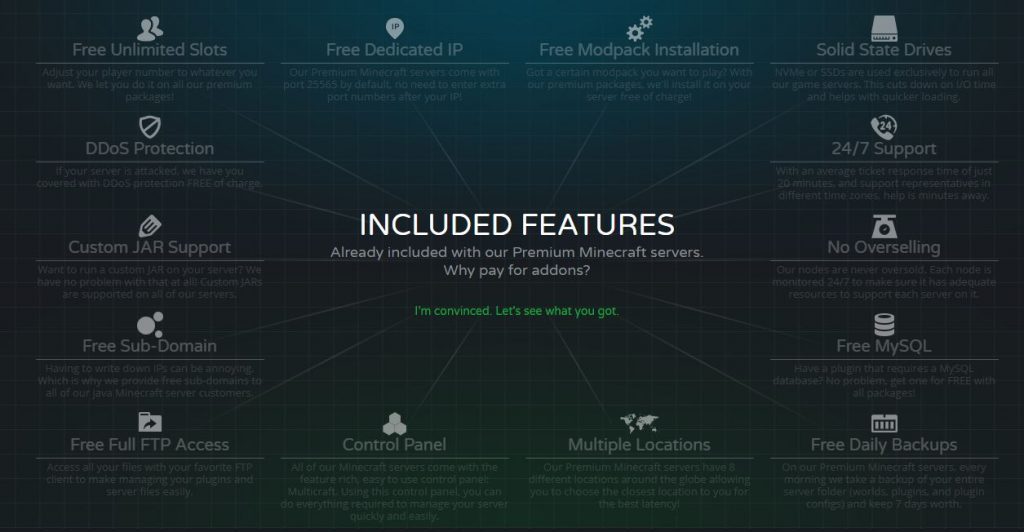 This is why, if you're looking to upgrade your Minecraft server experience, you'll want to look for a quality Minecraft hosting service to take control.
These services handle all of the logistics of your Minecraft server, offering affordable plans to take off the pressure of maintaining hardware, software, and everything in-between.
DON'T MISS IT: BisectHosting Evaluated on HostingAdvice.com
The global web hosting services market is expected to grow at a CAGR of 18% between 2020 and 2027. So it is important to select a reliable hosting service.
Here at Bisect Hosting we have plenty of options for Minecraft server hosting to cover all kinds of Minecraft communities and players, backed by a 4.7/5 star rating on review platform Trustpilot. Check out our plans here.
Quality of Life Server Plugins
Managing a Minecraft server is tough, and getting things where you want them is even tougher.
One way to help manage the load while expanding the possibilities of your Minecraft server are high quality Minecraft plugins.
There are many selections on the Minecraft plugins side that offer different utilities based on the needs of your community.
DON'T MISS IT: Minecraft VR: Platforms, Features, Graphics, How to Start & more
Some of the most popular plugins include Luckperms, Command Panels, and EssentialsX.
A Clear, Personalized Theme
Minecraft servers can be many different things for many different players - but to unite your playerbase, it's important to come up with a clear, coherent, and fitting theme for your server.
Whether this is to tilt gameplay more towards PVP, RP, creative building or something else entirely - this will give your Minecraft server an identity that players can take on.
DON'T MISS IT: The 5 Biggest MInecraft Youtubers in 2020
This can be accomplished with a little help from #1 in our list by choosing mods that go well together and help you move toward your theme.
An Effective Power Structure
Inevitably Minecraft servers will need some decision makers that can solve disputes and make improvements. This can be accomplished best with a clear power structure that lets players know who they can turn to for support whether it's with in-game issues on the technical side, questions, or disputes with other players.
Once you've settled who will be a part of your support framework, you'll want to make sure these players are available as often as possible to ensure that issues are solved in a timely manner. 
Nothing makes players leave a Minecraft server faster than running into game-breaking or experience-ruining issues without knowing how to solve them, or worse, the solution not being available at the time.
DON'T MISS IT: Minecraft RTX: Ray Tracing and its In-Game Progress
By taking care of these things before they come up, your Minecraft server can avoid plenty of problems in the future.
---
Looking to create your own gaming server? It only takes a few minutes.
You Might Also Like
---
Join our Discord!
---
20,000+ Members & Growing!
Join our
DISCORD
Start your Game server
Looking to create your own gaming server? It only takes a few minutes.
What do you think?
0 Responses
It's Okay
Perfect
Loved it!