 Other
Smalland: How to Get Flint, Locations, & Crafting Recipes
After starting off in
Smalland
, you will encounter some resource points that require a tool made from flint. Spending time around the area of your initial spawn point will tell you that this particular material is fairly difficult to find if you don't know where to look. So, continue reading as we tell you where to find flint in Smalland and how you can use this item to its fullest potential.
How to Get Flint In Smalland

Remember that you must have the appropriate tool to farm flint in
Smalland
. You need at least a Mandibular Pickaxe to gather this item from its resource points. Crafting the Mandibular Pickaxe requires Smalland players to gather the following materials:
1 x Bull Ant Mandible (dropped from a Bull Ant)
5 x Fiber (gathered from sprouts)
5 x Resin (typically found near giant tree branches and barks)
5 x Wood (gathered from twigs on the ground)
Perhaps the toughest material to obtain to craft the tool is the Bull Ant Mandible. Prepare yourself to battle one (or a few), especially if you're still wearing the beginner armor set. Once you have these materials, you can combine them on a Workbench to craft the Mandibular Pickaxe.
DON'T MISS IT: Minecraft Allay – All Known Details, Spawn Locations, & More
Smalland Flint Location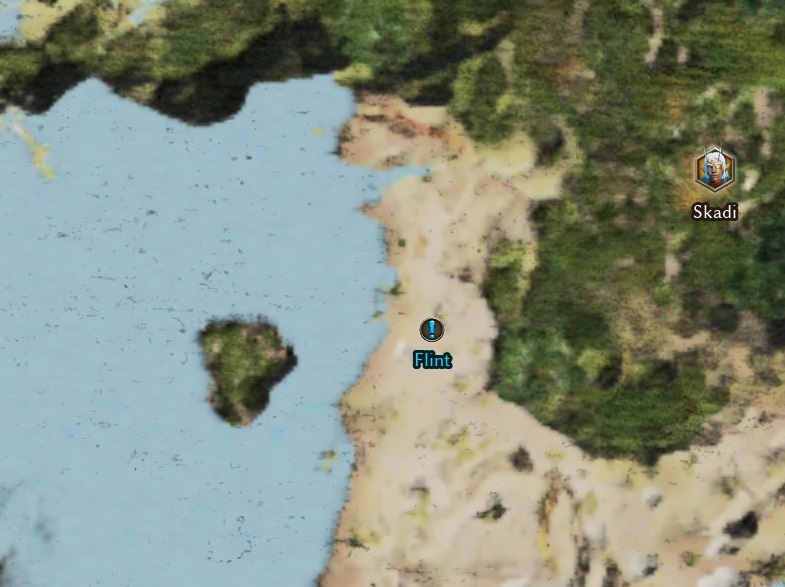 Flint is in abundance in the southern beach area. You can craft another Workbench nearby because you might need it to repair your Mandibular Pickaxe while gathering. Also, enemies like bees are patrolling this place. Watch out for buzzing sounds that seem to be closing in on you as you're gathering Flint.
Tip:
Exit the world and activate "Peaceful Mode" if you're having too much trouble with nearby enemies while gathering resources.
DON'T MISS IT: Project Zomboid Generators Guide: All Generator Locations and How to Use Them
Flint Crafting Recipes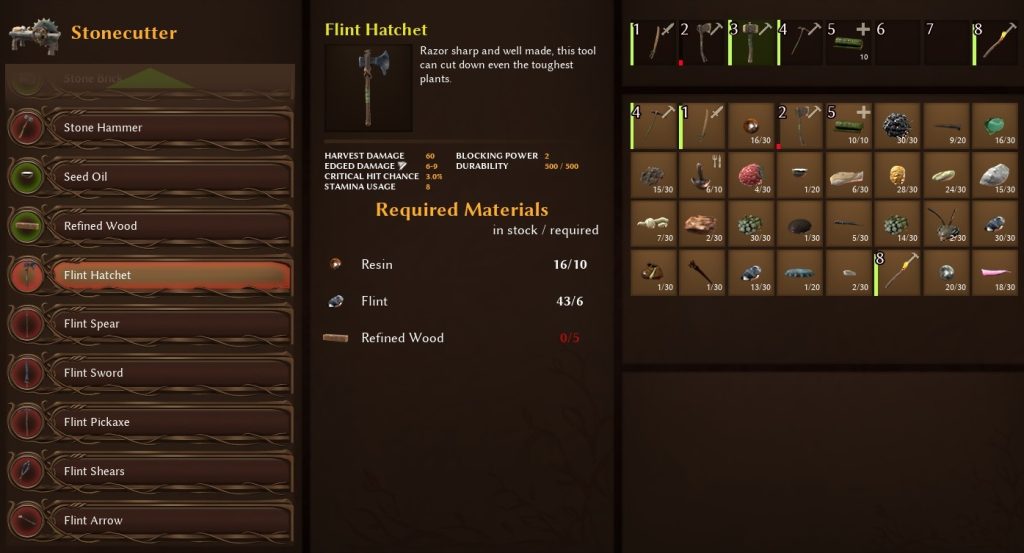 After gathering a sufficient amount of Flint in Smalland, you can use it to craft upgraded tools and weapons for your Vanguard. It's important to note that you also need to build a Stonecutter to make these items from Flint.
Flint Arrows: Needs 2x Wood, 2x Flint, and 2x Insect Fur
Flint Hatchet: Needs 10x Resin, 6x Flint, and 5x Refined Wood
Flint Pickaxe: Needs 5x Fiber, 5x Resin, 10x Flint, and 5x Refined Wood
Flint Shears: Needs 5x Fiber, 5x Resin, 8x Flint, and 5x Refined wood
Flint Spear: Needs  5x Fiber, 4x Resin, 8x Flint, and 4x Refined Wood
Flint Sword: 8x Resin, 10x Flint, and 4x Refined Wood
Additionally, you need to combine 10 Stone, 10 Wood, 1 Bottlecap, and 1 Screw to create the Stonecutter.
DON'T MISS IT: Sons of the Forest GPS Locators Guide: Locations, Requirements, & How to Use Them
---
Looking to create your own gaming server? It only takes a few minutes.
You Might Also Like
---
Join our Discord!
---
20,000+ Members & Growing!
Join our
DISCORD
Start your Game server
Looking to create your own gaming server? It only takes a few minutes.
What do you think?
0 Responses
It's Okay
Perfect
Loved it!