 Other
Smalland Achievements Guide: Every Achievement and How to Get Them
There are quite a few Smalland achievements available for players to complete, and thankfully they don't require extensive farming or grinding. This makes the game a perfect fit for casual and completionist players since they're within reach for virtually all players. With that, here are all of the Smalland: Survive the Wilds achievements available so far.
All Smalland Achievements and How to Get Them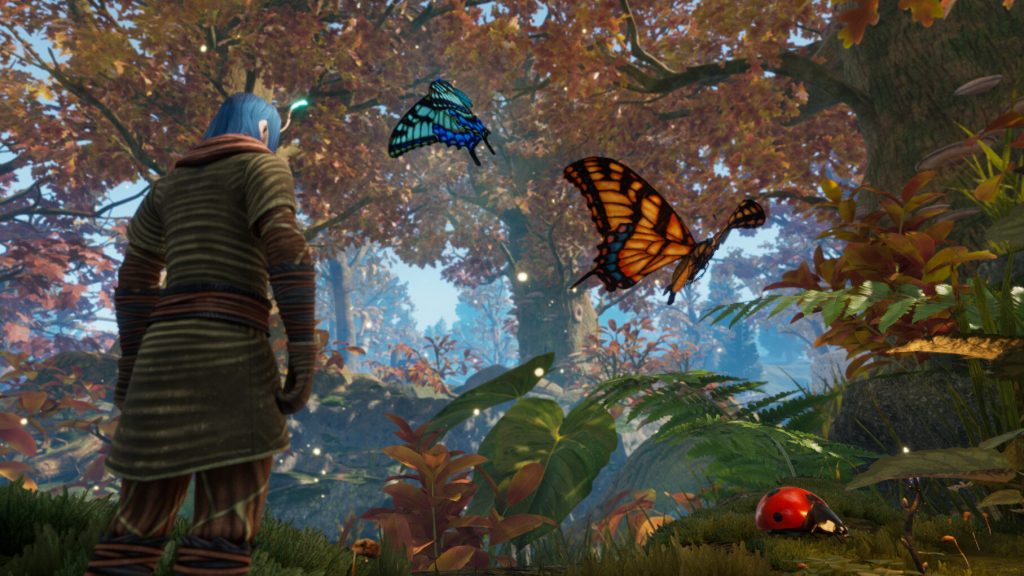 Safe!
Acquire this achievement when you climb a tree and claim it. To obtain this trophy, search for a large tree in the game. You'll know if you can climb a tree if it has mushroom pads growing on its trunk. Once you reach the top, you should find a gnome statue next to a hot air elevator. Interact with the statue and choose, "I want to claim this tree." The achievement should appear immediately on your screen once you confirm this setting.
Note:
If you're a
new player
, you may want to wait until you get the grappling hook before attempting this achievement.
Something Wicked
Find and interact with the hidden NPC
Tuhala
to obtain this achievement. You can find her on Mangrove Beach near the Ruins.
Note:
Tuhala can craft the Healer's Armor and will tell you the location of the Spider Matriarch boss.
Mastermind
Find
Nok
in Smalland to acquire this achievement. This NPC's location is at the Greylands, atop a house made of artifacts from the "
Giants
."
Note:
Nok can craft the Ironwing Armor, and she'll tell players the location of two bosses: the Black Hornet and King Stag Beetle.
Hang Time
Don the Ironwing Armor or the Regal Armor and glide for the first time. Then, this achievement should appear on your screen. Find and talk to
Drustana
if you want the Regal Armor set. Prepare the following items to craft each armor set piece:
Regal Mantle: 3x Bee Head, 3x Chitin, and 3x Textile Patch
Regal Plate: 10x Insect Wings, 12x Chitin, 6x Textile Patch, and 5x Herptile Leather
Regal Vambraces: 6x Chitin and 3x Textile Patch
Regal Greaves: 9x Chitin and 3x Textile Patch
If you want the Ironwing Armor set, go to
Nok
and give her the following items:
Ironwing Helmet: 3x Fiber, 1x Heavy Chitin, 2x Iron Ingot, and 2x Charcoal
Ironwing Breastplate: 6x Fiber, 3x Heavy Chitin, 3x Iron Ingot, 3x Insect Fur, 1x Sapphire Wings, and 2x Charcoal
Ironwing Vambraces: 3x Fiber, 1x Heavy Chitin, 2x Iron Ingot, and 2x Charcoal
Ironwing Greaves: 3x Fiber, 1x Heavy Chitin, 2x Iron Ingot, and 2x Charcoal
The Key
Defeat the game's final boss, the King Stag Beetle, to obtain the Clover Key. Then, return to the Elder's home and open the Walnut Chest with the key. Once opened, you can add this achievement to your Smalland trophy list.
Other Smalland Achievements
The following achievements are a bit more simple and most players will complete them without even trying:
One VERY small step: Meet the Elder
Getting some shuteye: Sleep in a bed
Stone Age: Collect stone
Forming bonds: Tame any creature
Metal Age: Collect a metal piece
Insect hunter: Collect chitin
Vertebrate hunter: Collect bones
Smooth as silk: Collect silk
---
Looking to create your own gaming server? It only takes a few minutes.
You Might Also Like
---
Join our Discord!
---
20,000+ Members & Growing!
Join our
DISCORD
Start your Game server
Looking to create your own gaming server? It only takes a few minutes.
What do you think?
0 Responses
It's Okay
Perfect
Loved it!