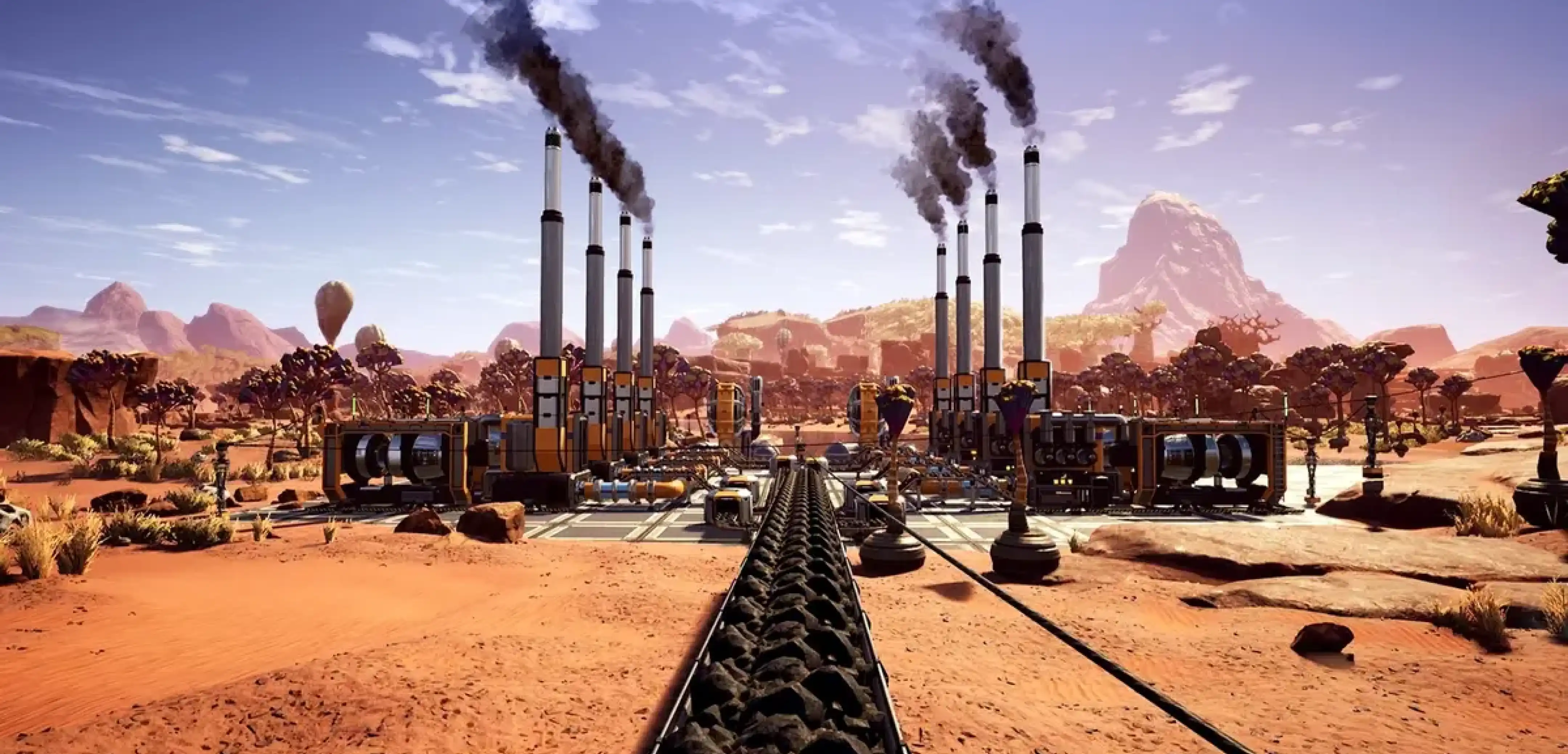 Satisfactory
What Is Satisfactory?
An alien planet, a secret mission, and a company to please. With such humble beginnings, get ready to industrialize a brand-new world and make it yours! Today we will be going over Satisfactory by Coffee Stain Studios, released March 19th, 2019. What makes this game critically acclaimed, how such a polished gem is still in early access, and why the $29.99 USD price tag is well worth the cost.
A Summary
Satisfactory is a factory simulation game that tells the story of an engineer sent to an alien world with the goal of completing project assembly. A project you can legally know nothing about! As the lone pioneer or with friends, fulfill your duties as proud employees of FICSIT Incorporated and ready this world for whatever is to come.
This includes first-person exploration of a vast open-world, fending off alien creepy crawlies, and most importantly, the creation of a factory to harvest and process the precious resources of this untapped star. From a single drop pod to planet-wide automation, create a factory and industrialize the landscape while meeting employee-mandated millstones along the way. The goal to eventually have the game play itself while technology of increasing complexity becomes available for research and use.
Key Features
First Person Open World
Satisfactory drops the player onto the alien world known as Massage-2(AB)b. Quite literally, in fact! The game starts with the player salvaging their drop pod to create the hub where your automated adventure truly begins.
Select from a variety of starting locations, each with its own benefits and demerits, before expanding across a vast 30km2 handcrafted world.
Construct & Automate
The main endeavor of Satisfactory is, as the title would suggest, to build a factory. Nature is yours to use as you see fit, factories for every need and purpose can be built across the world, and automation by your custom design is encouraged as new tiers of complexity come online.
It can not be emphasized enough that it is entirely up to you how this 3D world will be industrialized. Build high in the sky, create smaller outposts connected by trains, or create a mega-hub that rivals a city. Success is all your employer seeks.
Explore & Survey
This vast open world is yours to harness and command. Explore multiple biomes each with their own unique resources, discover the secrets hidden deep within, and enjoy the handcrafted beauty of Massage-2(AB)b. But beware the native wildlife, which may not be so willing to give it all up! While stated by the developers to not be the main focus, the first-person combat is by no means a second thought.
Worried about having to walk? Then worry not! Vehicles, jetpacks, and safety gear exist to aid on these expeditions.
Milestones & Tiers
With a large world and so much to build, the game offers milestones to keep the player on track. Avoiding any spoilers, completing milestones will progress the game, unlock new technologies, and add to the growing complexity of your industrial empire.
Co-Op
Players can join a friend's session directly but said friend must be online at all times for everyone to play. It is often a much better experience to have a Satisfactory server that allows connections at any time of the day. Officially up to four players are supported by Satisfactory, but server configs can be edited to allow more.
Satisfactory server hosting is offered here at BisectHosting and many other places around the web.
Early Access: Features Yet to Come
Released as an early access title on the Epic Store March 19th, 2019, and later on Steam, June 8th 2020, Satisfactory has seen consistent, high-quality updates proceeding well with its estimated release of 2022. However, many reviews can attest that Satisfactory already feels like a well-polished game ready for release. Its overwhelming positive reviews and nomination for "Best Relaxing Game" during the Steam Awards only attesting to that fact.
To quote their early access write-up, yet to be released are the following features:
"We are planning to at least add the following:
The rest of the FICSIT milestones and tiers
More machines, resources, vehicles, equipment and weapons
Lots of improvements on core gameplay, systems, UI/UX, Quality of Life
Iterate on world, exploration, landmarks, rewards and creatures
Full narrative
More optimization
Dedicated server support
Mod support
Controller support
Achievements"
Closing Thoughts on Satisfactory
The early access tag rightfully makes many players nervous, but Coffee Stain Studios has shown their dedication to Satisfactory with consistent updates. For those who may be concerned about the game's difficulty, many players in the reviews can attest that it is easy to pick up and very addicting. But if I may add my opinion, taking your time leads to the most fun. Be proud of any factory little or sky encompassing large.
Until Next Time,
BisectHosting =)
---
Looking to create your own gaming server? It only takes a few minutes.
You Might Also Like
---
Join our Discord!
---
20,000+ Members & Growing!
Join our
DISCORD
Start your Satisfactory server
Looking to create your own gaming server? It only takes a few minutes.
What do you think?
0 Responses
It's Okay
Perfect
Loved it!