 Other
What is Herobrine in Minecraft?
Minecraft has a long history, but brings in new players every day as one of the most innovative games of the last decade.
Along the way, many things have changed, and legends have come and gone.
One of these Minecraft legends is Herobrine. 
Here's the story of Herobrine, and what the character means to Minecraft.
Herobrine's History
Herobrine is an infamous character in the Minecraft community despite never actually appearing in the game.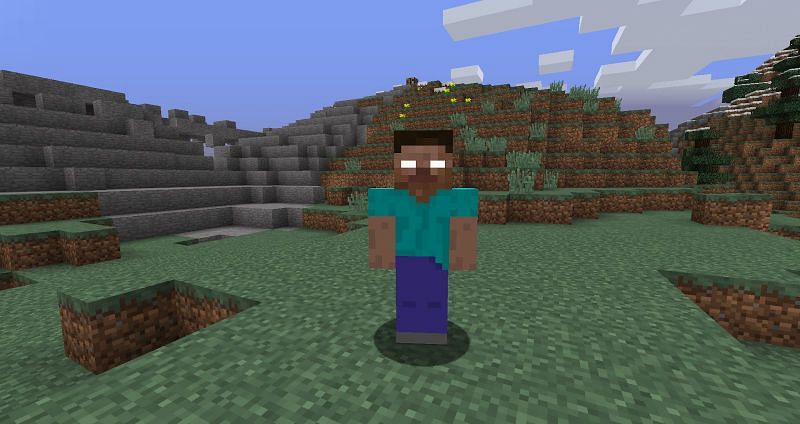 This is because Mojang has referenced the character plenty after his popularity rose from a horror story from the community.
In the stories, Herobrine would do devious, evil things to player's Minecraft worlds. Things like building random things and destroying areas with what seemed like creator powers.
Herobrine is the default Minecraft skin with white eyes, with a spooky look to match his backstory.
DON'T MISS IT: Minecraft Caves and Cliffs Part 2 Release Date
Herobrine Mods
While Herobrine may have never appeared in the official Minecraft game, he has been seen in plenty of Minecraft mods. 
Leading this pack is The Legend of Herobrine, which allows players to summon Herobrine into their world, but they'll then have to deal with the consequences.
Herobrine World Seed
The original world seed from Herobrine's first image was discovered last year in Minecraft. 
Fans will be disappointed to learn the infamous location doesn't actually feature the character, but it is the scenery Herobrine stands in his most infamous picture.
DON'T MISS IT: Minecraft Sonic the Hedgehog DLC Celebrates 30th Anniversary of Series
---
Looking to create your own gaming server? It only takes a few minutes.
You Might Also Like
---
Join our Discord!
---
20,000+ Members & Growing!
Join our
DISCORD
Start your Game server
Looking to create your own gaming server? It only takes a few minutes.
What do you think?
0 Responses
It's Okay
Perfect
Loved it!