 Other
How to Tame a Gecko in Smalland
Even apart from other Smallfolk, you don't have to be alone while exploring Smalland's map. You can tame different creatures to join you as companions, and one notable example is the Gecko. So, continue reading to learn how to tame a Gecko in Smalland.
How to Tame a Gecko in Smalland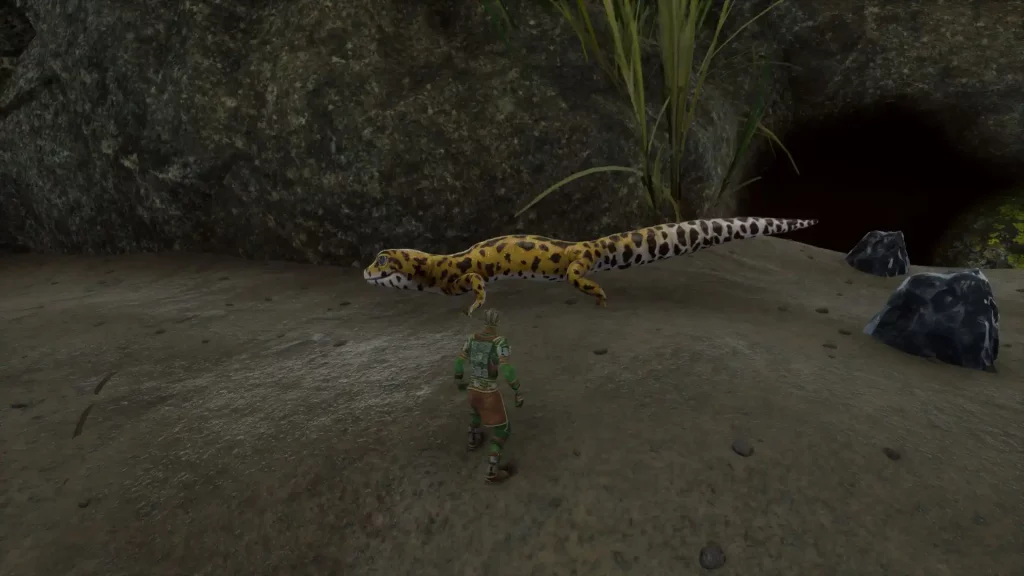 Taming Requirements
First, you must defeat the
Rhino Beetle
. Then, interact with
Skadi,
which you can find in a small hut between the
Beach
and the
Oak Forest
. Upon hearing of your victory, Skadi will give you the recipe for the
Gecko Treat
. Use the
Cauldron
to craft this Gecko taming item. The ingredients to make it are the following:
2x Ant Head
2x Bee Head
1x Petal
2x Seed Oil
You can find most ingredients from killing enemy creatures and cutting down plants. In particular, kill Bull Ants for the Ant Heads, defeat Bees to collect Bee Heads, and cut flowers like Poppies for Petals. However, you must use a
Stonecutter
to craft a
Seed Oil
. If you don't have this crafting station yet, build it using the following materials:
10x Stone
1x Bottlecap
1x Screw
10x Wood
With the Stonecutter placed, interact with it to craft Seed Oil. This time, you need
1x Seeds
to create
1x Seed Oil
from this crafting station.
How to Tame
Now that you have the Gecko Treat, your next step is to find a Gecko in Smalland. Although you can find this creature scattered across the map, you'll typically find it east of the Rhino Beetle. Next, attack the Gecko until it's below
50% health
. If you have the Gecko Treat, a
"Tame"
option should appear when its health is reasonably low. At this point, you only need to press "
F
," and you now have a newfound Gecko friend. Note: Players can now tame and keep more than one creature after
Patch #5
.
Uses for a Tamed Gecko
Aside from being an excellent mount, the Smalland Gecko is an excellent fighter. It has a reasonably
large health pool
and can
deal significant damage
to certain enemies, particularly Green Beetles. Also, Geckos can climb diagonal surfaces faster than other tamed mounts. Note: A tamed Gecko in Smalland gains experience when you bring it with you on excursions as of the
Forbidden Monuments update
.
---
Looking to create your own gaming server? It only takes a few minutes.
You Might Also Like
---
Join our Discord!
---
20,000+ Members & Growing!
Join our
DISCORD
Start your Game server
Looking to create your own gaming server? It only takes a few minutes.
What do you think?
0 Responses
It's Okay
Perfect
Loved it!