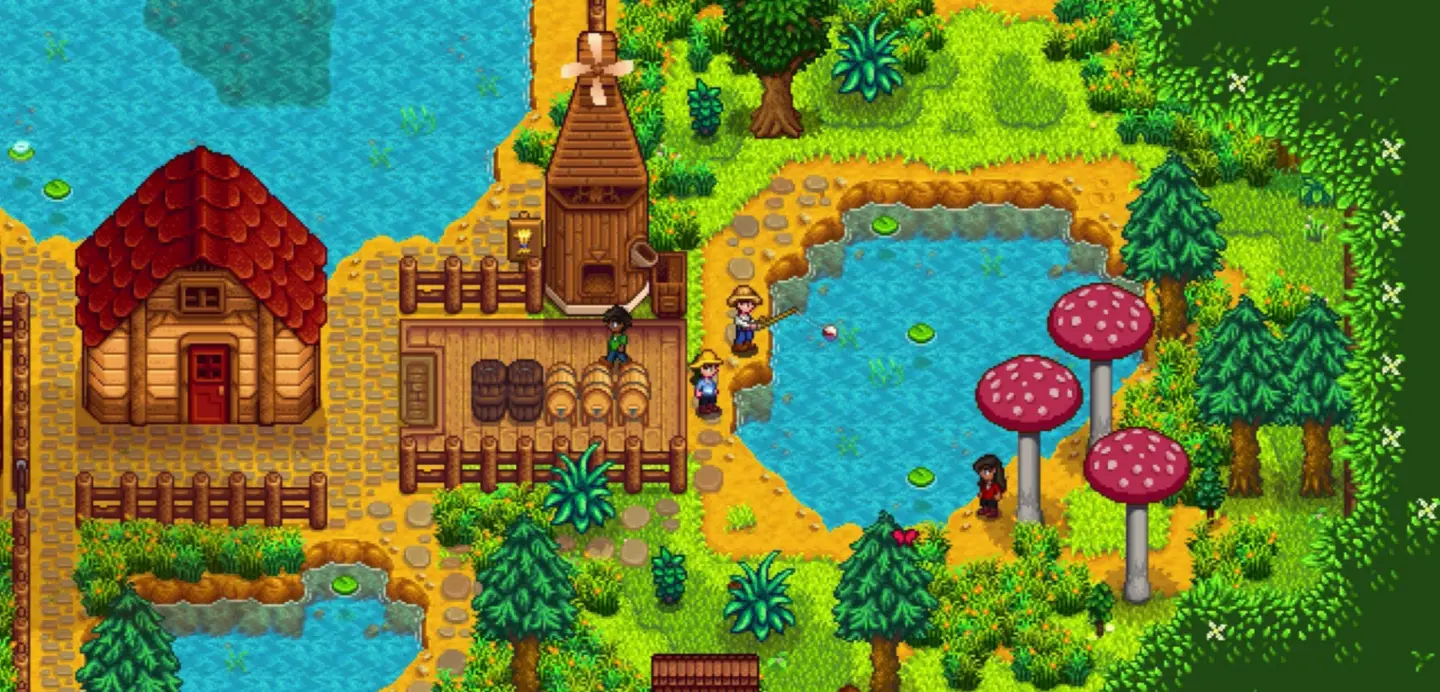 Stardew Valley
Stardew Valley Winter Season Guide: Crops, Events, & Ways to Make Money
Go outside your farmhouse on Winter 1, and you'll see the world of Stardew Valley covered in a fresh blanket of snow. Although it seems fun to let your character laze around and drink hot cocoa indoors, don't forget that you still have a farm to maintain. So, this guide will help you make the most out of Winter in Stardew Valley, despite the heavy limitations.
Things to Do During Winter in Stardew Valley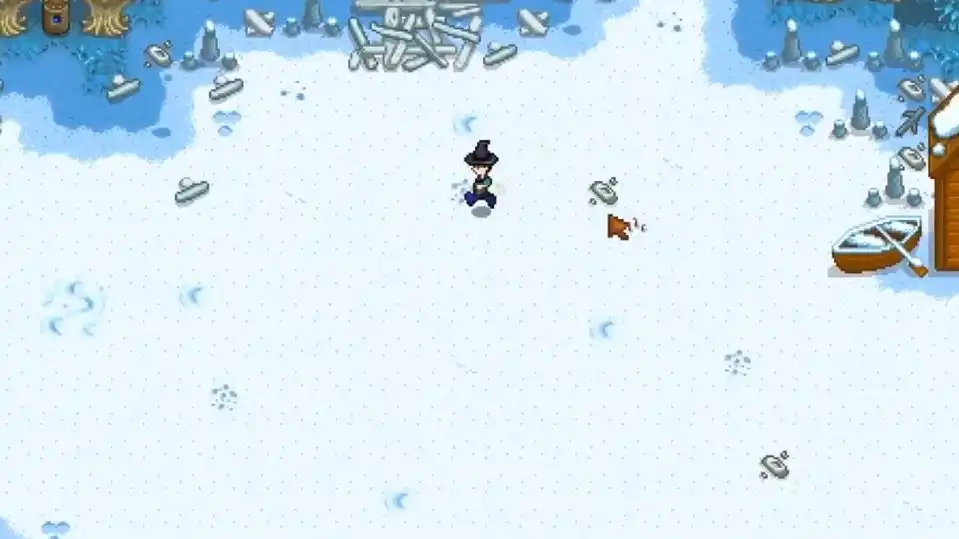 There's not much you can do during Winter in Stardew Valley. Still, it doesn't mean you're out of options to help increase your in-game income. For instance, you can still plant some crops, albeit they aren't as profitable as those from other seasons.
Winter Crops in Stardew Valley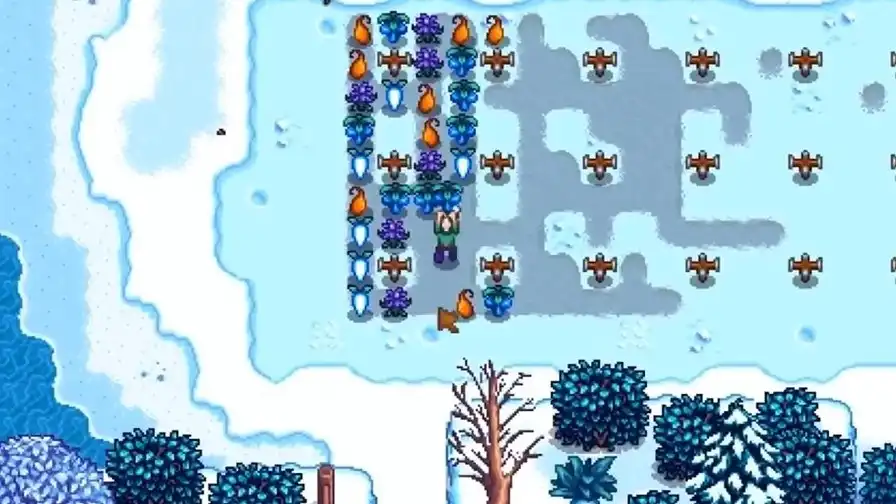 Note that you can't plant anything in Stardew Valley during Winter EXCEPT
Winter
and
Fiber Seeds
(introduced in
patch 1.5
). Plant Fiber Seeds to obtain Fiber. On the other hand, Winter Seeds can mature into Crocus, Snow Yan, Winter Root, or Crystal Fruit. Both Fiber and Winter Seeds will be ready for harvesting in seven days. However, both seeds don't have regrowth periods. Additionally, you can sell Fiber for one gold piece per piece. Otherwise, you can use it to craft various items, such as the Loom crafting station, Flute Blocks, and Scarecrow variants. As for the mature plants cultivated from Winter Seeds, the selling prices of these items are as follows:
Crocus Selling Prices
Regular: 60 gold pieces
Silver: 75 gold pieces
Gold: 90 gold pieces
Iridium: 120 gold pieces
Crystal Fruit Selling Prices
Regular: 150 gold pieces Silver: 187 gold pieces Gold: 225 gold pieces Iridium: 300 gold pieces
Snow Yam Selling Prices
Regular: 100 gold pieces
Silver: 125 gold pieces
Gold: 150 gold pieces
Iridium: 200 gold pieces
Winter Root Selling Prices
Regular: 70 gold pieces
Silver: 87 gold pieces
Gold: 105 gold pieces
Iridium: 140 gold pieces
Note
: All Winter crop selling prices increase by 10% with the Tiller profession.
Winter Events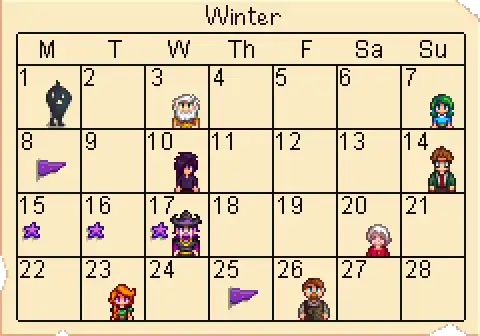 Winter in Stardew Valley has 12 events, unlike other seasons that only have 11. Here's a list of events to watch out for this particular season in the game.
Winter 1: Krobus' birthday
Winter 3: Linus' birthday
Winter 7: Caroline's birthday
Winter 8: Festival of Ice
Winter 10: Sebastian's birthday
Winter 14: Harvey's birthday
Winter 15 to 17: Night Market
Winter 17: Wizard's birthday
Winter 20: Evelyn's birthday
Winter 23: Leah's birthday
Winter 25: Feast of the Winter Star
Winter 26: Clint's birthday
Other Ways to Make Money in Stardew Valley During Winter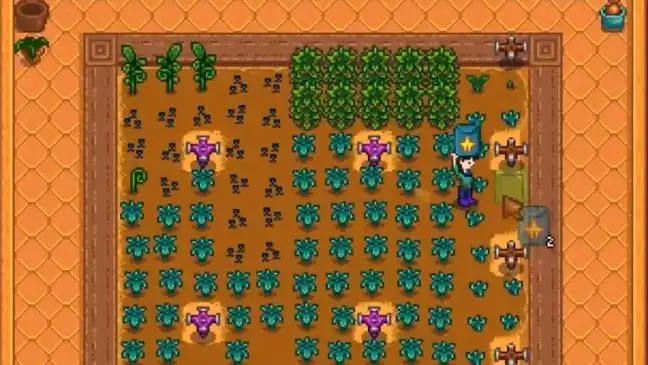 Despite the harshness of Winter in Stardew Valley, you don't have to rely significantly on planting crops to try and earn a profit during this season. Below are additional ways to increase your ROI while facing Stardew Valley's Winter.
Repair the Greenhouse. Doing so eliminates seasonal restrictions to planting different crops.
Unlock Ginger Island and start a new farm there. Here, you can plant additional crops, like Ginger, Banana, and Pineapple.
Build the Coop. Then, refine the eggs into mayonnaise jars for a higher profit than normal.
Build the Barn. Then, refine the resources produced by livestock, such as Milk, for a higher profit than normal.
Fish at the small island in the Mountain Lake. Certain fish, such as the Bullhead and Largemouth Bass, fetch a reasonably high price when sold.
---
Looking to create your own gaming server? It only takes a few minutes.
You Might Also Like
---
Join our Discord!
---
20,000+ Members & Growing!
Join our
DISCORD
Start your Stardew Valley server
Looking to create your own gaming server? It only takes a few minutes.
What do you think?
0 Responses
It's Okay
Perfect
Loved it!