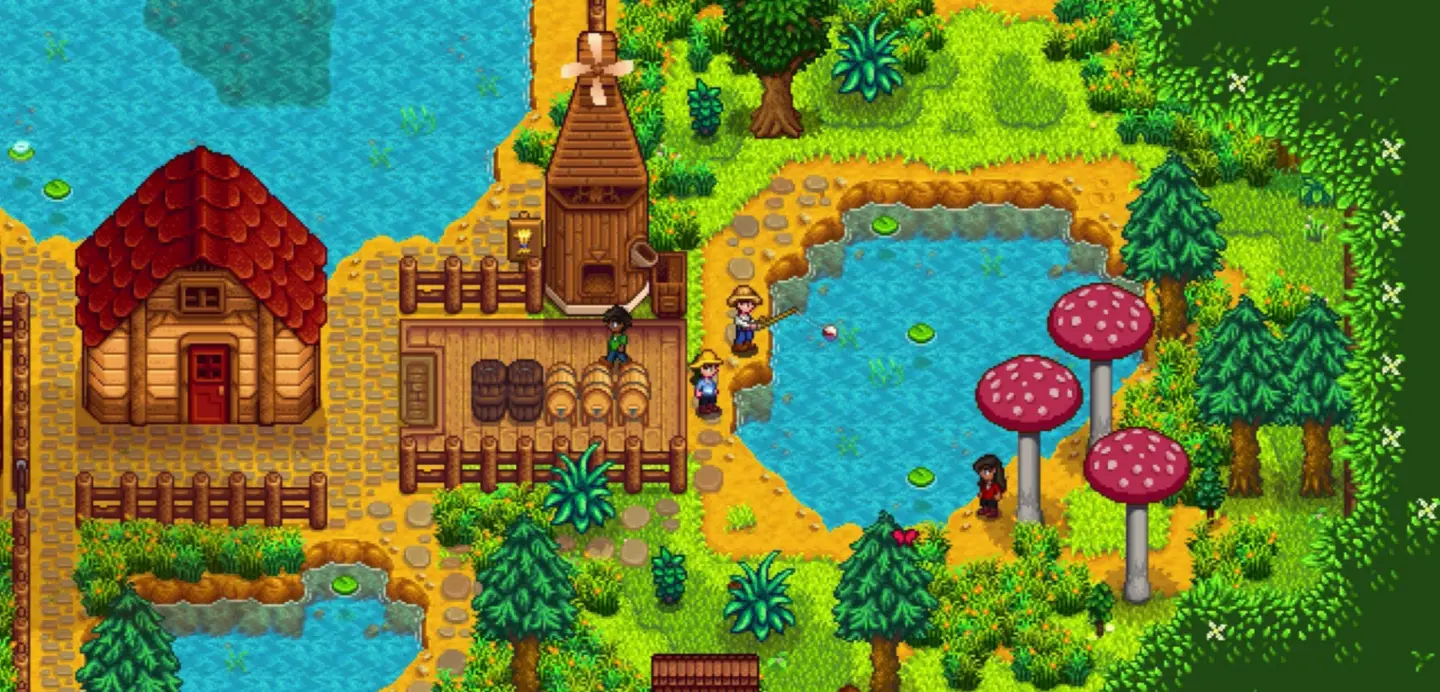 Stardew Valley
Stardew Valley 1.6 Update: Release Date Predictions, All Revealed Content, & More
(Estimated Read Time: 4 minutes)
It has been almost three years since the release of patch 1.5 for Stardew Valley, and fans are eagerly awaiting the next big update. Recently, developer ConcernedApe has been snippets and teases about the game's next major update. So, keep reading as we give you the details on what we know about Stardew Valley Update 1.6 so far and when we might expect its release.
Stardew Valley 1.6 Release Date Predictions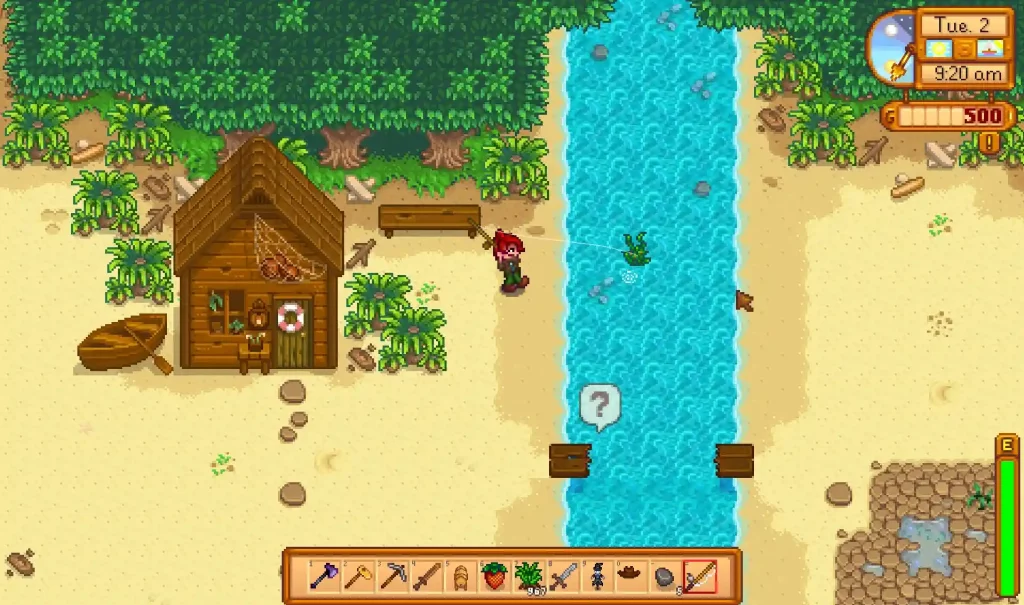 ConcernedApe
announced
that he's working on Stardew Valley Update 1.6 in
April 2023
. However, he hasn't revealed a concrete pick for its release date. We can speculate on the Terraria 1.6 release date, however, using previous Terraria versions throughout the years.
Version 1.0: February 26, 2016
Version 1.1: October 3, 2016
Version 1.2.26: April 24, 2017
Version 1.3.27: August 1, 2018
Version 1.4: November 26, 2019
Version 1.5: December 21, 2020
Note:
Stardew Valley versions 1.2.0 to 1.2.25 and 1.3.0 to 1.3.27 are beta releases. Looking at the list above, it typically takes ConcernedApe about one year to launch a new major patch. Still, 2020 was the height of the COVID-19 pandemic, slowing game development all around. Taking that event into account, players might be able to see the full release of Update 1.6 sometime in
middle to late 2024
.
Stardew Valley 1.6: All Content and Features Revealed So Far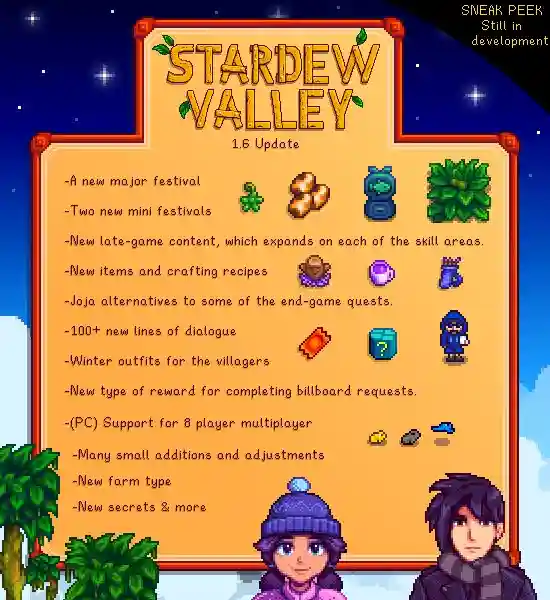 On September 28, 2023, ConcernedApe tweeted an
image
highlighting the content and features players can expect with 1.6. However, most of the items mentioned in the developer's list are cryptic, leaving fans to speculate what new things will come with the next major update apart from what has already been announced. Here's what to expect in Stardew Valley Update 1.6 from ConcernedApe's list:
A new major festival
Two new mini festivals
New late-game content, which expands on each of the skill areas
New items and crafting recipes
Joja alternatives to some of the end-game quests
100+ new lines of dialogue
Winter outfits for the villagers
A new type of reward for completing billboard requests
(PC) support for eight-player multiplayer
Many small additions and adjustments
New farm type
New secrets & more
Hats on Cats and Dogs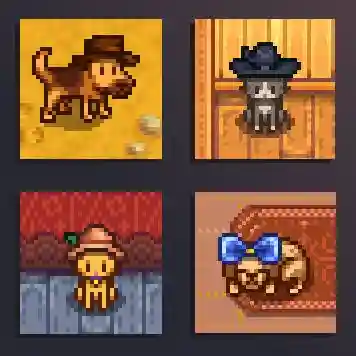 Farm pets will soon have more flair than just being cute. A
tweet
from the developer includes an image of cats and dogs wearing hats. Terraria producer Cenx is also excited about this feature and jokingly
bargained
with ConcernedApe for information. If the developer agreed, he would gain information about the release date for
Terraria 1.4.5
.
Wild Horseradish Juice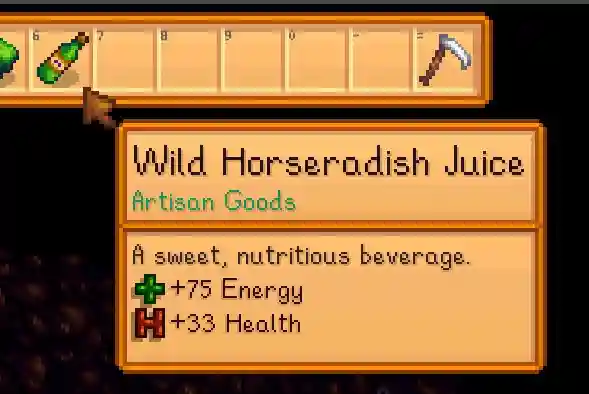 On October 21, 2023, ConcernedApe
posted
a cryptic tweet with an image of a new consumable item called the
Wild Horseradish Juice
. But the developer didn't say anything about the image other than the word "yum." However, this post may suggest that Update 1.6 will bring more artisanal goods to the game and not only this juice. The upcoming patch may also let players turn Wild Horseradish into other high-value items.
Mysterious Qi Fruit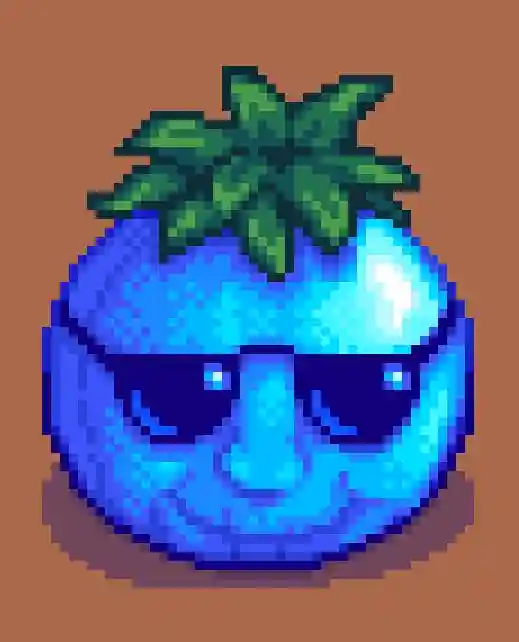 One of ConcernedApe's recent teases about Stardew Valley Update 1.6 is an
image
of a mysterious fruit donning a pair of sunglasses. Many fans recognized the food item as a
Qi Fruit
, and it only appears during
Mr. Qi's
"Qi's Crop" quest. However, the developer didn't elaborate on why he posted this image. Still, it could mean that players might soon be able to plant Qi Fruit on their farms.
---
Looking to create your own gaming server? It only takes a few minutes.
You Might Also Like
---
Join our Discord!
---
20,000+ Members & Growing!
Join our
DISCORD
Start your Stardew Valley server
Looking to create your own gaming server? It only takes a few minutes.
What do you think?
18 Responses
It's Okay
Perfect
Loved it!