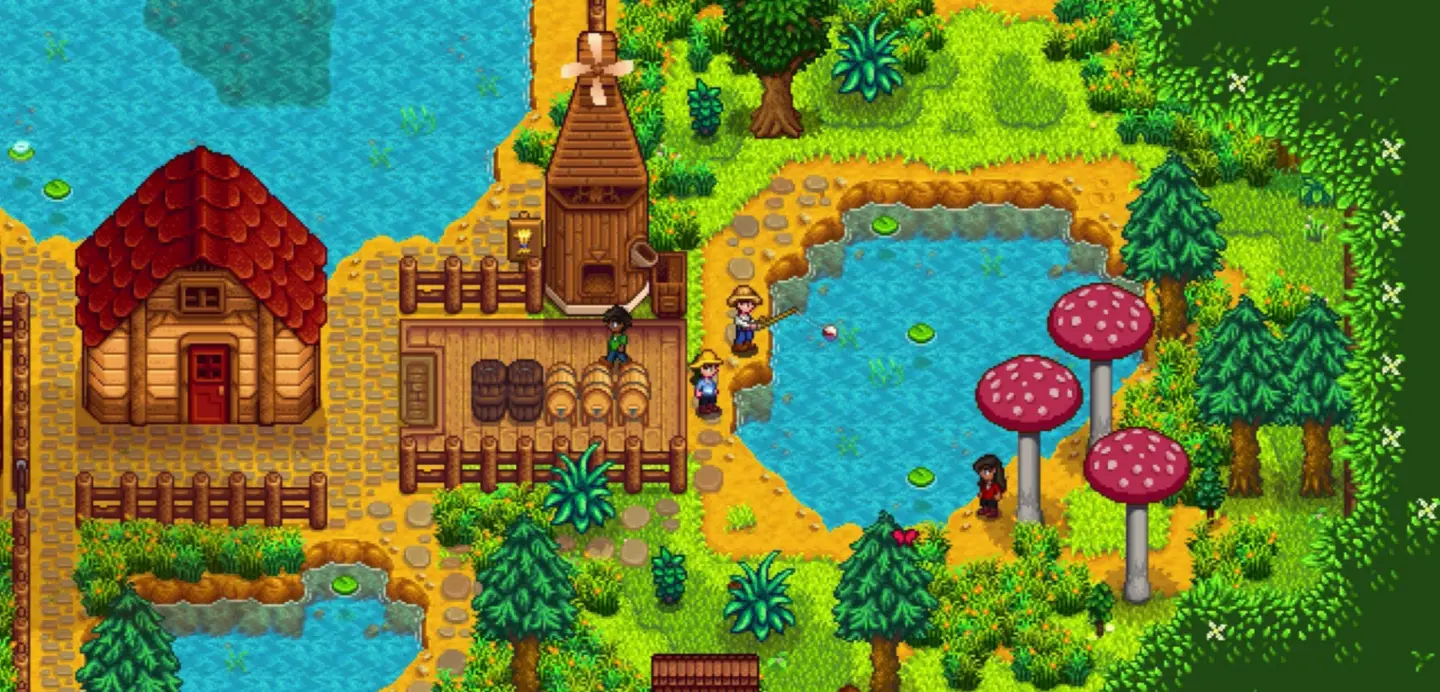 Stardew Valley
Stardew Valley Fair Guide: Start Time, Date, Location, Mini Games, & Grange Display
Stardew Valley isn't complete without a town fair. Thankfully, it happens once a year and brings various mini-events focusing on fun. Players can even win items that they can only get from winning the fair's games.
Stardew Valley Fair: Start Time, Date, and Location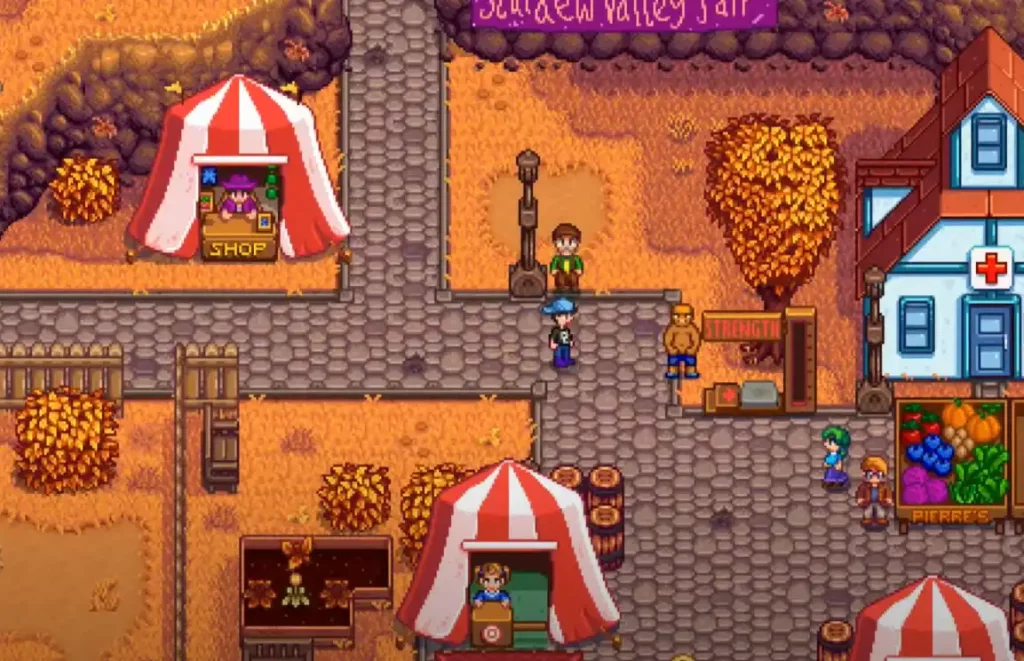 The Stardew Valley Fair occurs every
16th
of
Fall
. You'll receive a letter from the town's Mayor
one week
before the event as a reminder. The Stardew Valley Fair start time kicks off at
9 am
 and runs to
3 pm
. Even if you wake up at 6 am, you can't enter the main part of Pelican Town before 9 am (but this time is great for completing routine farm tasks before the action begins!) Once it's 9 am,
enter Pelican Town
. By then, you should see the town transform, as it now has tents and other attractions on display.
Fair Attractions
Players can talk to the NPCs managing the
six attractions
in the fair to engage in different activities. Note that most of the attractions require payment before you can play their games. But you can win Star Tokens, a unique currency at the Fair, and exchange them for special items during the event. The six Stardew Valley Fair attractions are:
Fishing
Unlike regular Stardew Valley fishing, the Fishing Minigame at the Fair only gives points. That means you can't keep the fish you caught. You earn
12 to 25 points
per fish caught in this mini-game. But you can also catch non-fish items, albeit they're only worth 1 point each. The attraction also awards bonus points for every perfect catch. If you're good at the game's fishing mechanic, you can get your money's worth from this mini-game alone.
Cost:
50 gold pieces per round of play
Slingshot
As its name implies, this attraction lets you use a slingshot to shoot targets. Each target scores different points:
Red: 1 point
Blue: 2 points
Purple: 5 points
After each round, the attraction will reward additional points based on your accuracy. Like the Fishing Minigame, you can win as much as
500 Star Tokens
if your aim is good.
Cost:
50 gold pieces per round of play
Smashing Stone
You'll only earn
one Star Token
if you manage to hit the top or bottom of the meter in this attraction. So, this mini-game has the least amount of Star Tokens per round than the other attractions.
Cost:
Free
Fortune Teller Booth
Pay
double
the amount of money than a round of Fishing or Slingshot for a Fortune Teller to read your Social Status in this attraction. In particular, she'll tell you about two villagers with the highest friendship level on your social menu. For example, if you have a high friendship level with
Abigail
or
Haley
, the Fortune Teller will tell you something about these NPCs. But you can only talk to the Fortune Teller once, and she'll tell you to go away after that instance.
Cost:
100 gold pieces for one reading
Spinning Wheel
Bet Star Tokens to spin the spinner on the wheel. You must guess if the arrow will point to either green or orange. Guess correctly, and you win Star Tokens. Otherwise, you don't win anything.
Cost:
Varies per try
Token Seller
Exchange gold pieces for Star Tokens at this booth. If you have the money, this attraction is the quickest way to earn Star Tokens at the Fair.
Cost:
50 gold pieces for each Star Token
The Grange Display
The Grange Display at the Stardew Valley Fair is the event's
main attraction
. Here, you'll share an item for everyone to view. The Mayor will then judge the displayed item and give a score by the end of this particular event. To enter this contest, approach Mayor Lewis anytime during this event. You can then select and enter up to nine items for the Grange Display. Here are some tips to help you win this competition:
Rare items provide higher scores than common items (Iridium items generally score the highest)
Package the item to make it more visually appealing
Variate the selected items and don't stick to one item category
Also, this competition recognizes eight item categories that you can display, which are the following:
Animal Products
Artisan Goods
Cooking
Fish
Foraging, Flowers, and Tree Saps
Fruits
Minerals
Vegetables
Reaching
90 points
with your displayed items will let you win the Grange Display competition. If so, you'll bag a bountiful
1,000-Star Token reward
. The second place gives you
500 Star Tokens
, the third place has
200 Star Tokens
, and the fourth place will let you go home with
50 Star Tokens
. Note that Mayor Lewis can disqualify you from the Grange Display if you somehow scored zero points. But you'll still get
750 Star Tokens
for your participation attempt.
Stardew Valley Fair Shop
Here, you can exchange the Star Tokens you bought or won for items. Some of these items can only be bought from this event shop. The sold items are as follows:
Dried Sunflowers: 100 Star Tokens
Fedora: 500 Star Tokens
Rarecrow #1: 800 Star Tokens
Stardrop: 2,000 Star Tokens
Light Green Rug: 500 Star Tokens
Triple Shot Espresso: 400 Star Tokens (was Tea Sapling before version 1.5.4)
Pepper Poppers: 250 Star Tokens
Glowstone Ring: 1,000 Star Tokens
100x Hay: 500 Star Tokens
24x Mixed Seeds: 1,000 Star Tokens
---
Looking to create your own gaming server? It only takes a few minutes.
You Might Also Like
---
Join our Discord!
---
20,000+ Members & Growing!
Join our
DISCORD
Start your Stardew Valley server
Looking to create your own gaming server? It only takes a few minutes.
What do you think?
0 Responses
It's Okay
Perfect
Loved it!