 Other
Minecraft Weekly Wrap Up - September 1st
Summer may be coming to a close, but the Minecraft world is still buzzing with tons of new developments. 
Minecraft 1.18 is certainly on all player's minds, but there are other things you may have missed from this week.
We cover all of the latest around Minecraft in this weekly wrap up.
Minecraft Education Maps Made Free for Back to School Season
Mojang have highlighted some great Minecraft Education maps in honor of the back to school season. Even better, these will now be free to download from the Minecraft Marketplace!
This list of maps includes:
Plants - A map teaching players the science of plants from agriculture and beyond with lessons, animations, quizzes, and more.
Climate Futures - A map taking players through the effects of deforestation and climate change along with solutions for a more sustainable, renewable future.
Sustainability City - A map showing players a sustainable neighborhood with specialized construction and an optimized layout for systems like waste disposal, recycling, forestry, power, and energy efficiency.
Minecraft Dungeons Pet Popularity Poll Pushes On
Mojang have pushed a new event on Twitter consisting of several polls to determine the best and most popular pet in Minecraft Dungeons - all done from the @dungeonsgame account.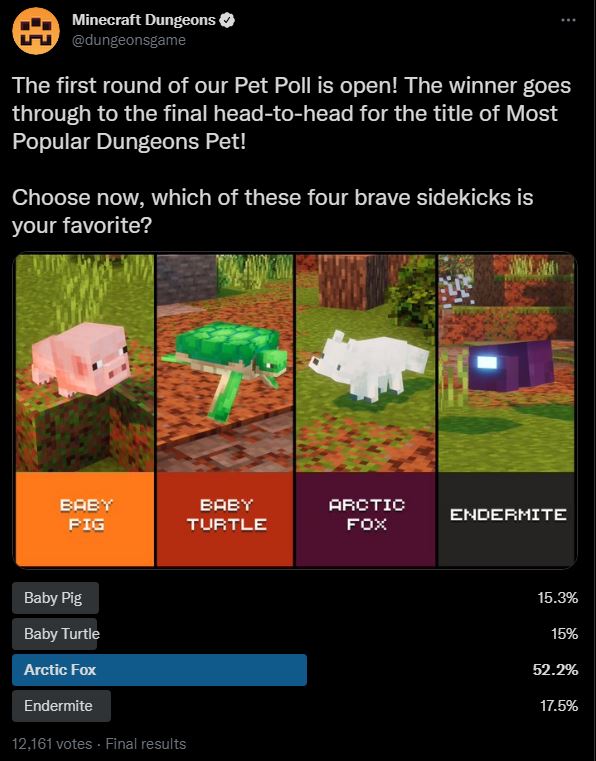 The first round may be done, but there's still plenty more to come. From the looks of the polls, we'll likely get one each week, and that means round two is coming up!
New Java Realms Maps Revealed
Java Realms has led to the creation of some amazing and unique content.
To honor this, Mojang highlighted a few of the awesome new maps coming to the service this week.
This list includes:
Disc 600 (an Extreme Parkour Map) - A map complete with a chain of islands and jump courses to challenge beginners and Minecraft parkour veterans alike.
Frozen Conquest - A cinematic map complete with a glacial landscape, a giant sea monster, and longships stuck in its path.
Heart Rush 2 (PVP) - Another new Minecraft PVP map looks to build unique fight locations while retaining balance and excitement. It already looks amazing, so getting a ton of players into a match will no doubt be a great experience.
DON'T MISS IT: Mojang Reveals New Minecraft YouTube Series - The Secrets of Minecraft
---
Looking to create your own gaming server? It only takes a few minutes.
You Might Also Like
---
Join our Discord!
---
20,000+ Members & Growing!
Join our
DISCORD
Start your Game server
Looking to create your own gaming server? It only takes a few minutes.
What do you think?
0 Responses
It's Okay
Perfect
Loved it!