 Other
What Mods Come With Lunar Client?
Lunar Client brings plenty to the table for Minecraft players across unique cosmetics, boosted frames, and more. It also comes with its own set of 50+ mods for players to enjoy. 
Here we'll go over all of the Minecraft mods that come with Lunar Client as of the time of writing. And if you know of a mod you want to see in this list, feel free to suggest it to the Lunar Client team
here
or via their social channels!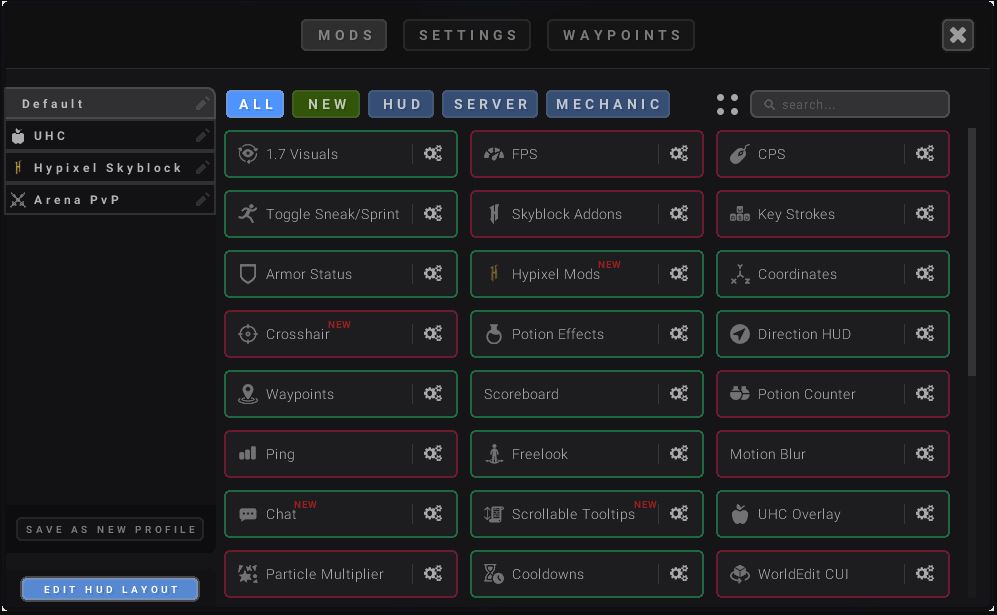 Minecraft Mods in Lunar Client (Defaultly Active)
These Minecraft mods make up the default configuration of Lunar Client at the time of writing. That means they are active right away after downloading the client, but each can be deactivated easily by clicking them over to red should you choose to.
1.7 Visuals 

Armor Status

Boss Bar

Chat

Cooldowns

Coordinates

Direction HUD

Freelook

Hypixel Bedwars

Hypixel Mods

Lighting

Menu Blur

NameTags

Pack Organizer

Potion Effects

Saturation

Scoreboard

Screenshot Uploader

Scrollable Tooltips

Tab Editor

Team View

Titles

Toggle Sneak/Sprint

Waypoints

Zoom
Minecraft Mods in Lunar Client (Defaultly Inactive)
These Minecraft mods are included in Lunar Client, but by default, they're inactive. It's easy to activate these mods in the client, however, if you're looking to try them out! Simply visit the full mod list in the client and click them over to green.
2D Items 

3D Skins 

Auto Text Hot Key 

Better Sounds

Block Outline

Chunk Borders

Clock

Color Saturation 

Combo Counter 

CPS 

Crosshair

Day Counter 

Fog Customizer 

FOV Changer 

FPS 

Glint Colorizer

Hitbox

Hit Color 

Hurt Cam 

Hypixel Quickplay 

Item Counter 

Item Physics

Item Tracker 

Key Strokes

Memory Usage 

Momentum Mod 

Motion Blur 

Mumble Link

Nick Hider 

Pack Display 

Particle Changer

Ping 

Playtime 

PvP Info 

Reach Display 

Replay Mod

Server Address 

Shiny Pots 

Snaplook

Stopwatch 

Time Changer

TNT Countdown 

UHC Overlay 

WAILA

Weather Changer

WorldEdit CUI 
Can You Use Your Own Mods?
You cannot currently use your own mods in Lunar Client at the time of writing, with players limited to its default selection. With 50+ mods to activate, however, the current list covers some amazing performance enhancers, quality-of-life mods, and exciting feature mods fitting all types of players. The team at Lunar Client is also constantly reviewing its mod list and looking for new options, so this list will evolve over time.
Unlike mods, you
can
use your own texture packs at will when playing Minecraft via Lunar Client. You can also play previous versions of Minecraft in Lunar Client to revisit some of its most influential (and nostalgic) updates!
As the official hosting partner of Lunar Client, you can set up your very own Minecraft server with us
here
and use code LUNAR at checkout for 25% off your first purchase.
---
Looking to create your own gaming server? It only takes a few minutes.
You Might Also Like
---
Join our Discord!
---
20,000+ Members & Growing!
Join our
DISCORD
Start your Game server
Looking to create your own gaming server? It only takes a few minutes.
What do you think?
8 Responses
It's Okay
Perfect
Loved it!