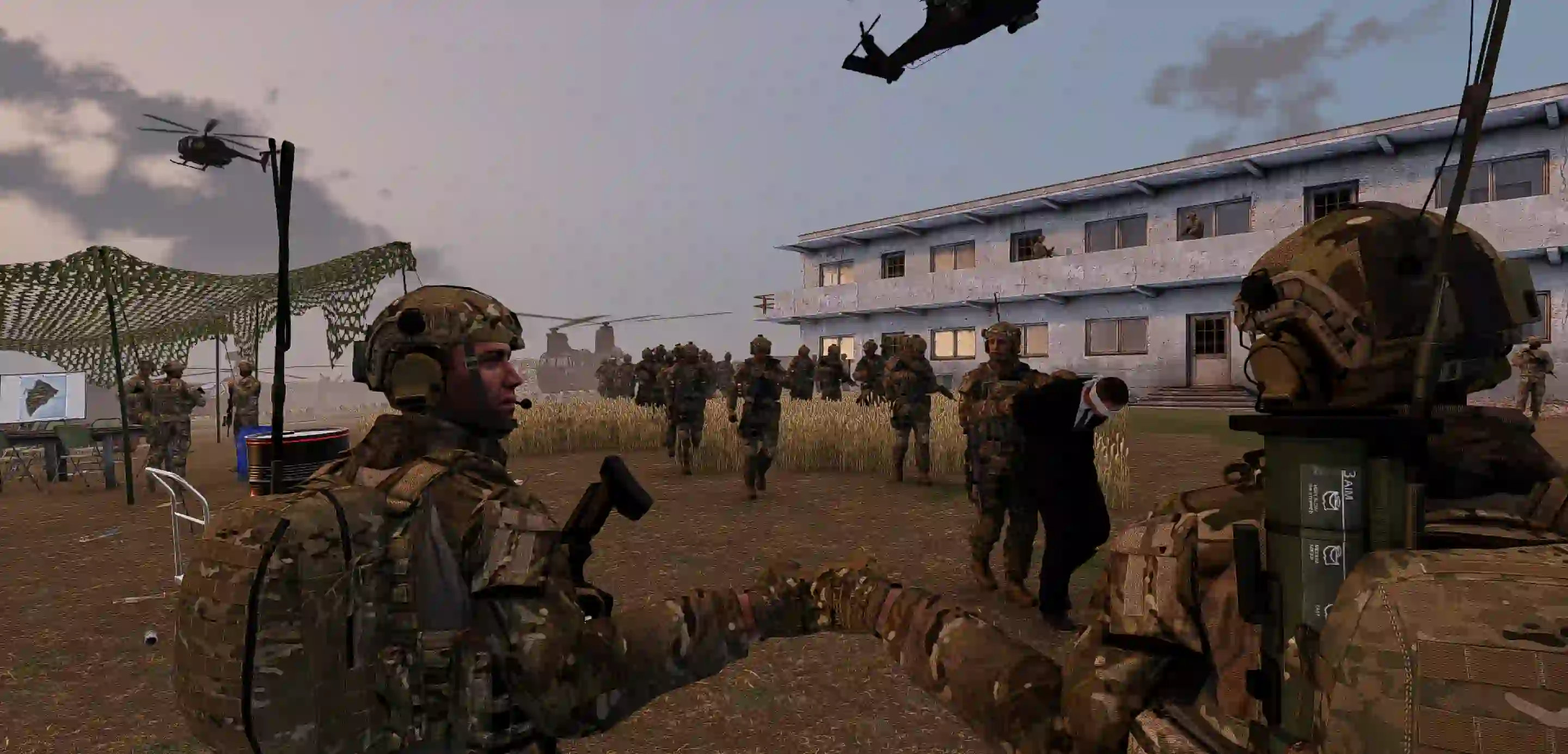 Arma 3
Arma 3 Spearhead DLC: New Factions, Vehicle Variants, & More
Arma 3's Creator DLC program allows skilled third-party developers to produce and launch custom DLCs for every fan of the game to enjoy. One of the recent community-created DLCs to land on the game is Spearhead, bringing new content and features with it. So, let's dive deep into the Arma 3 Spearhead DLC to help you check if it piques your interest.
Arma 3 Spearhead DLC: An Overview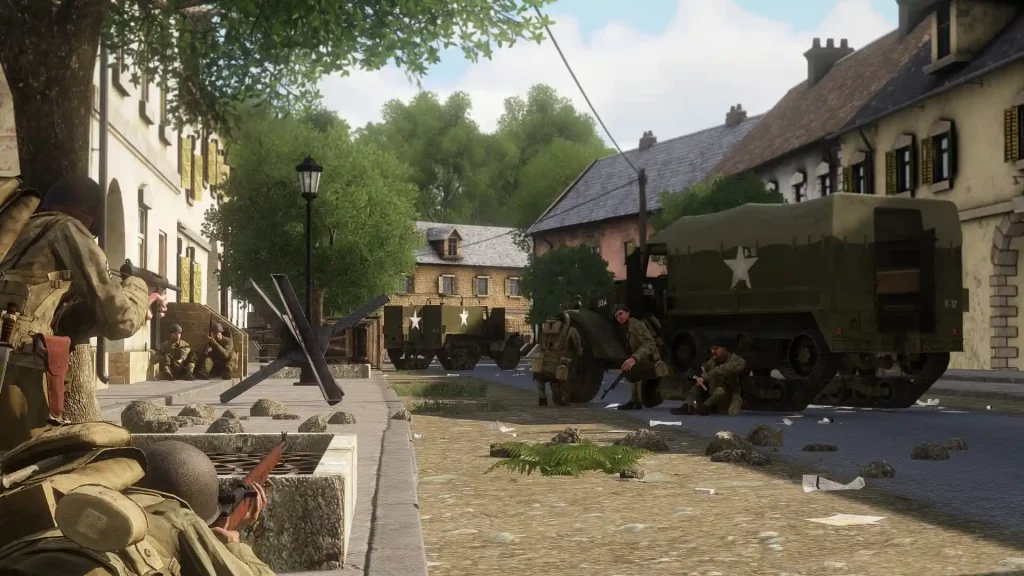 In the Arma 3 Spearhead DLC, travel to 1944 to experience an intense recreation of World War II combat in Normandy. Play solo or online as you wield a wide range of weapons and drive vehicles to survive and, hopefully, win. Take on the role of a soldier and fight for liberation. Take on different roles, such as being on the frontlines, holding your ground, and defending against enemies in a digital representation of a real-world terrain based on inland Normandy. Similar to the base game, Spearhead offers unparalleled player freedom while incorporating different layers of strategic and tactical gameplay. Its military sandbox formula shines regardless of whether you play solo or with online friends.
Key Features
Like other
Arma 3 DLCs
, Spearhead offers new content and features for fans of the game to experience and enjoy. Below are the notable aspects included in this DLC.
Digital Normandy
The Arma 3 Spearhead DLC
recreated actual terrain
from Normandy in a digital 1:2 scale. It's also the same location where
Operation Cobra
, an offensive launched wherein an alliance faced stiff German resistance. However, the coalition decided to use the terrain in their favor to perform a spearhead move against the German resistance. In Arma 3, this
150 km2 terrain
is complete with complex hedgerows, river networks, and quiet farmhouses. Choose to be part of the frontline or stealthily avoid incoming enemy attacks as you combat them from strategic locations. As you play the Arma 3 Spearhead DLC, you'll experience intense close-quarter combat, accompanied by firearm and vehicle play.
New Content
With the Spearhead 1944, you and other players can take advantage of various content unique to this DLC. For instance, 30 new weapons are included in this DLC, including the
M2 Flamethrower
and the
M1 Garand
. You can also surprise the German resistance using
APERS mines
or
TNT charges
. New weapon attachments are also available for illumination, concealment, and close-range combat. Additionally, you can choose between 5 factions, such as the
French Interior Forces
and the
French Liberation Army
. Note that some weapons and
vehicles
are only available in specific factions. 31 vehicle variants also arrive in the Spearhead DLC. These vehicles include (but aren't limited to) the
M18 Hellcat
,
M10 Tank Destroyer
, and
M3 Half Track
(and its variants). You can also use different gear variants. Spearhead offers over 200 uniforms, 60 vests, 70 backpacks, 150 headgear options, and many accessories for its players.
Single and Multiplayer Campaigns
As a solo player in
Spearhead 1944
, acquaint yourself with the history and equipment found and used during Operation Cobra. Bring yourself into the shoes of a French Resistance soldier in an assignment called "
Der Zahnarzt
." Play the Spearhead DLC in an online multiplayer setting, and join up with up to
24 players
to change the course of World War II in late 1944. Take on different roles, such as an engineer, tanker, or flamethrower operator. Plan strategies among online friends and bring victory to the alliance.
Game Modes
Different game modes are available in the Spearhead DLC to help increase replayability. The modes you can select are the following:
Zeus: Create missions, and select factions in US and German co-op scenarios.
Escape: The base Spearhead experience made more difficult. Also includes WW2 mod support.
Warlords: Includes additional customization options through mission parameters. Also supports WW2 mods.
Combat Patrol: This game mode has more tasks than the base Spearhead experience and includes customization options through mission parameters and automatic WW2 mod support.
Gameplay Enhancements
Custom Revival Mechanic: An enhanced Arma 3 revive system with full AI support. Players can also drag unconscious allies, stabilize bleeding, and use other customization options for this mechanic.
NPC Morale: NPC AI will make decisions depending on the course of the scenario, such as to retreat, drop weapons, or surrender. You can also question POWs to retrieve vital information.
Indirect Fire Support: Call battlefield support, such as mortars and heavy artillery, over the radio.
Realistic Vehicle Damage: Usage of graphical technologies to help simulate realistic damage brought to vehicles.
Improved Reload Animations: Weapons have different reload animations based on certain scenarios, like reloading on empty or non-empty magazines.
Hip Fire System: Weapon weight becomes a factor when firing from the hip. Additionally, long weapons will raise or lower when they bump into nearby surfaces.
Enhanced Audio: Immersive audio, such as ricocheting bullets, to improve battle experiences.
Reposition Anti-Tank Guns: Players can tow or push these heavy combat equipment to move and aim them.
Language Support: The Arma 3 Spearhead DLC has language support for English, French, German, Spanish, Russian, and Simplified Chinese.
---
Looking to create your own gaming server? It only takes a few minutes.
You Might Also Like
---
Join our Discord!
---
20,000+ Members & Growing!
Join our
DISCORD
Start your Arma 3 server
Looking to create your own gaming server? It only takes a few minutes.
What do you think?
0 Responses
It's Okay
Perfect
Loved it!