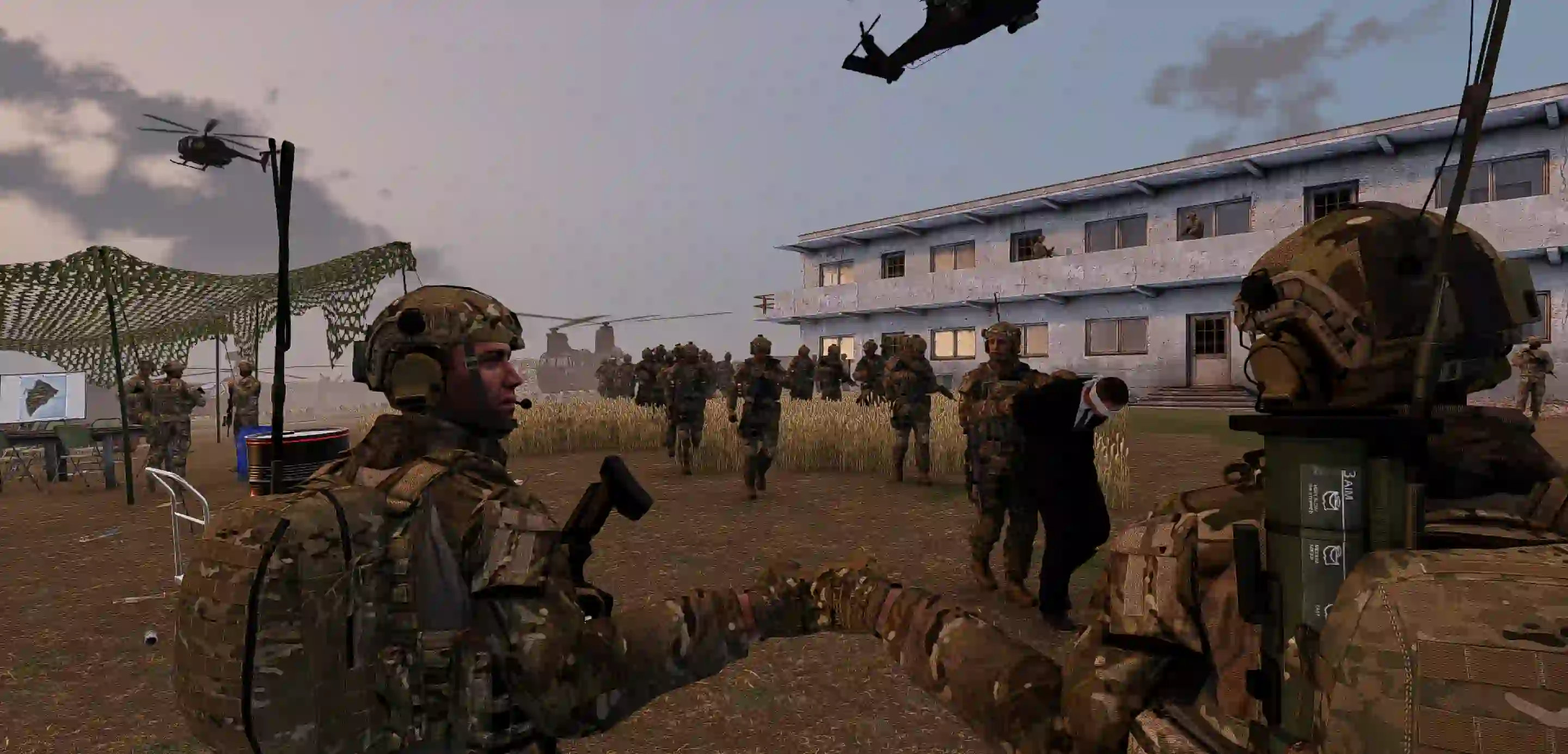 Arma 3
ARMA 3 DLC Guide: All Content (Maps, Weapons, Vehicles), Prices, & more
ARMA 3 is a massive open-world tactical shooter with systems aiming to be as close to real-life combat as possible. Despite its vastness, players can increase the content and fine-tune their games through DLCs. So, keep reading as we give you a list of downloadable content to help you find your favorite ARMA 3 DLC.
ARMA 3 DLC Guide: Every Pack, Content, & Price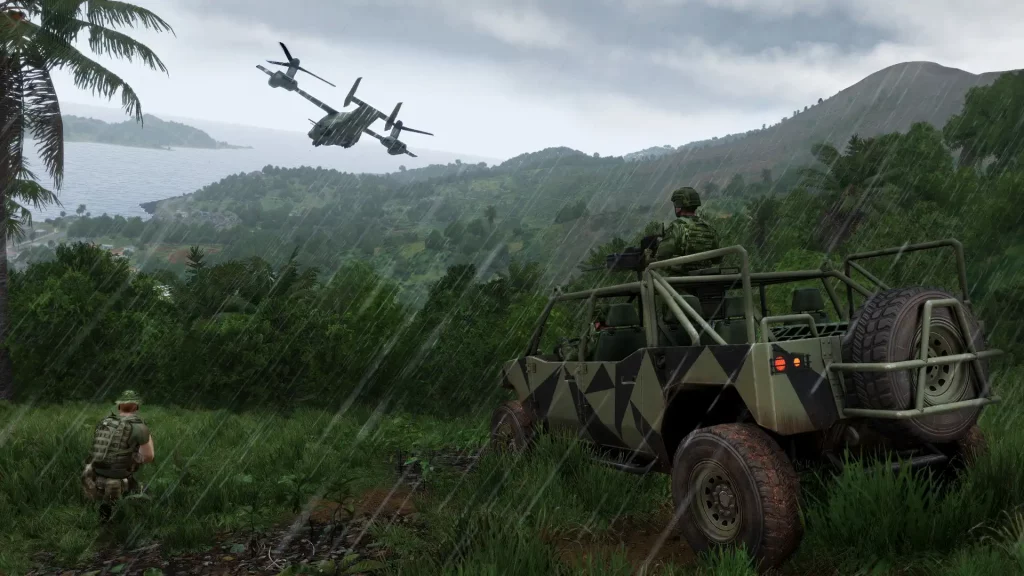 The DLCs you can download and install for ARMA 3 are under two main categories: the official and the creator. The former comes from the game's developing studio, whereas the latter originates from the game's player base.
Official DLCs
Zeus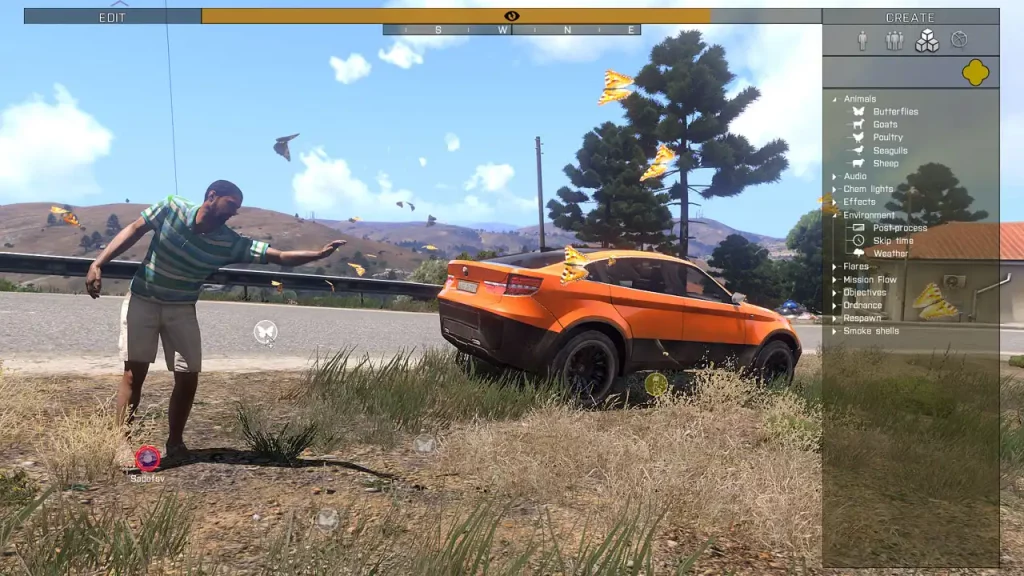 Zeus
is a free ARMA 3 DLC launched on April 10, 2014. It's a game mode similar to tabletop games like Dungeons & Dragons. In Zeus, ARMA 3 players take on different roles while one being the Game Master. This official can create and expand the mission while giving participants new stories and generating intuitive challenges. The result is dynamic and unscripted multiplayer gameplay filled with unexpected and enjoyable events. Watch the trailer for the ARMA 3 Zeus DLC
here
.
Karts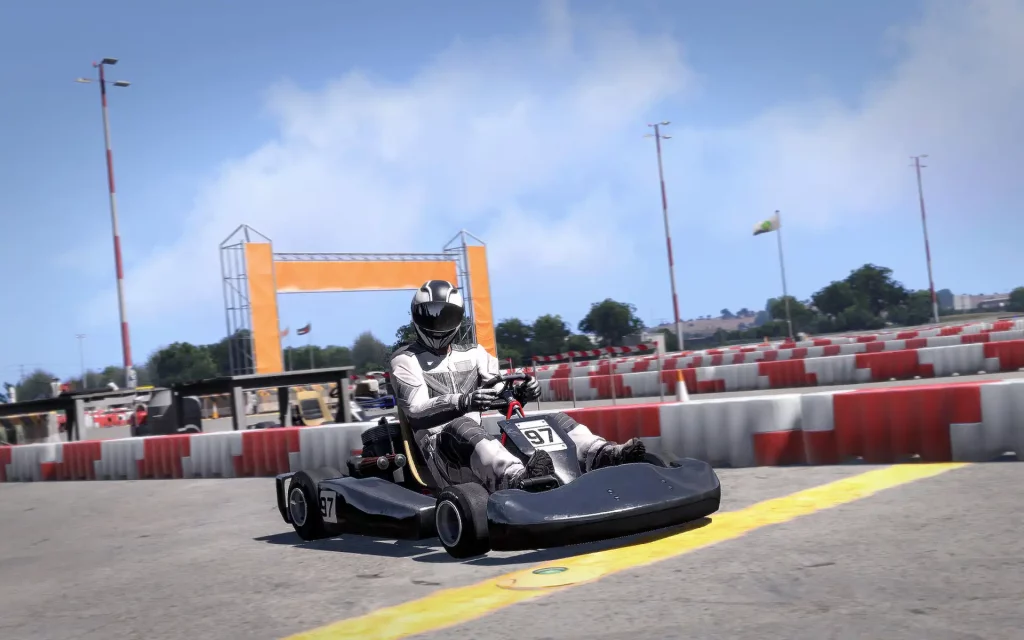 Unlike Zeus, Karts is a paid DLC. However, it increases the game's fun factor by adding go-karts into the game. It costs $1.99 at the time of writing. This DLC adds 20hp 4-stroke engine go-karts. Each player riding a go-kart will also don a dedicated helmet. Once ready, you and your mates can race in a distinct racetrack to compete against the clock. ARMA 3
Karts
also comes with a racetrack safety coordinator, complete with a special revolver to start races. Watch the trailer for the ARMA 3 Karts DLC
here
.
Jets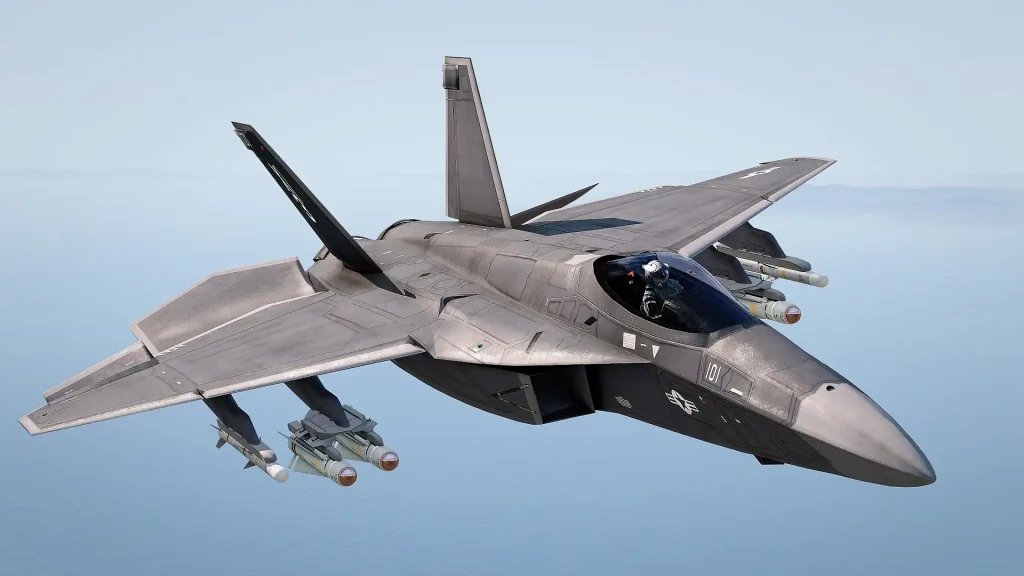 As this paid DLC's name implies, ARMA 3
Jets
adds additional
fixed-wing vehicles
to the game. It costs $9.99 at the time of writing. In it, you can ride jets like the To-201 Shikra, A-149 Gryphon, and the F/A-181 Black Wasp II. The DLC also adds supporting features, such as a sensor overhaul and dynamic vehicle loadouts. Watch the trailer for the ARMA 3 Jets DLC
here
.

The paid
Helicopters DLC
is much like ARMA 3 Jets, but it'll add
rotor-wing vehicles
instead of fixed-wing airborne units. It costs $9.99 at the time of writing. With this DLC, you can pilot helicopters like the heavy-lift Mi-290 Taru or the twin-engine CH-67 Huron. Players can also test their helicopter-piloting skills with the DLC's time trial mode. Here, you can aim for the record time in one of four time trials. Watch the trailer for the ARMA 3 Helicopters DLC
here
.
Marksmen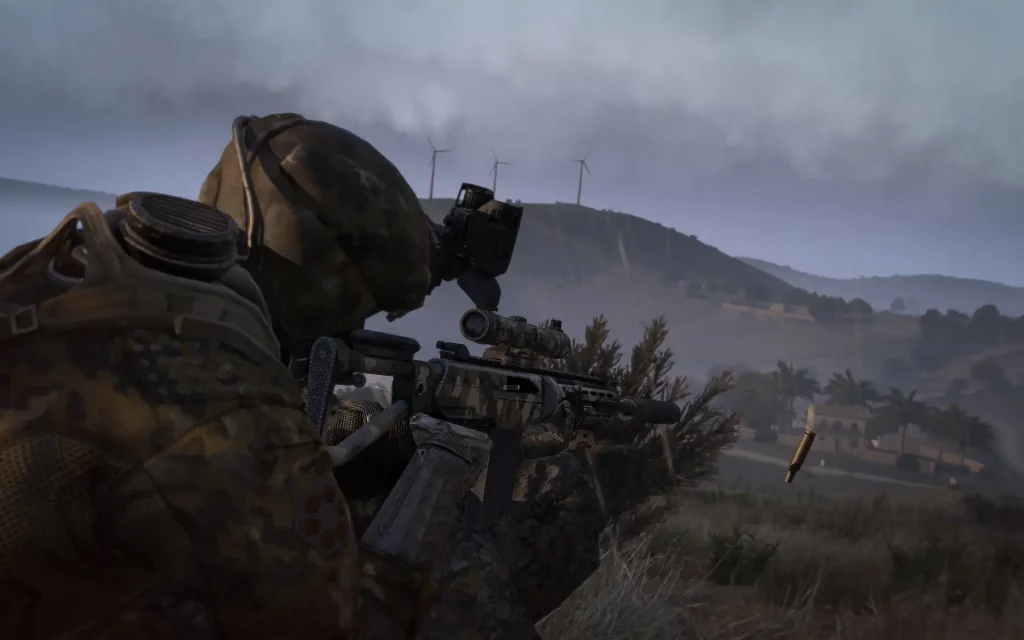 Released on May 1, 2014, the paid
Marksmen
DLC adds new weapons and related content to ARMA 3. It costs $9.99 at the time of writing. In it, you can equip your character with weapons like the ASP-1 Kir marksmen rifle or the Mk-I EMR. Installing this DLC also adds new features to the game, including weapon resting and enhanced firearm sounds. Watch the trailer for the ARMA 3 Marksmen DLC
here
.
Apex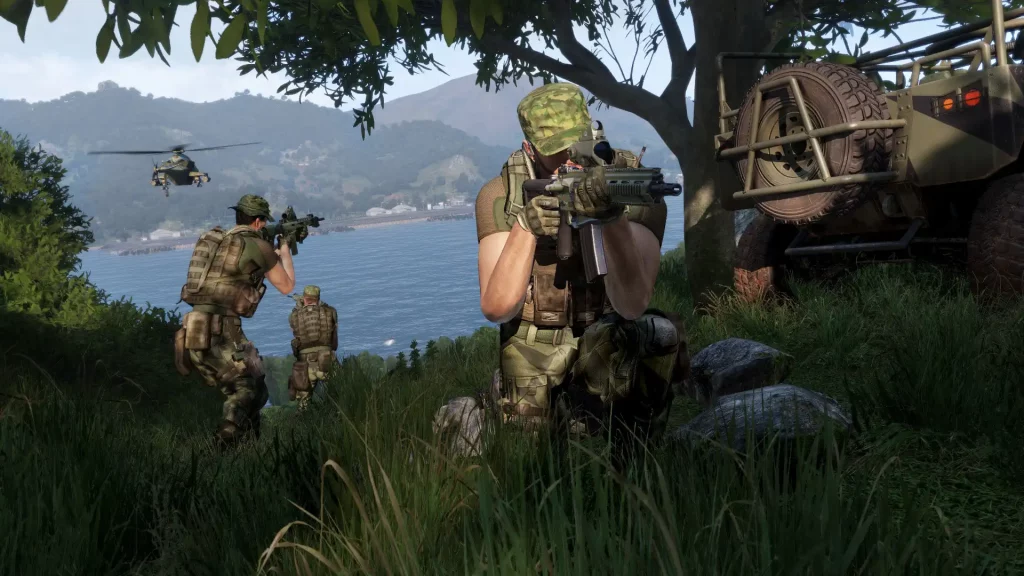 Unlike other ARMA 3 DLCs,
Apex
is a paid expansion that allows players to enjoy premium and free content. It costs $24.99 for the premium content at the time of writing. The premium content includes the following:
Tanoa: A new map, complete with lush vegetation, distinct landmarks, and a rich history.
New vehicles: Apex expands the game's already massive list of vehicles with new units, such as the V-44 X Blackfish and Y-32 Xi'an VTOL.
New faction: Players can join Syndikat, an illicit organization with armed thugs and ex-paramilitaries
New weapons: Equip and use new firearms like the AKM and AK-12 assault rifles
New uniforms and gear: Goes with the new Syndikat group
Apex Protocol co-op campaign: You and your team travel to Tanoa to stop a humanitarian disaster
Old Man singleplayer campaign: Play the role of a retired Legionnaire on a quest to find the truth about a new strain of malaria that hit Tanoa
As for the free content that comes with the Apex DLC, these are the following:
Arma 3 Units - Launcher & Game integration*, Bohemia Account connections, member management
Campaign Unification - the 3 "The East Wind" episodes were merged into one
Community - modding support, tools & samples updates, script commands, documentation
Controls Presets - play using the new default "Arma 3 Apex" preset, or stick to the setup you're used to via "Arma 3"
Difficulty Overhaul - useful presets, consolidated options, explanatory texts, and images
Eden Editor Enhancements - compositions, bindable camera controls, Comment entities, drag & scale area entities, foliage toggle, environment preview, asset previews
Eden Update - Eden Editor, Combat Audio, Launcher-Based Server Browser, Fonts
Environmental Audio - extended ambient configuration, positional ambient sounds
Launcher Upgrade - enhanced server browsing, better mod handling
Limping - a more immersive representation of injured character legs
Nexus Update - End Game, Spectator, Personal Protective Equipment, Stamina, Launcher Mod Dependencies
Optimizations - rendering, clutter drawing, scripted functions, Revive, and more
Quick Play - conveniently join a multiplayer session of your choice with limited user input
Respawn Menu - improved presentation of information, role selection UX
Squad Communications - Line Drawing, Squad Radar*, Tactical Ping*, VON Improvements
Targeting Improvements - commanding visualizations, crew communication, weapon systems and indicators, virtual targeting pods
Tasks Overhaul - updated 2D and 3D visualization, improved diary UX, better map interaction
Vehicle-in-Vehicle Transport - transport suitable vehicles across large distances inside larger vehicles
Visual Upgrade - overhauled lighting configuration, water reflections, fog improvements
Weapon Switching - on-the-move, mappable actions, action menu streamlining
Gendarmerie faction (Tanoa local law enforcement agency) armed with a new Protector 9 mm Sub-Machine Gun
NATO and CSAT faction reinforcements in the form of special forces and Pacific expeditionary units
A selection of existing Arma 3 weapons and vehicles repainted in a South Pacific camo pattern
New character appearances: Tanoan and Chinese
New radio protocols: French, French-English, and Chinese
New environment assets and props for content creators
A Tanoa Zeus Game Master scenario
13 new Steam Achievements
Arma 3 Apex official soundtrack
Watch the trailer for the ARMA 3 Apex DLC
here
.
Laws of War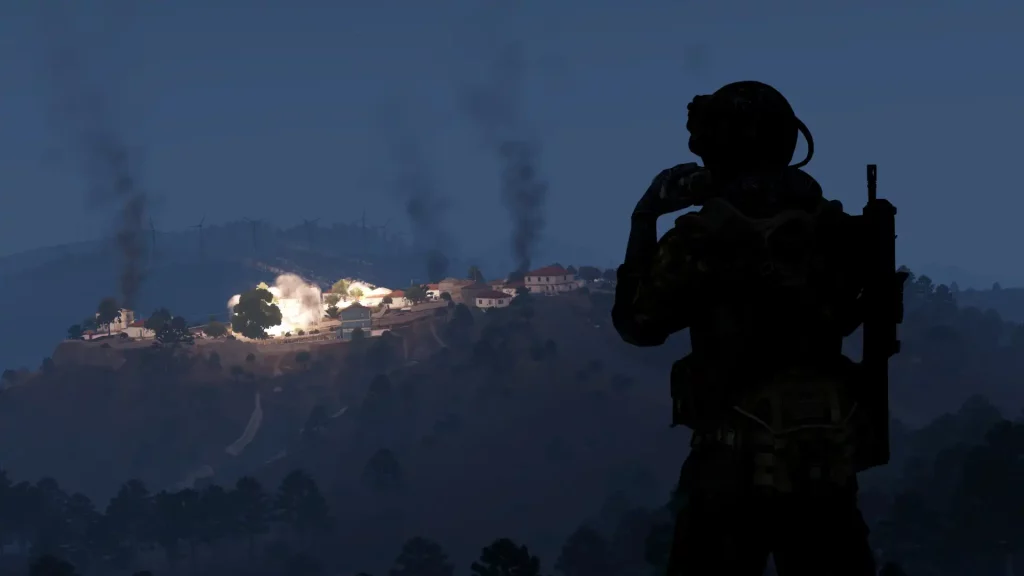 Like Apex,
Laws of War
is an ARMA 3 paid DLC with free and premium content. It costs $9.99 at the time of writing. This downloadable add-on focuses on a new humanitarian faction, along with new vehicles and a mini-campaign. Its premium content is as follows:
IDAP: Also called the International Development & Aid Project, this new non-governmental faction concentrates on responding to humanitarian disasters
New vehicles: Ride the van or pilot the utility and demining drones
APERS: An area denial weapon system
New gear: Adds safety vests, hard hats, messenger hats, and more to the game
Remnants of War mini-campaign: Players take the role of Nathan MacDade, an IDAP explosive specialist tasked with finding and deactivating mines
Next, here's the free content from the Laws of War DLC:
Mine improvements
Refined cluster strikes
Introduction of Unexploded Ordinance (some cluster bomblets won't explode)
Leaflets dropped from the Utility Drone
Information about the Laws of Armed Conflict added to the Field Manual
The Laws of War also has supporting content:
Showcase IDAP: A mini-campaign wherein you visit one of the faction's open days on Altis
Laws of War: Take part in an IDAP training program
Cluster bombs: Can be deployed from aircraft
Decorative objects: Place vanity items like shelter tents, furniture, and plastic net fences
New Steam achievements: Trophies unique to the Laws of War DLC
Watch the trailer for the ARMA 3 Laws of War DLC
here
.
Malden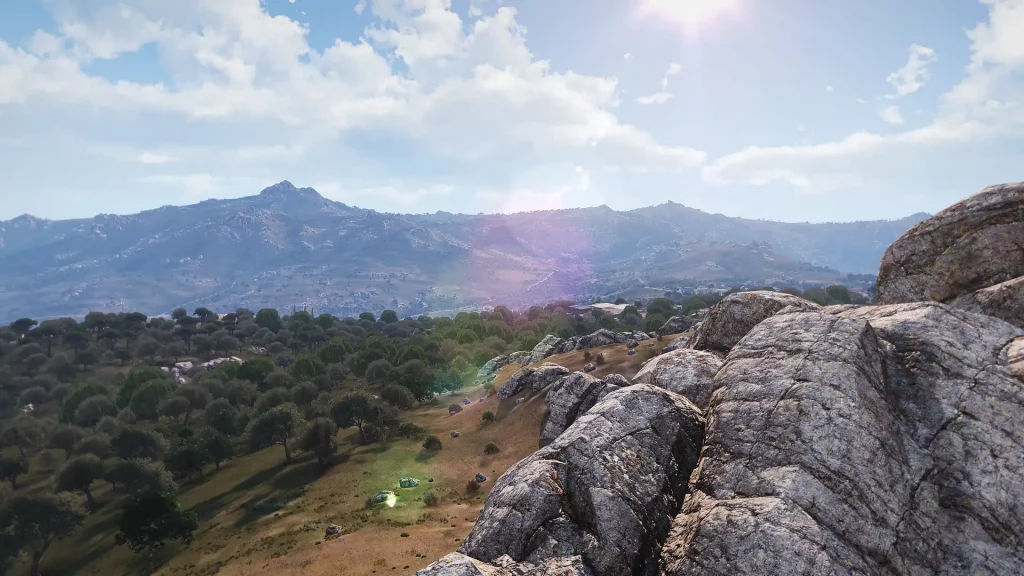 Malden
is a free ARMA 3 DLC focusing on a fresh take on the original map of the same name from the first ARMA game. Along with the map, this DLC comes with reuses for different ARMA 3 assets, including structures and vegetation. Installing this DLC also reintroduces the original Malden with Combat Patrol, a new multiplayer mode focusing on quick and dynamic teamwork. Additionally, Malden has new buildings, the DLC's official soundtrack, and a survival mode called Escape from Malden/Tanoa. Watch the trailer for the ARMA 3 Malden DLC
here
.
Tac-Ops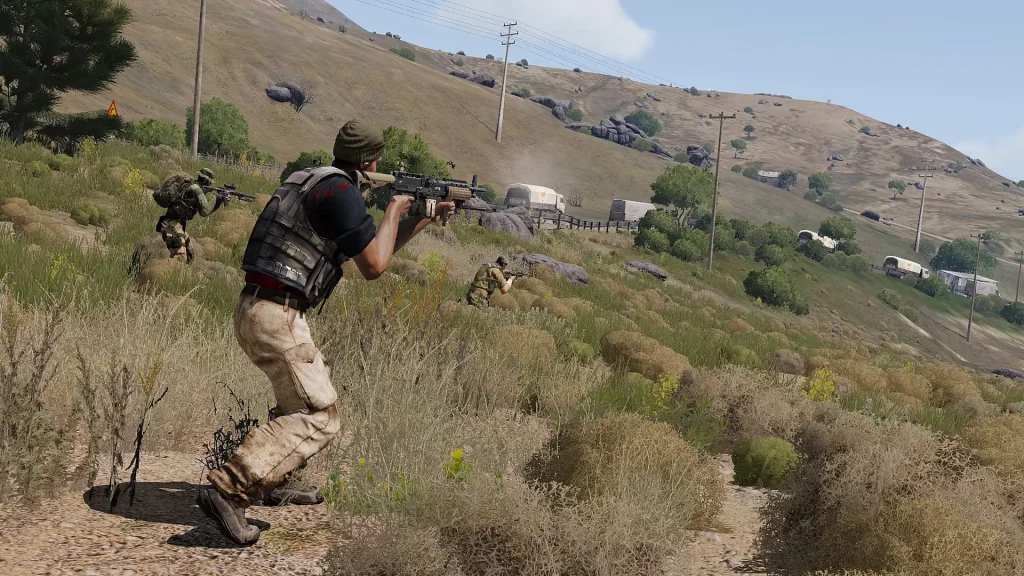 Released on November 30, 2017, the
Tac-Ops Mission Pack
doesn't supply vanilla ARMA 3 with many new things. Still, it comes with some premium and free content that can add hours of enjoyable game time for many ARMA 3 players. The premium content costs $5.99 at the time of writing. Its premium content is the items below: New single-player operations: Beyond Hope, Stepping Stone, and Steel Pegasus After Action Report (AAR) videos: Study military tactics by replaying mission-specific highlights Downloading and installing Tac-Ops includes the DLC's soundtrack, unique Steam achievements, and scripted systems for players to create and fine-tune ARMA 3 scenarios. Watch the trailer for the ARMA 3 Tac-Ops DLC
here
!
Tanks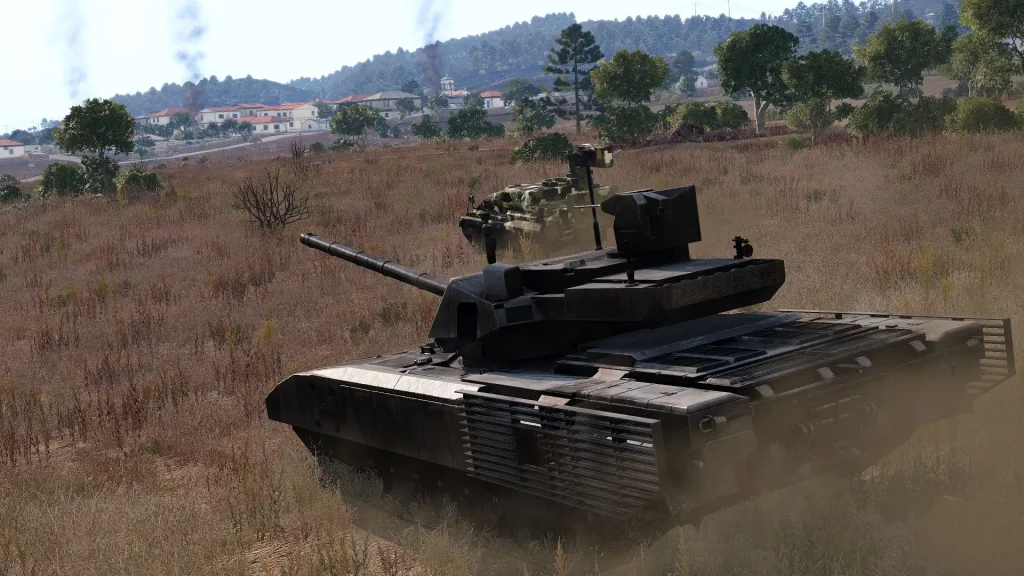 Launched on April 11, 2018, the
Tanks
DLC adds new tracked vehicles to the game. Note that these additional vehicles are under premium and free categories. The premium content costs $9.99 at the time of writing. The premium tanks are the T-140 Angara, AWX Nyx, and Rhino MGS. Players can also be an AAF tank commander or a NATO crewman in different missions. As for the Tanks DLC free content, it brings the 9M135 Vorona, MAAWS Mk4, and other anti-tank weapons to the game. A CSAT protective tanker helmet is also available, along with unique Steam achievements, the Tanks official soundtrack, and various decorative objects. There are also supporting content included in the Tanks DLC, which are the following:
Fully 3D-modeled interiors for ARMA 3 armored vehicles
Improved vehicle handling
Near-realistic vehicle reaction to incoming rounds
Enhanced audio experience
Armored vehicle customizations
New missile profiles
The Vanguard game mode
Watch the trailer for the ARMA 3 Tanks DLC
here
.
Contact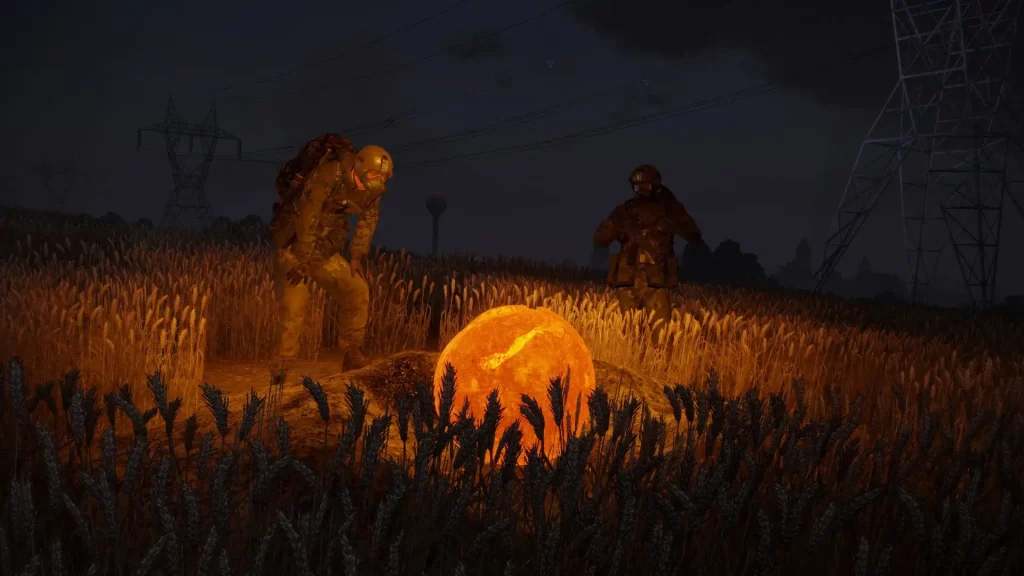 Another paid ARMA 3 DLC,
Contact
lets players encounter beings of the otherworldly kind. It costs $27.99 at the time of writing. This spin-off expansion pack brings a large new terrain, new factions, and other content and features to the game. Note that these additions are under premium and free categories. First, the premium content for the Contact DLC is the following items:
First Contact single-player campaign: Players find and learn about extraterrestrial visitors
Livonia: A new terrain suited for combined arms warfare
Livonian Defense Force (LDF) and Russian Spetsnaz: New factions that come with their respective suit and armor designs
New weapons: Equip and use the RPK-12 Light Machine Gun, AKU-12 Rifle, Mk14 Classic Hunting Rifle, and Kozlice Shotgun
New vehicles: Operate the ED-1 Mini UGV and the ED-1D/E
New gear: Wear an oversuit with different colors and camouflage designs or the Spectrum Device to receive signals or jam frequencies
As for the free content from this DLC, it's the items below:
Extra multiplayer scenarios
NATO Woodland camouflage
Civilian Clothing
Contact official soundtrack
Over 100 decorative and terrain objects
Watch the trailer for the ARMA 3 Contact DLC
here
.
Creator DLCs
Global Mobilization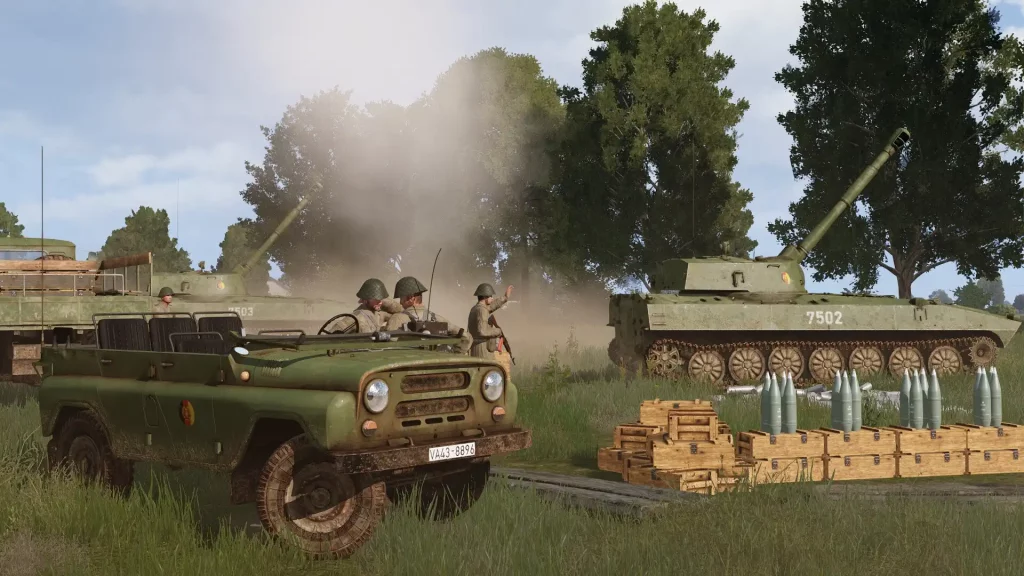 Touted as the first creator DLC for ARMA 3,
Global Mobilization
– Cold War Germany recreates the events of the Cold War. It costs $22.99 at the time of writing. Here, you'll take the role of a soldier that can use various assets from that period. Choose where your loyalties lie: the Federal Republic of Germany (West Germany) or the German Democratic Republic (East Germany). The DLC has over 80 new vehicles and more than 30 weapons to use.
S.O.G. Prairie Fire
S.O.G. Prairie Fire
is another notable paid creator DLC for ARMA 3. It costs $22.99 at the time of writing. In it, you're drafted into the Vietnam War. Starting the custom campaign will drop you in the middle of the combat scenario, and you can use historically-accurate weapons and vehicles while at it.
CSLA Iron Curtain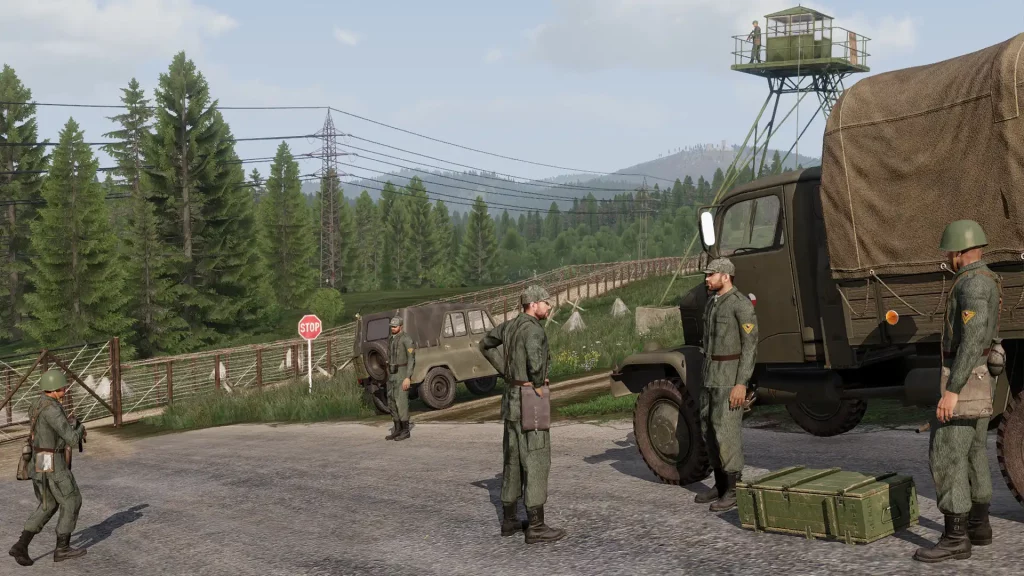 Are you wondering about life behind the barbed wire? In the
CSLA Iron Curtain
DLC, you'll know what it's like to live that life. It costs $12.99 at the time of writing. In it, you'll be in an alternate Czechoslovakia in the 1980s, and you'll explore various locations while battling against enemies in a new lush and mountainous terrain.
Western Sahara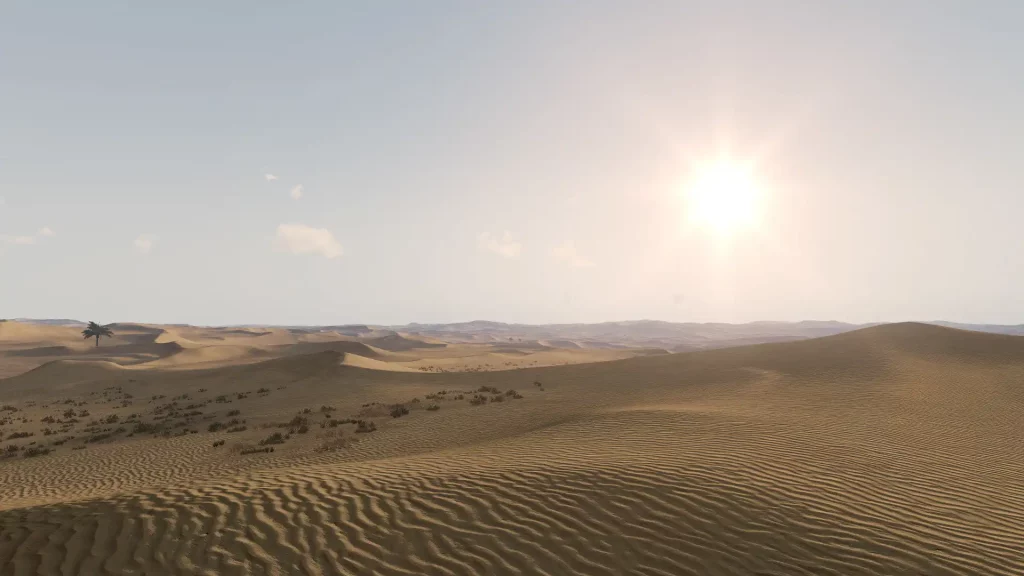 Suit for the blistering desert heat of Argana 2036 as you install the
Western Sahara DLC
for ARMA 3. It costs $6.99 at the time of writing. In it, you can become a private military contractor and explore Argana's desert dunes. Helping you in surviving this punishing environment are eight new rifles and 12 new vehicles. You'll also choose between five factions as you do your business in the desert.
---
Looking to create your own gaming server? It only takes a few minutes.
You Might Also Like
---
Join our Discord!
---
20,000+ Members & Growing!
Join our
DISCORD
Start your Arma 3 server
Looking to create your own gaming server? It only takes a few minutes.
What do you think?
0 Responses
It's Okay
Perfect
Loved it!