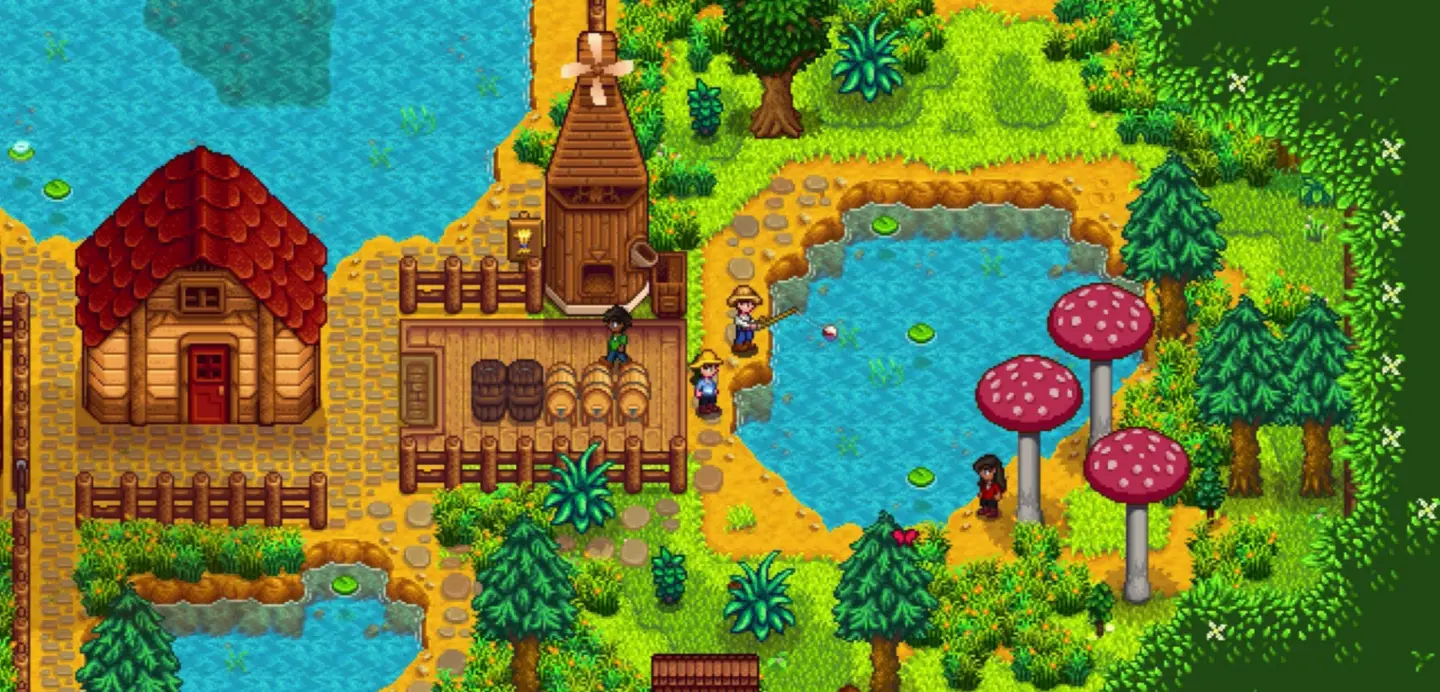 Stardew Valley
Stardew Valley Alex Gifts Guide: Heart Events, Loves, Likes, Hates, & Dislikes
At first, Alex in Stardew Valley appears to be the jock. Conversing with him at early friendship levels will mostly let him discuss his plans to be a professional athlete. But befriending him unveils his true nature, and that he's not the stereotypical "meathead" that some people would assume. With that, here are the best gifts to give Alex in Stardew Valley, all of his Heart Events, and how to get them in your game.
Who is Alex?

Alex is one of the villagers in Stardew Valley, particularly Pelican Town. His house is
southeast of Pierre's General Store
. At low friendship, Alex will sometimes throw misogynist remarks at you. If your character is a female, he'll even say "If you weren't a girl I'd ask you to play catch." However, giving gifts to Alex and sticking around with him in Stardew Valley will reveal an untold story. Players soon discover his desire to lift weights and throw balls hides
a noble goal
.
Stardew Valley Alex Gifts Guide
Unlike other NPCs like Haley, Alex in
Stardew Valley
is fairly easy to please. He has a considerable amount of items he'll like and accept and only a few things he despises. Note that you can only give him up to two
gifts
per week, with an additional instance during his birthday on
Summer 13
. He'll also react differently based on the item you give him:
Love: "Hey, awesome! I love this stuff!"
Like: "This is cool! Thanks."
Neutral: "Thanks!"
Dislike: "Um... Okay. Thanks."
Hate: "Are you serious? This is garbage."
Loved Gifts
Complete Breakfast
Salmon Dinner
Liked Gifts
All Universal Likes and Eggs except Void Egg
Neutral Gifts
Chanterelle
Common Mushroom
Daffodil
Dandelion
Ginger
Hazelnut
Leek
Magma Cap
Morel
Purple Mushroom
Snow Yam
Winter Root
All Fruit except Salmonberry and Fruit Tree Fruit
All Milk
Disliked Gifts
Salmonberry
Wild Horseradish
Hated Gifts
Heart Events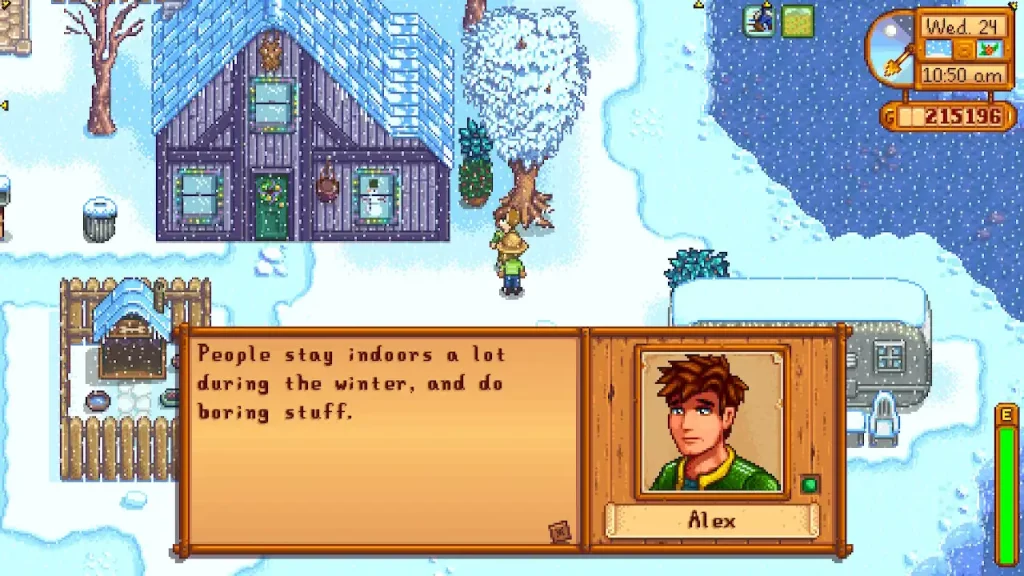 Most of Alex's Heart Events require players to select specific replies. But most of these choices won't affect his friendship level with players. His Heart Events also trigger for every
even-numbered friendship level
up to 10. But you can also trigger an extra 14-heart event if you marry him.
Two-Heart Event
Visit Alex
at the beach
on any summer day. He'll throw you a gridball, but your character fails to catch it. He'll then tell you about his dreams of becoming the first professional Stardew Valley gridball player. Select either option from the on-screen choices, as these won't affect his friendship gauge.
Four-Heart Event
Enter the town
anytime between 9 am and 4 pm. A scene should start wherein Alex is next to his home, talking to a dog named Dusty. He'll soon tell you about his feelings of being misunderstood. Again, select any on-screen option, as these won't affect his friendship level.
Six-Heart Event
Go to Alex's House when he's there. Upon entering his home, a scene triggers wherein he worries about not going anywhere in life. This time, some replies can affect his friendship level.
No effect: "That's crazy. You're a genius!"
+50 friendship: "We all have our strengths and weaknesses."
-50 friendship: "Worthless? Yeah, that about sums it up."
Note:
As of
version 1.3
, a glitch may occur when entering Alex's House, but he'll also leave. Players can press "Skip" to resolve this issue.
Eight-Heart Event
Visit the beach on
any sunny day
and when Alex is there. You should find him crying, and he'll reveal his longing for his mother that passed away. You can reply with any on-screen option, for any of these choices won't affect his friendship level.
Ten-Heart Event
This event will only trigger if you have a full friendship gauge at this point and when you
receive his letter
to meet him at the Saloon. On the day that you get the message, head to the Saloon between 7 pm and 10 pm. Let the scene play out normally, and answer with any reply that you prefer. Again, these choices won't affect your friendship with him.
---
Looking to create your own gaming server? It only takes a few minutes.
You Might Also Like
---
Join our Discord!
---
20,000+ Members & Growing!
Join our
DISCORD
Start your Stardew Valley server
Looking to create your own gaming server? It only takes a few minutes.
What do you think?
0 Responses
It's Okay
Perfect
Loved it!