Minecraft players have been waiting patiently for the 1.17 update, the first of Caves and Cliffs. While there's been plenty of its features available in the beta and regular Snapshot Updates, the 1.17 Pre Release is now finally live.
Here's what you need to know about it, and what future Pre Releases will bring to Minecraft: Java Edition.
Minecraft 1.17 Pre Release 1
Minecraft 1.17 Pre Release 1 drops many new bug fixes for the future update, and also brings some new features as well (returning candles to the first part of Caves and Cliffs rather than the second scheduled for December).
Mojang have revealed that the Pre Releases won't follow the Snapshot Update schedule of dropping each Wednesday – and with the first releasing on Thursday, May 27th, this could be the regular day moving forward.
DON'T MISS IT: BisectHosting Rated Best Minecraft Host of 2021 by Benzinga
Patch Notes
With the Minecraft 1.17 Pre Release bringing plenty to the table, let's waste no more time and dive right into its massive patch notes.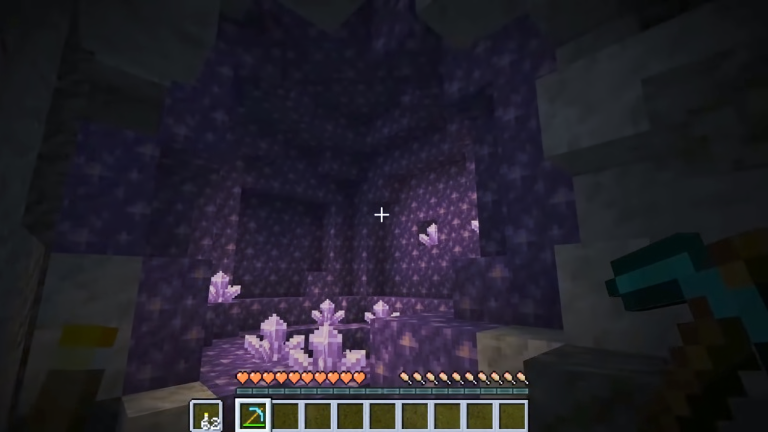 DON'T MISS IT: Minecraft Devs Answer Questions on Caves and Cliffs
ADVANCEMENTS
Added "Whatever Floats Your Goat!" for floating in a boat with a goat
Added "Wax on" for applying wax to a Copper block!
Included "Wax off" for scraping wax off a Copper block!
Added "The Cutest Predator" for catching an axolotl in a bucket!
Added "The Healing Power of Friendship!" for teaming up with an axolotl and winning a fight
Included "Glow and Behold" for making a sign glow
Added "Light as a Rabbit" for walking on powder snow with leather boots
Added "Surge Protector!" for having a lightning strike a lightning rod near a villager without setting the area on fire
Added "Is it a Bird?" for looking at a parrot through a spyglass
Added "Is it a Balloon?" for looking at a ghast through a spyglass
Added "Is it a Plane?" for looking at a dragon through a spyglass
CHANGES IN 1.17 PRE-RELEASE 1
Candles have been added back to the creative inventory
Recipes for crafting and dying candles are once again available
Candles now have a different texture when lit
Glowing text on signs now has an outer glow, making text in dark colours more visible in the dark
Holding down the space bar now increases the scroll speed in the credits
THE CAVES & CLIFFS PREVIEW
Download the updated datapack now.
TECHNICAL CHANGES IN 1.17 PRE-RELEASE 1
Added started_riding, lightning_strike and using_item advancement triggers
Added source condition to effects_changed trigger
Included lightning_bolt sub-predicate
Added passenger, stepping_on and lightning_bolt properties to entity predicate
Added looking_at condition to player sub-predicate
Expanded item field on item predicate to items
Expanded block field on block predicate to blocks
Added F3+L shortcut to generate and persist performance metrics from in-game

F3+L on single-player worlds will also include reports for the integrated server

Removed debug report command (use perf start/stop for server performance measurement)
perf start/stop command on dedicated servers will now generate and persist server performance metrics
DON'T MISS IT: Important Things to Look For In a Game Server Host
ADVANCEMENTS
NEW TRIGGERS
STARTED_RIDING
Triggered when player starts riding a vehicle or entity starts riding vehicle currently ridden by player
Conditions:

player – either a player that started riding or one of boat passengers
LIGHTNING_STRIKE
Triggered when lightning finishes (i.e. entity disappears)
Triggers for any player on the server
Conditions

player – player for which this trigger runs
lightning – predicate for lightning entity
bystander – predicate for one of the entities in a certain area around strike not hurt by it
USING_ITEM
Triggered for every tick of using items (like crossbows, spyglass, fishing rods, etc)
Conditions

player – players that uses item
item – item being used
CHANGED TRIGGERS
EFFECTS_CHANGED
Added source triggers that matches entity that triggered the change
Might be empty when:

there is no entity (for example, effect gained from a beacon)
the effect is self-applied
effect is removed
DON'T MISS IT: New Minecraft Speedrunning World Record Will Be Tough to Beat