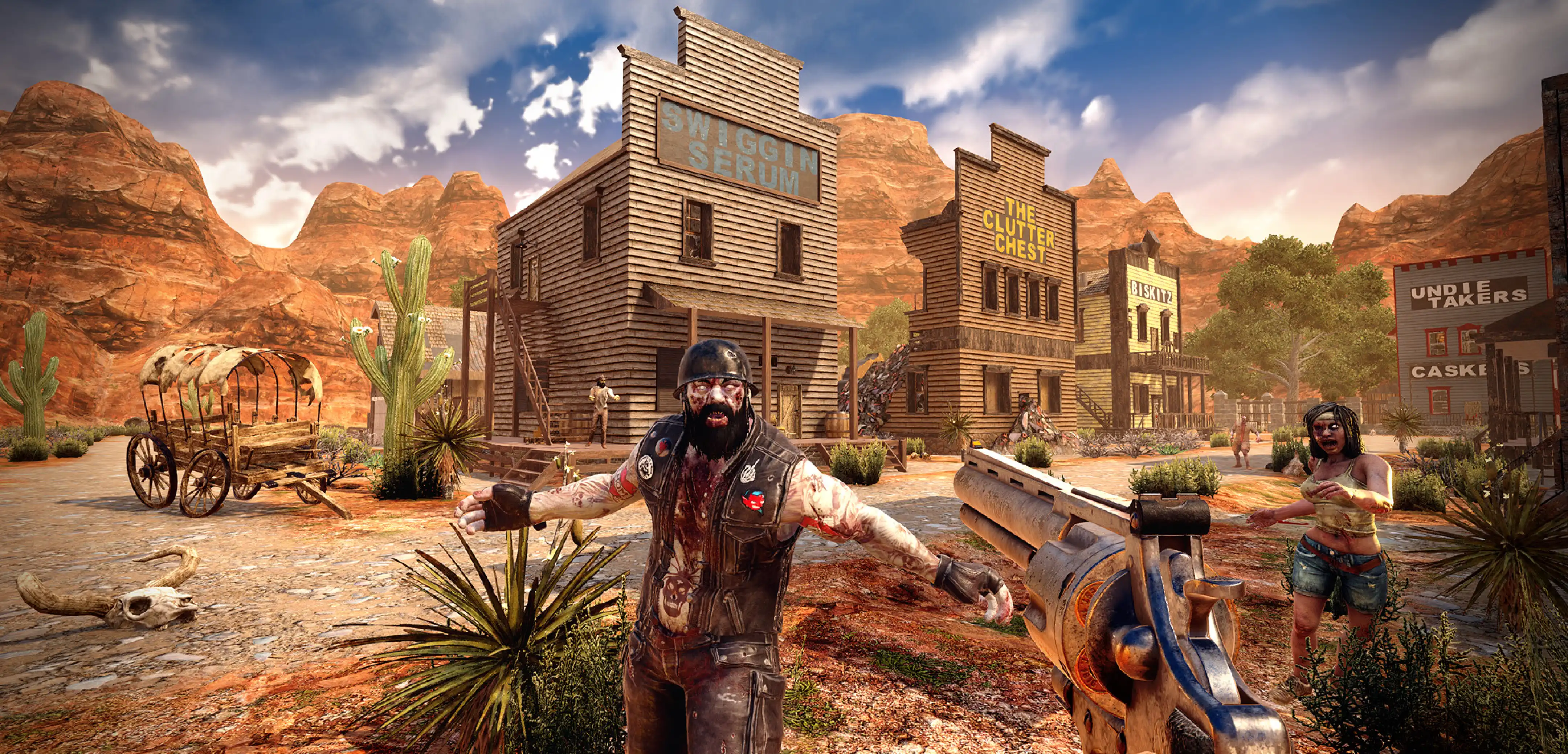 7 Days to Die
7 Days to Die Item IDs and Console Commands
Fighting waves of the undead in 7 Days to Die can be quite a nerve-wracking experience if you don't have the
necessary items
to survive. Thankfully, you can use console commands to give yourself an edge against zombie hordes. So, keep reading to learn all the item IDs in 7 Days to Die, and the console commands you can use to catch up and get ahead of the undead.
How to Use Console Commands in 7 Days to Die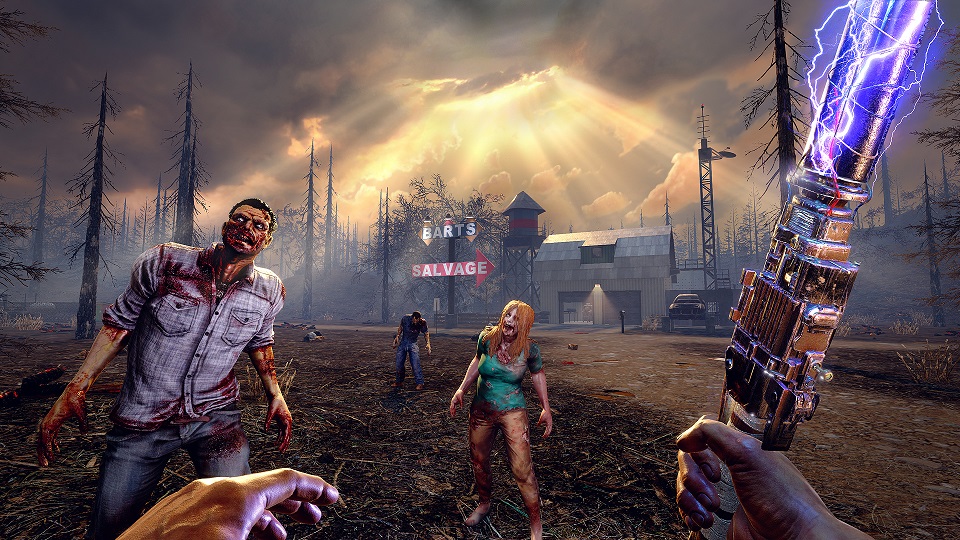 7 Days to Die players can access the command console in both single and multiplayer scenarios. However, only some console commands can be used in online multiplayer. But you can still open the command console by pressing the F1, F2, or double quotation (") keys on your keyboard. Warning: Excessive use of console commands in 7 Days to Die
may corrupt
the character and/or world file. Create a backup before attempting to use these special commands.
7 Days to Die Console Commands
| | | |
| --- | --- | --- |
| Command Name | Syntax | Description |
| giveself | giveself [item id] [quality level (1-6)] | Give yourself the indicated item with the specified quality level. |
| buff | buff [buff id] | Applies a buff to yourself. |
| debuff | debuff [buff id] | Removes a buff from yourself. |
| buffplayer | buffplayer [steam id / player name / entity id] [buff id] | Applies a buff to a specified player. |
| debuffplayer | debuffplayer [steam id / player name / entity id] [buff id] | Removes a buff to a specified player. |
| switchview | switchview | Switches between 1st person and 3rd person POVs. |
| systeminfo | systeminfo | Print info about the current system CPU or operating system. |
| debugmenu | debugmenu | Toggles debug mode on or off. |
| exhausted | exhausted | Exhausts your character. |
| giveselfxp | giveselfxp [xp amount] | Give your character the specified amount of XP. |
| creativemenu | creativemenu | Toggles the creative menu. |
| spawnsupplycrate | spawnsupplycrate | Spawn a supply crate above your character. |
| admin | admin ['add' / 'remove' / 'list'] [steam id / player name / entity id] [permission level] | Manages the user permission level. |
| kick | kick [steam id / player name / entity id] ["kick message"] | Kick any particular player from the game using this command. |
| kickall | kickall ["kick message"] | Kicks all players from the game. |
| whitelist | whitelist ['add' / 'remove' / 'list'] [steam id / player name / entity id] | Adds or removes any player in the white list. |
| ban | ban ['add' / 'remove' / 'list'] [steam id / player name / entity id] [duration + duration unit] ["message"] | Ban or unban any player in the game. |
| killall | killall | Kills all players in the current game instance. |
| teleport | teleport [steam id / player name / entity id] [x y z] [offset x y z] [view direction] | Teleports your character to the designated location. |
| teleportplayer | teleportplayer [steam id / player name / entity id] [steam id / player name / entity id] [x y z] [view direction] | Teleports a character to the designated location. |
| showclouds | showclouds [texture file name] | Shows one layer of clouds. |
| repairchunkdensity | repairchunkdensity [x z] ['fix'] | Checks if block densities in a chunk match the actual block type. |
| weather | weather [weather setting] | Changes the in-game weather. |
| weathersurvival | weathersurvival ['on' / 'off'] | Enable or disable the weather in survival mode. |
| spawnentity | spawnentity [player id] [entity id] | Displays a list of entities that can be spawned. |
| spawnwanderinghorde | spawnwanderinghorde | Summon a wandering zombie horde. |
| givequest | givequest [quest id] | Triggers the specified quest. |
| removequest | removequest [quest id] | Removes the specified quest. |
| say | say ["message"] | Sends a message to all connected clients. |
| cp | cp ['add' / 'remove' / 'list'] [command] [0 - 1000] | Adds a command to the command permission list with the desired permission level. |
| listplayers | listplayers | Lists all players with their IDs, positions, health, stats, and IP addresses. |
| version | version | Print the currently running version of the game and loaded mods. |
| water limit | water limit [amount] | Controls the flow of water in the map. |
| thirsty | thirsty | Make your character thirsty. |
| spectrum | spectrum [spectrum id] | Forces a lighting spectrum. |
| gettime | gettime | Print the current number of days and time. |
| spawnscouts | spawnscouts [steam id / player name / entity id] [x y z] | Summons any screamer at the designated location or player. |
| listents | listents | Lists all zombies, players, and animals. |
| shutdown | shutdown | Shuts down the current game. |
| spawnairdrop | spawnairdrop | Spawns an air drop. |
| staticmap | staticmap | Toggles the Navazgane map between static and dynamic. |
| listplayerids | listplayerids | Lists all players and their IDs. |
| setgamestat | setgamestat [game stat] [value] | Sets any game statistic to the designated value. |
| getgamestat | getgamestat [string] | Prints a list of current game stats. |
| setgamepref | setgamepref [game preference] [value] | Sets the game preference to your desired value. |
| getgamepref | getgamepref [string] | Prints a list of current game preferences. |
| starve | starve | Makes your character hungry. |
| settempunit | settempunit [c / f] | Toggles the temperature unit to between Celsius and Fahrenheit. |
| memcl | memcl | Prints the memory information on client and calls garbage collector. |
| mem | mem | Prints the memory information and calls garbage collector. |
| traderarea | traderarea | Shows all trade areas. |
| exportitemicons | exportitemicons | Exports all item coins to the game folder. |
| lights | lights | Turns light-emitting objects on or off. |
| shownexthordetime | shownexthordetime | Displays the wandering horde's next spawn time. |
| pplist | pplist | Prints the persistent player data. |
| clear | clear | Clears all output text in the command console. |
| listthreads | listthreads | You can execute the listthreads console command to list the threads. |
| spawnscreen | spawnscreen | Displays the spawn screen. |
| showalbedo | showalbedo | Hide or show the albedo in the gBuffer. |
| settime | settime ['day' / 'night'] [0-24000] [d hh mm] | Sets the game's time. |
| help | help [command] | Prints the help text for supported commands. |
| sounddebug | sounddebug | Enables or disables the SoundManager debug output. |
| shownormals | shownormals | Shows or hides the normal maps in gBuffer. |
| loggamestate | loggamestate [header] [true / false] | Writes the information about the current state of the game. |
| chunkcache | chunkcache | Shows all loaded chunks in the cache. |
| loglevel | loglevel [log level] [true / false] | Enables or disables log messages shown on the connection. |
| saveworld | saveworld | Saves the world. |
| showchunkdata | showchunkdata | Displays some current data chunks. |
| aiddebug | aiddebug | Enables or disables the AIDirector debug output. |
| showspecular | showspecular | Enables or disables the display of specular values in gBuffer. |
7 Days to Die Item IDs
With the command console open, you can give your character in 7 Days to Die the desired item by using the
giveself
command along with their item ids. For example, if you want the Bone Knife, you must input the following command:
giveself
meleeBoneShiv. With that, here are all the
in-game objects
and their item IDs in 7 Days to Die that you can use with the
giveself
command.
Gun
.44 Magnum: gun44Magnum
AK-47 Assault Rifle: gunAK47
Blunderbuss: gunBlunderbuss
Compound Bow: gunCompoundBow
Crossbow: gunCrossbow
Hunting Rifle: gunHuntingRifle
Marksman Rifle: gunMR10
Pistol: gunPistol
Shotgun: gunPumpShotgun
Rocket Launcher: gunRocketLauncher
SMG-5: gunSMG5
Wooden Bow: gunWoodenBow
Molotov Cocktail: thrownAmmoMolotovCocktail
Pipe Bomb: thrownAmmoPipeBomb
Ammunition
.44 Magnum Round: ammo44MagnumBullet
.44 Magnum AP Round: ammo44MagnumBulletAP
7.62mm AP Round: ammo762mmBulletAP
7.62mm Round: ammo762mmBulletFMJ
9mm Round: ammo9mmBullet
9mm JHP Round: ammo9mmBulletJHP
Flaming Arrow: ammoArrowFlaming
Iron Arrow: ammoArrowIron
Steel Arrow: ammoArrowSteelAP
Stone Arrow: ammoArrowStone
Blunderbuss Ammo: ammoBlunderbuss
Exploding Crossbow Bolt: ammoCrossbowBoltExploding
Iron Crossbow Bolt: ammoCrossbowBoltIron
Steel Crossbow Bolt: ammoCrossbowBoltSteelAP
Stone Crossbow Bolt: ammoCrossbowBoltStone
Iron Dart: ammoDartSteel
Rocket HE: ammoRocketHE
Shotgun Shell: ammoShotgunShell
Shotgun Slug: ammoShotgunSlug
Buckshot: resourceBuckshot
Melee
Bone Knife: meleeBoneShiv
Candy Cane Club: meleeCandyCaneClub
Candy Cane Knife: meleeCandyCaneShiv
Barbed Club: meleeClubBarbed
Iron Reinforced Club: meleeClubIron
Spiked Club: meleeClubSpiked
Wooden Club: meleeClubWood
Hunting Knife: meleeToolHuntingKnife
Machete: meleeToolMachete
Iron Sledgehammer: meleeToolSledgehammer
Advanced Muffled Connectors: modArmorAdvancedMuffledConnectors
Advanced Muffled Connectors Schematic: modArmorAdvancedMuffledConnectorsSchematic
Customized Fittings: modArmorCustomizedFittings
Customized Fittings Schematic: modArmorCustomizedFittingsSchematic
Helmet Light: modArmorHelmetLight
Helmet Light Schematic: modArmorHelmetLightSchematic
Improved Fittings: modArmorImprovedFittings
Improved Fittings Schematic: modArmorImprovedFittingsSchematic
Muffled Connectors: modArmorMuffledConnectors
Muffled Connectors Schematic: modArmorMuffledConnectorsSchematic
Book
Flaming Arrow Schematic: ammoArrowFlamingSchematic
Exploding Crossbow Bolt Schematic: ammoCrossbowBoltExplodingSchematic
Gas Can Schematic: ammoGasCanSchematic
Shotgun Slug Schematic: ammoShotgunSlugSchematic
Leather Armor Schematic: armorLeatherChestSchematic
Scrap Armor Schematic: armorScrapChestSchematic
Steel Armor Schematic: armorSteelChestSchematic
Battery Bank Schematic: batterybankSchematic
Tasting And Brewing: beerSchematic
First Aid Kit Schematic: firstAidKitSchematic
Enforcer Magazine: gun44MagnumSchematic
AK-47 Schematic: gunAK47Schematic
Compound Bow Schematic: gunCompoundBowSchematic
Crossbow Schematic: gunCrossbowSchematic
Hunting Rifle Schematic: gunHuntingRifleSchematic
MR-10 Schematic: gunMR10Schematic
Pistol Book: gunPistolSchematic
Shotgun Schematic: gunPumpShotgunSchematic
Rocket Launcher Schematic: gunRocketLauncherSchematic
SMG-5 Schematic: gunSMG5Schematic
Nailgun Schematic: gunToolNailgunSchematic
Auger Schematic: meleeToolAugerSchematic
Chainsaw Schematic: meleeToolChainsawSchematic
Hunting Knife Book: meleeToolHuntingKnifeSchematic
Sledgehammer Schematic: meleeToolSledgehammerSchematic
Barrel Extender Schematic: modGunBarrelExtenderSchematic
Bipod Schematic: modGunBipodSchematic
Polymer String Schematic: modGunBowPolymerStringSchematic
Shotgun Choke Schematic: modGunChokeSchematic
Cripple 'Em Schematic: modGunCrippleEmSchematic
Shotgun Duckbill Schematic: modGunDuckbillSchematic
Weapon Flashlight Schematic: modGunFlashlightSchematic
Fore Grip Schematic: modGunForegripSchematic
Magazine Extender Schematic: modGunMagazineExtenderSchematic
Feel the Heat Schematic: modGunMeleeFeelTheHeatSchematic
Rad Remover Schematic: modGunMeleeRadRemoverSchematic
The Hunter Schematic: modGunMeleeTheHunterSchematic
Muzzle Brake Schematic: modGunMuzzleBrakeSchematic
Reflex Sight Schematic: modGunReflexSightSchematic
Retracting Stock Schematic: modGunRetractingStockSchematic
Rod and Spring Replacement Schematic: modGunRodAndSpringSchematic
Scope 8x Schematic: modGunScopeLargeSchematic
Scope 4x Schematic: modGunScopeMediumSchematic
Scope 2x Schematic: modGunScopeSmallSchematic
Silencer Schematic: modGunSoundSuppressorSilencerSchematic
Trigger Group: Full Auto Schematic: modGunTriggerGroupAutomaticSchematic
Trigger Group: Burst Schematic: modGunTriggerGroupBurstSchematic
Trigger Group: Semi Schematic: modGunTriggerGroupSemiSchematic
Bunker Buster Schematic: modMeleeBunkerBusterSchematic
Barbed Wire Mod Schematic: modMeleeClubBarbedWireSchematic
Burning Shaft Mod Schematic: modMeleeClubBurningShaftSchematic
Metal Spikes Mod Schematic: modMeleeClubMetalSpikesSchematic
Ergonomic Grip Schematic: modMeleeErgonomicGripSchematic
Fortifying Grip Schematic: modMeleeFortifyingGripSchematic
Grave Digger Schematic: modMeleeGraveDiggerSchematic
Iron Breaker Schematic: modMeleeIronBreakerSchematic
Serrated Blade Schematic: modMeleeSerratedBladeSchematic
Structural Brace Schematic: modMeleeStructuralBraceSchematic
Tempered Blade Schematic: modMeleeTemperedBladeSchematic
Weighted Head Schematic: modMeleeWeightedHeadSchematic
Wood Splitter: modMeleeWoodSplitterSchematic
Sawed-off Shotgun Barrel Schematic: modShotgunSawedOffBarrelSchematic
Painting: Decorations: paintMagazineDecorations
Painting: Faux: paintMagazineFaux
Painting: Masonry: paintMagazineMasonry
Painting: Metal: paintMagazineMetal
Painting: Wall Coverings: paintMagazineWallCoverings
Painting: Wood and Roofing: paintMagazineWoodAndRoofing
Schematic Test: schematicMaster
Minibikes For Dumbshits: vehicleMinibikesForDumbshitsSchematic
Clothes
Padded Boots: armorClothBoots
Padded Gloves: armorClothGloves
Padded Hood: armorClothHat
Padded Chest Armor: armorClothJacket
Padded Leg Armor: armorClothPants
Football Helmet: armorFootballHelmet
Iron Boots: armorIronBoots
Iron Chest Armor: armorIronChest
Iron Gloves: armorIronGloves
Iron Helmet: armorIronHelmet
Iron Leg Armor: armorIronLegs
Leather Boots: armorLeatherBoots
Leather Chest Armor: armorLeatherChest
Leather Gloves: armorLeatherGloves
Leather Hood: armorLeatherHood
Leather Leg Armor: armorLeatherPants
Military Boots: armorMilitaryBoots
Military Gloves: armorMilitaryGloves
Military Helmet: armorMilitaryHelmet
Military Leg Armor: armorMilitaryLegs
Military Vest: armorMilitaryVest
Mining Helmet: armorMiningHelmet
Scrap Boots: armorScrapBoots
Scrap Chest Armor: armorScrapChest
Scrap Gloves: armorScrapGloves
Scrap Helmet: armorScrapHelmet
Scrap Leg Armor: armorScrapLegs
Steel Boots: armorSteelBoots
Steel Chest Armor: armorSteelChest
Steel Gloves: armorSteelGloves
Steel Helmet: armorSteelHelmet
Steel Leg Armor: armorSteelLegs
SWAT Helmet: armorSwatHelmet
BDU Bottoms: armyPants
BDU Top: armyShirt
Lucky Goggles: aviatorGoggles
Baseball Cap: ballCap
Bandana: bandana
Cigar: cigar
Cigarette: cigarette
Cowboy Boots: cowboyBoots
Cowboy Hat: cowboyHat
Blue Denim Pants: denimPants
Shorts: denimShortsPants
Dress Shoes: dressShoes
Facial Piercings: facialPiercings
Flannel Shirt: flannelShirt
Gasmask: gasMask
Ski Goggles: goggles
Black Goth Boots: gothBootsBlack
Black Goth Pants: gothicPants
Hazmat Boots: hazmatBoots
Hazmat Gloves: hazmatGloves
Hazmat Mask: hazmatMask
Hazmat Pants: hazmatPants
Hazmat Jacket: hazmatShirt
Hooded Sweatshirt: hoodedSweatshirt
College Jacket: jacketLetter
Jacket: jacketWhite
Leather Duster: leatherDuster
Leather Poncho: leatherPoncho
Nerdy Glasses: nerdGlasses
Night Vision Goggles: nightvisionGoggles
Overalls: overalls
Plant Fiber Gloves: plantFiberGloves
Plant Fiber Hood: plantFiberHood
Plant Fiber Pants: plantFiberPants
Plant Fiber Shirt: plantFiberShirt
Plant Fiber Shoes: plantFiberShoes
Press Boy Cap: pressboyCap
Puffer Coat: pufferCoat
Running Shoes: runningShoes
Santa Hat: santaHat
Shades: shades
Shirt: shirt
Skirt: skirt
Skull Cap: skullCap
Suit Jacket: suitJacket
Suit Pants: suitPants
Sweatshirt: sweatshirt
Tank Top: tankTop
T-Shirt: tshirt
Worn Boots: wornBoots
Trap
Barbed Wire Fence: barbedFence
Barbed Wire: barbedWireSheet
Air Filter Land Mine: mineAirFilter
Tin Land Mine: mineCandyTin
Hubcap Land Mine: mineHubcap
R Iron Log Spike 5: rScrapIronLogSpike5
Reinforced Wood Log Spike 2: rWoodLogSpike2
Reinforced Wood Metal Log Spike 3: rWoodMetalLogSpike3
Iron Log Spike: scrapIronLogSpike4
Steel Log Spike 6: steelLogSpike6
Explosive Charge (Ammo): tnt
Trap Spikes Damage 1: trapSpikesDamage1
Trap Spikes Damage 2: trapSpikesDamage2
Trap Spikes Damage 3: trapSpikesDamage3
Trap Spikes Damage 4: trapSpikesDamage4
Trap Spikes Damage 5: trapSpikesDamage5
Iron Spikes Trap 1: trapSpikesIronDmg1
Iron Spikes Trap 2: trapSpikesIronDmg2
Wood Spikes: trapSpikesNew
Wood Spikes Trap 1: trapSpikesWoodDmg1
Wood Spikes Trap 2: trapSpikesWoodDmg2
Wood Log Spike: woodLogSpike1
Container
Ammo Pile, Large: cntAmmoPileLarge
Ammo Pile, Medium: cntAmmoPileMedium
Ammo Pile, Small: cntAmmoPileSmall
Weathered Backpack: cntBackpack01
Moldy Backpack: cntBackpack03
Empty Bath Tub: cntBathTubEmpty
Bath Tub... filled: cntBathTubGore
Beverage Cooler: cntBeerCooler
Small Trash Bin: cntBin
Birdnest: cntBirdnest
Empty Bookcase: cntBookcaseEmpty
Bookcase: cntBookcaseFull
City Bus: cntBusCity
School Bus: cntBusSchool
Short School Bus: cntBusSchoolShort
Shuttle Bus: cntBusShuttle
Cabinet Door: cntCabinetBottomBrokenDoor
Cabinet Filler (No Loot): cntCabinetBottomFiller
Cabinet Red, Open: cntCabinetBottomOpen
= Cabinet Old = Random Helper: cntCabinetOldBottomLootHelper
Cabinet, Open: cntCabinetOldBottomOpen
Cabinet Rounded (No Loot): cntCabinetOldCNRRoundFiller
Old Sink: cntCabinetOldSink
Sedan: cntCar03SedanDamage0
Damaged Sedan: cntCar03SedanDamage1
Car Wreck: cntCar03SedanDamage2
Cash Register: cntCashRegister
Cash Register Empty: cntCashRegisterEmpty
Charcoal Grill: cntCharcoalGrillClosed
Charcoal Grill (Open): cntCharcoalGrillOpen
Wooden Chest: cntChest01
Chest: cntChest02
Coffin: cntCoffin
= Construction Loot = Random Helper: cntConstructionSuppliesRandomLootHelper
Cooler: cntCoolerClosed
Cooler (Open): cntCoolerOpen
Cupboard: cntCupboardCabinetFullOldTopClosed
Cupboard: cntCupboardCabinetFullRedTopClosed
= Cupboard Old = Random Helper: cntCupboardCabinetOldTopLootHelper
Cupboard Old, Open: cntCupboardCabinetOldTopOpen
= Cupboard Red = Random Helper: cntCupboardCabinetRedTopLootHelper
Cupboard Red, Open: cntCupboardCabinetRedTopOpen
Cupboard: cntCupboardCornerCNROld
Cupboard: cntCupboardCornerCNRRed
Desk Safe: cntDeskSafe
Duffle Bag: cntDuffle01
Dumpster: cntDumpster
Fancy Garbage Can: cntFancyGarbageCan
Courier Satchel: cntFetchQuestSatchel
File Cabinet: cntFileCabinetShortClosed
File Cabinet Short (Open): cntFileCabinetShortOpen
File Cabinet: cntFileCabinetTallClosed
File Cabinet Tall (Open): cntFileCabinetTallOpen
Food Pile, Large: cntFoodPileLarge
Food Pile, Medium: cntFoodPileMedium
Food Pile, Small: cntFoodPileSmall
Refrigerator, Stainless Steel: cntFridgeStainlessSteel
Refrigerator, Open: cntFridgeStainlessSteelVer2Open
= Garage Loot = Random Helper: cntGarageRandomLootHelper
Garage Storage: cntGarageStorage
Gas Grill: cntGasGrillClosed
Gas Grill (Open): cntGasGrillOpen
Gas Pump: cntGasPump
Sink: cntGraniteSink
Gun Safe: cntGunSafe
Hardened Chest: cntHardenedChestSecure
Laundry Basket, Empty: cntLaundryBasketVer1Empty
Laundry Basket: cntLaundryBasketVer2Full
Lockers: cntLockersShortClosed
Lockers Short (Open): cntLockersShortOpen
Lockers: cntLockersTallClosed
Lockers: cntLockersTallDoubleClosed
Lockers Tall Double (Open): cntLockersTallDoubleOpen
Lockers: cntLockersTallMixClosed
Lockers: cntLockersTallMixLinkClosed
Lockers Mixed 2 (open): cntLockersTallMixLinkOpen
Lockers Mixed 1 (open): cntLockersTallMixOpen
Lockers Tall (Open): cntLockersTallOpen
Reinforced Chest: cntLootChestHero
Luggage: cntLuggageBigClosed
Luggage, open: cntLuggageBigOpen
Luggage: cntLuggageMediumClosed
Luggage, open: cntLuggageMediumOpen
Luggage: cntLuggagePileAClosed
Luggage, open: cntLuggagePileAOpen
Luggage: cntLuggagePileBClosed
Luggage, open: cntLuggagePileBOpen
Mailbox: cntMailbox
Mail Box: cntMailBox01
Mail Box: cntMailBox02
Mail Box: cntMailBox03
Medicine Cabinet, Closed: cntMedicineCabinetClosed
Medicine Cabinet, Closed: cntMedicineCabinetFaucetClosed
Medicine Cabinet: cntMedicineCabinetFaucetOpen
Medicine Cabinet: cntMedicineCabinetOpen
Medical Supplies: cntMedicLootPileA
Medical Supplies: cntMedicLootPileB
Iron Desk, Open: cntMetalDesk02Open
= Metal Desk = Random Helper: cntMetalDesk02RandomLootHelper
Microwave: cntMicrowaveOvenVer1Closed
Microwave, Open: cntMicrowaveOvenVer1Open
Munitions Box: cntMunitionsBox
Night Stand: cntNightstandClosed
Night Stand (Open): cntNightstandOpen
Pill Case: cntPillCase
Medical Cabinet: cntPillCaseClosed
Medical Cabinet Empty: cntPillCaseEmpty
Purse: cntPurse01
Prefab Test Loot: cntQuestTestLoot
Retro Refrigerator: cntRetroFridgeVer1Closed
Retro Refrigerator, Open: cntRetroFridgeVer2Open
Crack-A-Book Sealed Shipping Crate: cntShippingCrateBookstore
Pass-N-Gas Sealed Shipping Crate: cntShippingCrateCarParts
Sealed Shipping Crate: cntShippingCrateHero
Pop-N-Pills Sealed Shipping Crate: cntShippingCrateLabEquipment
Shamway Sealed Shipping Crate: cntShippingCrateShamway
Shotgun Messiah Sealed Shipping Crate: cntShippingCrateShotgunMessiah
Working Stiff Sealed Shipping Crate: cntShippingCrateWorkingStiffs
Shopping Cart: cntShoppingCart
Rotting Sports Bag: cntSportsBag01
Weathered Sports Bag: cntSportsBag02
Storage Box: cntStorageGeneric
Old Stove: cntStoveOldVer1Closed
Old Stove, Open: cntStoveOldVer2Open
Suitcase: cntSuitcase
Toilet: cntToilet01
Fancy Toilet: cntToilet02
Commercial Toilet: cntToilet03
= Tools / Forge = Random Helper: cntToolsAndForgeRandomLootHelper
Trash Compactor: cntTrashCompactor
Trash Pile: cntTrashPile01
Pile of Garbage: cntTrashPile02
Mound of Garbage: cntTrashPile03
Abandoned Rubbish: cntTrashPile04
Rotting Trash: cntTrashPile05
Spoiled Trash: cntTrashPile06
Garbage Pile: cntTrashPile07
Foul Trash: cntTrashPile08
Old Trash: cntTrashPile09
Trash Can: cntTrash_can01
Player Vending Machine: cntVendingMachine
Broken Vending Machine: cntVendingMachine2Broken
Vending Machine Rental: cntVendingMachineTrader
Wall Oven: cntWallOven
Wall Safe: cntWallSafe
Washing Machine: cntWashingMachine
= Wasteland Loot = Random Helper: cntWastelandRandomLootHelper
Water Cooler Bottle: cntWaterCoolerBottle
Water Cooler: cntWaterCoolerFull
Weapons Bag: cntWeaponsBagLarge
Weapons Bag: cntWeaponsBagSmall
Wooden Desk: cntWoodDesk01Closed
Wooden Desk, Open: cntWoodDesk01Open
Tree Stump: treeStump
Food
Boiled Water: drinkCanBoiledWater
Empty Can: drinkCanEmpty
Mega Crush: drinkCanMegaCrush
Can of Murky Water: drinkCanRiverWater
Beer: drinkJarBeer
Bottled Water: drinkJarBoiledWater
Coffee: drinkJarCoffee
Glass Jar: drinkJarEmpty
Golden Rod Tea: drinkJarGoldenRodTea
Grain Alcohol: drinkJarGrainAlcohol
Grandpa's Awesome Sauce: drinkJarGrandpasAwesomeSauce
Grandpa's Learn'n Elixir: drinkJarGrandpasLearningElixir
Grandpa's Fergit'n Elixir: drinkJarGrandpasForgettingElixir
Grandpa's Moonshine: drinkJarGrandpasMoonshine
Red Tea: drinkJarRedTea
Bottled Murky Water: drinkJarRiverWater
Yucca Cocktail: drinkJarYuccaCocktail
Yucca Juice: drinkJarYuccaJuice
Yucca Juice Smoothie: drinkYuccaJuiceSmoothie
Bacon and Eggs: foodBaconAndEggs
Baked Potato: foodBakedPotato
Blueberry Pie: foodBlueberryPie
Boiled Meat: foodBoiledMeat
Large Beef Ration: foodCanBeef
Can of Cat Food: foodCanCatfood
Chicken Ration: foodCanChicken
Can of Chili: foodCanChili
Can of Dog Food: foodCanDogfood
Can of Sham: foodCanHam
Lamb Rations: foodCanLamb
Can of Miso: foodCanMiso
Can of Pasta: foodCanPasta
Can of Pears: foodCanPears
Can of Peas: foodCanPeas
Can of Salmon: foodCanSalmon
Chicken Soup: foodCanSoup
Can of Stock: foodCanStock
Can of Tuna: foodCanTuna
Charred Meat: foodCharredMeat
Chili Dog: foodChiliDog
Corn Bread: foodCornBread
Corn Meal: foodCornMeal
Corn on the Cob: foodCornOnTheCob
Egg: foodEgg
Boiled Egg: foodEggBoiled
Fish Tacos: foodFishTacos
Grilled Meat: foodGrilledMeat
Hobo Stew: foodHoboStew
Jar of Honey: foodHoney
Meat Stew: foodMeatStew
Moldy Bread: foodMoldyBread
Raw Meat: foodRawMeat
Rotting Flesh: foodRottingFlesh
Sham Chowder: foodShamChowder
Old Sham Sandwich: foodShamSandwich
Steak and Potato Meal: foodSteakAndPotato
Vegetable Stew: foodVegetableStew
Medical
Antibiotics: drugAntibiotics
Fort Bites: drugFortBites
Painkillers: drugPainkillers
Recog: drugRecog
Steroids: drugSteroids
Vitamins: drugVitamins
Aloe Cream: medicalAloeCream
Bandage: medicalBandage
Blood Bag: medicalBloodBag
Blood Draw Kit: medicalBloodDrawKit
First Aid Bandage: medicalFirstAidBandage
First Aid Kit: medicalFirstAidKit
Splint: medicalSplint
Farming
Blueberries: foodCropBlueberries
Ear of Corn: foodCropCorn
Mushrooms: foodCropMushrooms
Potato: foodCropPotato
Yucca Fruit: foodCropYuccaFruit
Mushrooms 01 (POI): mushroom01
Mushrooms 02 (POI): mushroom02
Aloe Vera (Seed): plantedAloe1
Aloe Vera Plant 3 (POI): plantedAloe3Harvest
Blueberry (Seed): plantedBlueberry1
Blueberry Plant 3 (POI): plantedBlueberry3Harvest
Chrysanthemum (Seed): plantedChrysanthemum1
Chrysanthemum 3 (POI): plantedChrysanthemum3Harvest
Coffee (Seed): plantedCoffee1
Coffee Plant 3 (POI): plantedCoffee3Harvest
Corn (Seed): plantedCorn1
Corn (Growing): plantedCorn2
Corn Plant 3 (POI): plantedCorn3Harvest
Cotton (Seed): plantedCotton1
Cotton 3 (POI): plantedCotton3Harvest
Goldenrod (Seed): plantedGoldenrod1
Goldenrod Flower 3 (POI): plantedGoldenrod3Harvest
Hop (Seed): plantedHop1
Hop Plant 3 (POI): plantedHop3Harvest
Mushroom Spores (Seed): plantedMushroom1
Mushrooms 3 (POI): plantedMushroom3Harvest
Potato (Seed): plantedPotato1
Potato Plant 3 (POI): plantedPotato3Harvest
Snowberry (Seed): plantedSnowberry1
Snowberry Plant 3 (POI): plantedSnowberry3Harvest
Yucca (Seed): plantedYucca1
Yucca Plant 3 (POI): plantedYucca3Harvest
Aloe Vera Leaf: resourceCropAloeLeaf
Coffee Beans: resourceCropCoffeeBeans
Tool
Nailgun: gunToolNailgun
Auger: meleeToolAuger
Chainsaw: meleeToolChainsaw
Claw Hammer: meleeToolClawHammer
Iron Fireaxe: meleeToolFireaxeIron
Iron Garden Hoe: meleeToolHoeIron
Paint Brush: meleeToolPaintTool
Iron Pickaxe: meleeToolPickaxeIron
Steel Pickaxe: meleeToolPickaxeSteel
Iron Shovel: meleeToolShovelIron
Stone Shovel: meleeToolShovelStone
Stone Axe: meleeToolStoneAxe
Wire Tool: meleeToolWireTool
Wrench: meleeToolWrench
You can try out the giveself command to spawn in-game items using their item IDs in 7 Days to Die now alongside all the new content of the
Alpha 21 update
.
---
Looking to create your own gaming server? It only takes a few minutes.
You Might Also Like
---
Join our Discord!
---
20,000+ Members & Growing!
Join our
DISCORD
Start your 7 Days to Die server
Looking to create your own gaming server? It only takes a few minutes.
What do you think?
1 Response
It's Okay
Perfect
Loved it!