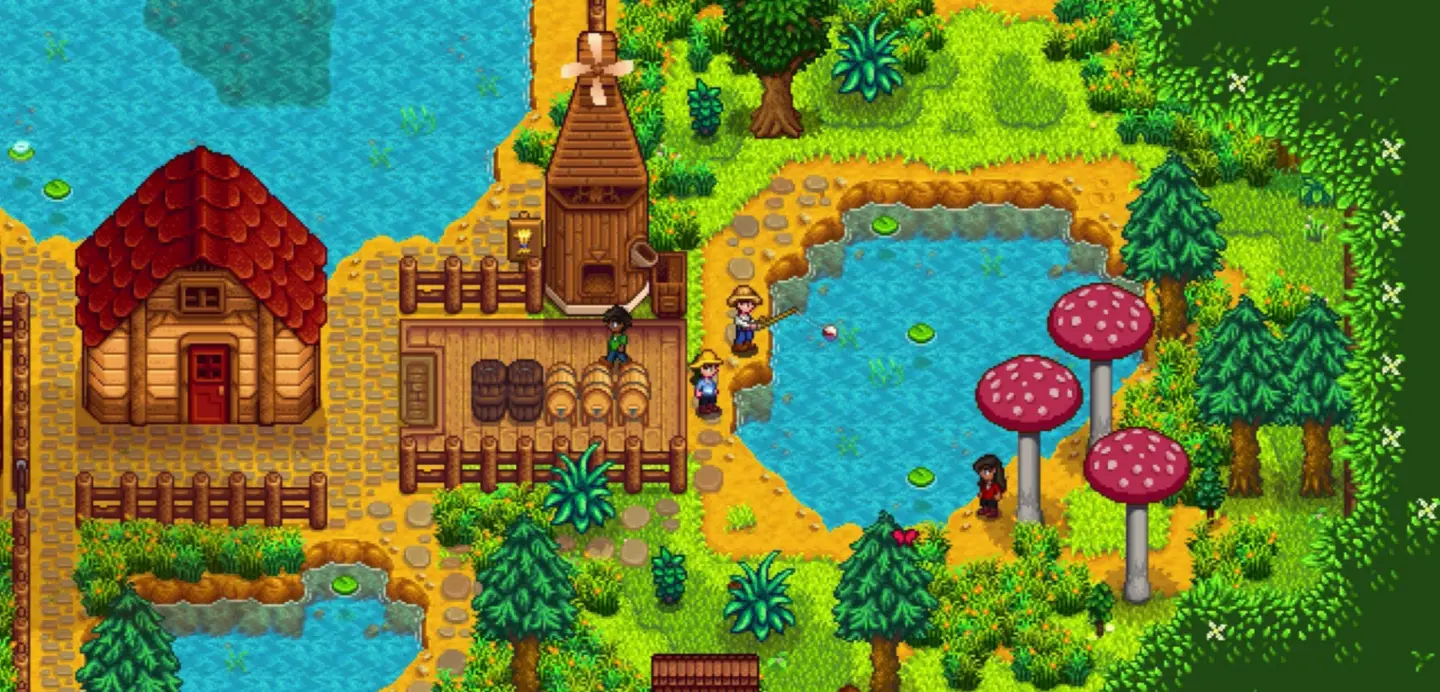 Stardew Valley
Stardew Valley Sam Gift Guide: Loves, Likes, Hates, and Heart Events
While walking around Pelican Town in Stardew Valley, you may bump into a blonde-haired guy wearing a blue shirt. That NPC is Sam, and he's one of the game's limited NPCs that you can befriend and even marry. But first, you must build your friendship level with him, and a great way to do it is with gifts. So, continue reading this Stardew Valley gift guide to reach any of the many Heart Events that give a deeper look at Sam as a character.
Sam: The Musician

Sam is your friendly neighborhood musician, brimming with youthful vigor. He plays
guitar
and
drums
but also dreams of starting a band with his friend
Sebastian
. But you can also find him riding his skateboard or playing video games. You can visit him at his house at
1 Willow Lane
, in the southern part of Pelican Town. He also lives with his mother,
Jodi
, and younger brother
Vincent
. His father,
Kent
, also returns to the household after
Spring 2
.
Preferred Gifts
Like
other NPCs
you can befriend in Stardew Valley, you can gift Sam up to
twice per week
. However, the game allows you to give an extra present to him on his birthday in
Summer 17
. Also, Sam reacts differently depending on the gift given to him. Based on what he says, you'll know if he loves, likes, dislikes, or even hates the presents you give him.
Love: "Aw, yea! This is my absolute favorite!"
Like: "Thanks! I really like this."
Neutral: "You got that for me? Thanks!
Dislike: "Hmm… this is… interesting."
Hate: "You really don't get it, huh?"
Loved Gifts
Cactus Fruit
Maple Bar
Pizza
Tigerseye
Liked Gifts
Joja Cola
All Eggs except Void Egg
All Universal Likes except Mayonnaise, Pickles, Vegetables, and Duck Mayonnaise
Neutral Gifts
All Milk
All Universal Neutrals
All Fruit except Salmbonberry, Cactus Fruit, and Fruit Tree Fruit
Disliked Gifts
Chanterelle
Common Mushroom
Daffodil
Dandelion
Ginger
Hazelnut
Holly
Leek
Magma Cap
Morel
Purple Mushroom
Quartz
Salmonberry
Seaweed
Snow Yam
Wild Horseradish
Winter Root
All Vegetables except Hops, Wheat, and Tea Leaves
All Universal Dislikes except Coal, Tigerseye, Copper Bars, Gold Bars, Gold Ore, Iridium Bars, Iridium Ore, Iron Bars, and Refined Quartz
Hated Gifts
Coal
Copper Bar
Duck Mayonnaise
Gold Bar
Gold Ore
Iridium Bar
Iridium Ore
Iron Bar
Mayonnaise
Pickles
Refined Quartz
All Universal Hates except Seaweed and Joja Cola
Heart Events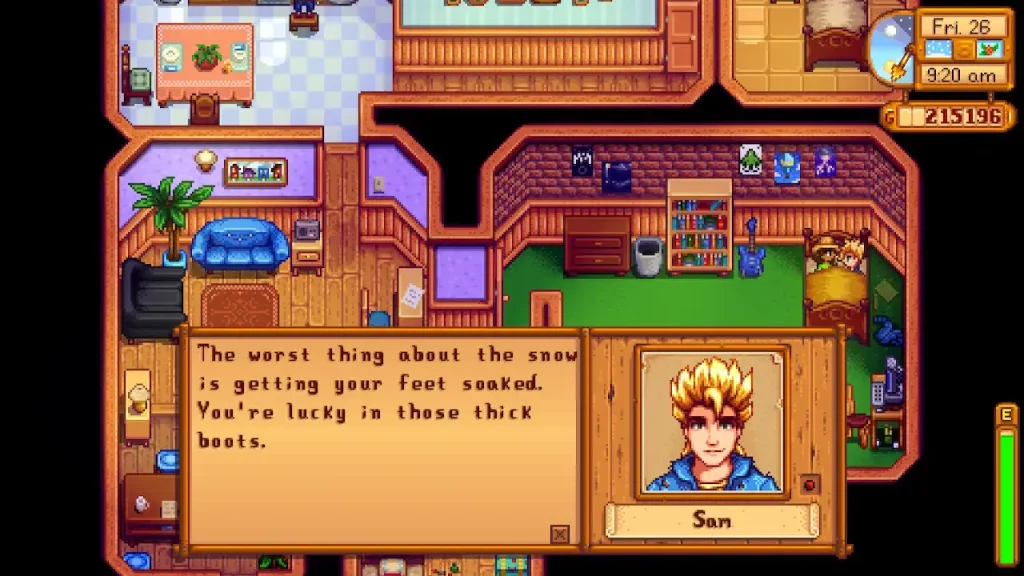 Sam isn't difficult to approach even at zero friendship level, unlike other NPCs like Haley. But if you increase your friendship level with Sam by giving him any of his favorite gift items, like other Stardew Valley NPCs, you can unlock his softer side as well. A Heart Event will play when you reach two-, three-, four-, six-, eight-, and ten-heart friendship levels with Sam. There's also a
14-heart event
, but you must
marry
Sam before seeing it.
Two-Heart Event
Go to
Sam's hous
e and enter his room when he's there. You should find him and Sebastian jamming to some tunes. Eventually, Sam will ask you about your taste in music. Select any answer that pops up on the screen, as these replies won't affect your friendship level with him.
Three-Heart Event
Head to the
beach
any day during any season except winter, anytime between 7 am and 3 pm. It should also be a sunny day to trigger the Heart Event. If successful, you'll find Sam watching his younger brother play in the sand. Eventually, he'll ask you about your opinion about his thoughts. Again, choose any on-screen option you prefer since these choices won't affect Sam's friendship level.
Warning:
This Heart Event is missable as it'll only happen on Year 1.
Four-Heart Event
Go to Sam's house when he's inside. A scene will trigger wherein he's in the kitchen. But he fumbles an egg, and his mom will hear the commotion and enter the room. This time, your answer
can affect
Sam's friendship level.
-10 friendship: "Sam dropped the snack as he was handing it to me."
+50 friendship: "Sam handed me the snack and then I dropped it."
-50 friendship: "Sam dropped it on purpose. He thought it would be funny."
Six-Heart Events
Enter
Pelican Town
any day between
12 pm and 4 pm
, as long as it's not raining. You should see Sam skateboarding, but he's also creating a public disturbance. Soon, Mayor Lewis will come and scold the young skateboarder. Then, the Mayor will turn to you to ask for your opinion. The answer you choose from the choices won't affect your friendship with Sam.
Eight-Heart Event
Exit your
farmhouse
any day between
6 am and 8 am
, and Sam should be greeting you at the doorstep. He'll invite you to see his band play. Go to the bus stop at 4 pm on the same day to leave for Zuzu City.
Warning:
You can only see Sam's band play if you triggered his Two-Heart Event.
Ten-Heart Event
Receive a letter from Sam to trigger this event. Next, enter the town any day between
8 pm and 12 am
, as long as it's
sunny
. You should see Sam outside his house; he'll confess his feelings for you as the scene plays. His mom will eventually check up on Sam, and he'll lie about the situation. Two options appear on the screen, but you can select either choice, for these won't affect your friendship with him.
---
Looking to create your own gaming server? It only takes a few minutes.
You Might Also Like
---
Join our Discord!
---
20,000+ Members & Growing!
Join our
DISCORD
Start your Stardew Valley server
Looking to create your own gaming server? It only takes a few minutes.
What do you think?
1 Response
It's Okay
Perfect
Loved it!