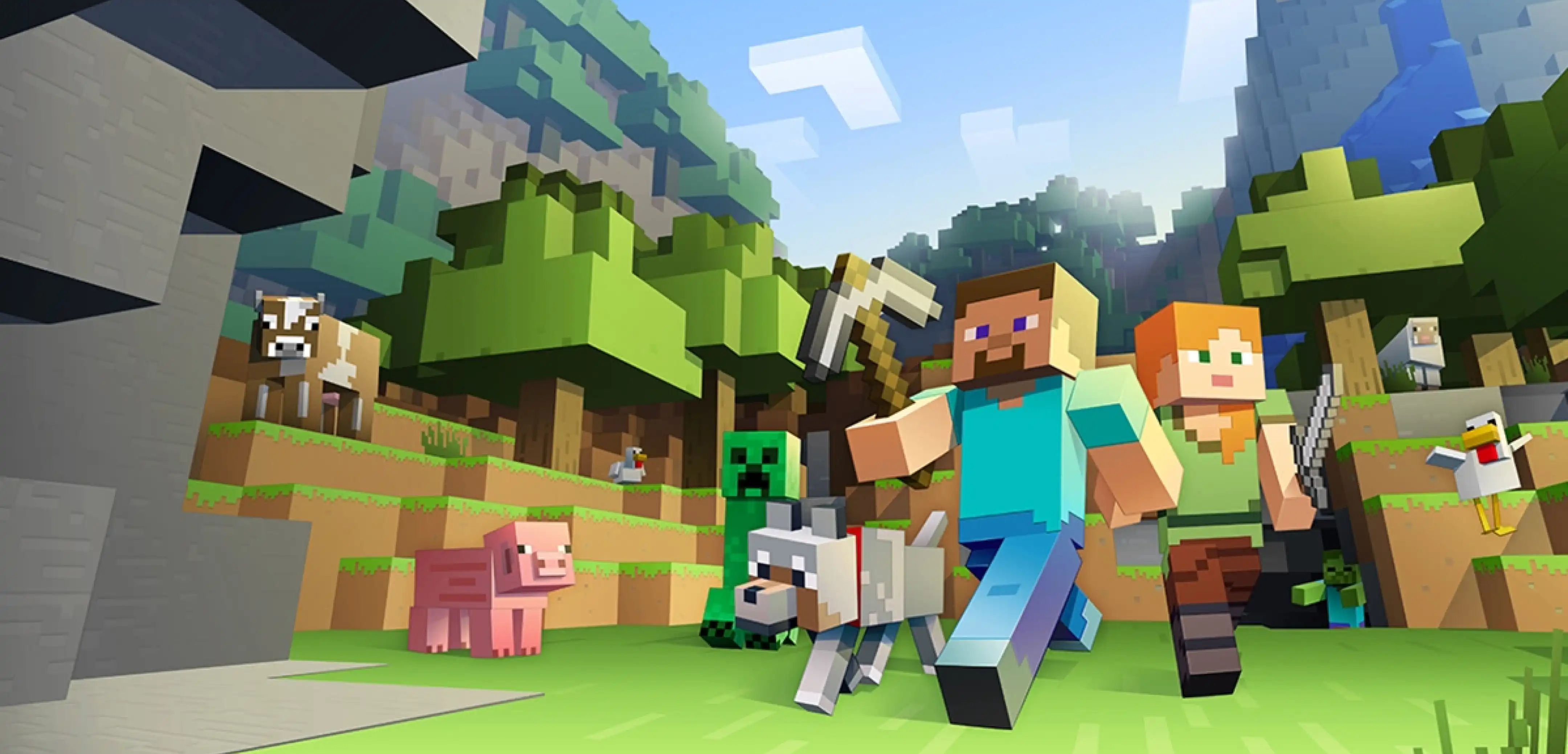 Minecraft
Is Minecraft's Magic Kingdom Worth the Cost of Admission?
In celebration of Walt Disney World's 50th anniversary, Minecraft Bedrock Edition players found themselves with quite the magical surprise! Walt Disney World's Magic Kingdom replicated entirely within Minecraft, and that wasn't all. This Minecraft theme park had functioning rides! Today we're going to Disney World to find out if Minecraft's Magic Kingdom is worth the cost of admission.
The Bundle Breakdown
The Walt Disney World Magic Kingdom Adventure costs 1340 Minecoins, amounting to $7.78 USD, and comes with 25 classic Minecraft skins alongside the Magic Kingdom Minecraft map. The special in-game merchandise often advertised with the bundle refers to custom items within the map itself, but they can not be used elsewhere.
At the time of writing, the bundle is rated 4.6 out of 5 stars on the Minecraft Marketplace with just under 5000 total reviews.
The Minecraft Skins
There are 25 classic skins included with the Magic kingdom Adventure, and I am happy to say each will make any Disney fan's day. None appear thrown together, and the effort for each is quite clear. However, as many Disney fans have favorite characters, each skin will be listed below.
Mickey Mouse Costume
Minnie Mouse Costume
Mickey Mouse Costume [50th Anniversary Edition]
Minnie Mouse Costume [50th Anniversary Edition]
Daisy Duck Costume
Donald Duck Costume
Goofy Costume
Chip Costume
Dale Costume
Eeyore Costume
Winnie The Pooh Costume
Piglet Costume
Tigger Costume
Dopey Costume
Grumpy Costume
Doc Costume
Park Guest 1
Park Guest 2
Park Guest 3
Park Guest 4
Park Guest 5
Park Guest 6
Hitchhiker Ezra Costume
Hitchhiker Gus Costume
Hitchhiker Phineas Costume
The park guest skins are various parkgoers wearing random assortments of merchandise. The rest can be traced back to their respective movies, stories, and shows. For example, the hitchhikers are the three ghosts from Haunted Mansion who you may just see within one of the park's attractions.
Minecraft's Magic Kingdom
An immediate wave of nostalgia will hit those who have been to Magic Kingdom upon entering the Minecraft world. True to shape, size, and even sound, Magic Kingdom in its entirety stands before you. Exploring every inch, I was amazed by the accuracy and details. Restaurant tables being accurate to their real-world locations one of many surprises.
The park itself uses custom textures and looks as close to the real deal as one could possibly get within the blocky game of Minecraft. Throughout the park, 28 characters will happily offer their signatures, but to preserve the surprise, I will not list them. Collecting all 28 signatures rewards a wallpaper, and finding them was a fun adventure in and of itself.
But now we have arrived at the main attraction! Minecraft's Magic Kingdom offers 21 attractions faithfully recreated within Minecraft. Small World matches the ride time down to the second, Buzz Lightyear's Space Ranger Spin is fully playable with accurate scoring, and Haunted Mansion's line is exactly as you remember it. Everbloom Games crafted each attraction with such accuracy that they are second only to real things at Walt Disney Parks.
As not everyone's favorite attractions were recreated, I will list those that were below.
Fireworks Show at Cinderella Castle
Swiss Family Treehouse
The Magic Carpets of Aladdin
Jungle Cruise
Walt Disney's Enchanted Tiki Room
Pirates of The Caribbean
Tom Sawyer Island
Big Thunder Mountain Railroad
Country Bear Jamboree
Liberty Square Riverboat
Haunted Mansion
"it's a small world"
Peter Pan's Flight
Prince Charming Regal Carrousel
Seven Dwarfs Mine Train
Mad Tea Party
Dumbo The Flying Elephant
Tomorrowland Speedway
Space Mountain
Astro Orbiter
Buzz Lightyear's Space Ranger Spin
Finally, while exploring, players will find a variety of restaurants and gift shops that have been recreated, much like the rides. Each contains functioning shops with custom items and merchandise players can equip and carry around. As this is Minecraft, hunger still exists, so visiting a restaurant or two will be required to acquire food.
Is Minecraft's Magic Kingdom Worth the Cost of Admission?
My experience as someone who has been to Walt Disney World's Magic Kingdom was an immensely positive one. It was a nostalgic walk full of memories and amazement at the accuracy. My family had even gathered around to share the experience, each just as amazed as myself. For the price of $7.78 USD, it is absolutely worth the cost of admission, in my humble opinion, of course.
The only group I would not recommend Walt Disney World Magic Kingdom Adventure to are those who will soon be visiting in person. The Minecraft version is so accurate that it spoils the attractions!
Until Next Time,
BisectHosting =)
---
Looking to create your own gaming server? It only takes a few minutes.
You Might Also Like
---
Join our Discord!
---
20,000+ Members & Growing!
Join our
DISCORD
Start your Minecraft server
Looking to create your own gaming server? It only takes a few minutes.
What do you think?
1 Response
It's Okay
Perfect
Loved it!