DarkRPG Forge 1.19.4 Server Hosting
DarkRPG Forge is the Forge variant of the famous DarkRPG Fabric modpack. This time, play as various character classes, such as a Gunsmith, Mage, Vampire, and Vampire Hunter. Other features are also included in this Forge version, including new bosses, loot, textures, and more!
ABOUT DarkRPG Forge 1.19.4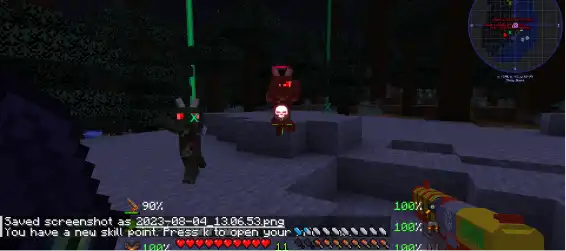 Unique Features Equal Hours of Fun
Discover new creatures. Explore cool biomes. Defeat bosses. You can even play in the Casino or spin an XP wheel!
Take on Multiple Quests
Items and XP reward players for completing quests. Each quest has unique requirements, such as slaying the powerful Ender Dragon. Can you complete all quests in DarkRPG Forge?
How To Create A DarkRPG Forge 1.19.4 Minecraft Server
Purchase A Server
Get started with a BisectHosting server. Using our Minecraft selector, we will automatically setup your server with DarkRPG Forge 1.19.4 pre-installed.
Enjoy Your Server
It really is that easy! Ever want to change modpacks? Simply pick one from our Jar Menu with over 2500+ modpacks!
AUTOMATIC INSTALLATION FOR MODS AND MODPACKS
With us, modding is made simple as you can install hundreds of mods in just a few clicks. We take the tedium out of sprucing up your game with all the latest mods and modpacks.