SkyT Server Hosting
Do you want more out of Minecraft Skyblock? SkyT is a modpack that can help satisfy those cravings. Progress with over 700 quests and take advantage of more than 280 mods in this modpack. Spend hours of fun creating and exploring, starting from a small floating island.
ABOUT SkyT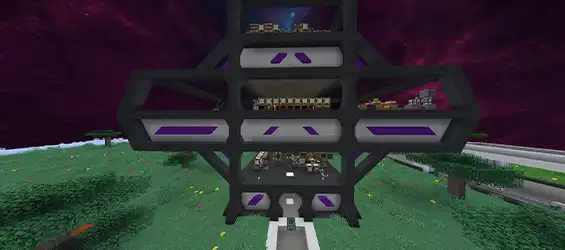 Progress Without Being Overwhelmed
SkyT doesn't overwhelm Minecraft players by unloading various quests from the get-go. Instead, progression starts with the basics. Then, players will notice a rising increase in difficulty as they progress.
Over 280 Mods at Your Disposal
Players can take advantage of many different mods with SkyT. Some notable examples include Applied Energistics 2, Powah, XNet, BumbleZone, Productive Bees, and Blood Magic.
How To Create A SkyT Minecraft Server
Purchase A Server
Get started with a BisectHosting server. Using our Minecraft selector, we will automatically setup your server with SkyT pre-installed.
Enjoy Your Server
It really is that easy! Ever want to change modpacks? Simply pick one from our Jar Menu with over 2500+ modpacks!
AUTOMATIC INSTALLATION FOR MODS AND MODPACKS
With us, modding is made simple as you can install hundreds of mods in just a few clicks. We take the tedium out of sprucing up your game with all the latest mods and modpacks.