Project Decursio Expert Mode Server Hosting
Prepare for a challenging treat as you merge technology with the arcane in Project Decursio Expert Mode. Combine a broad range of tech and magic to progress. Take advantage of various modified features from Vanilla Minecraft and rise up to become the master of this land.
ABOUT Project Decursio Expert Mode
Modified Recipes and Mechanics
The team behind Project Decursio Expert Mode took various features from Vanilla and modded Minecraft to create a unique gaming experience. For instance, horses can swim in water, and various items now have durability levels.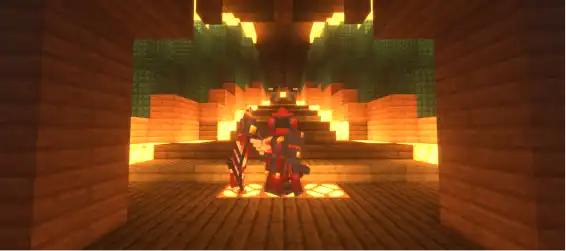 Quest Classifications
Quests in Project Decursio Mode are classified into different categories. Square quests represent tasks to progress through the main story. Diamond quests can unlock major items or mechanics. The gear, circle, and heart-shaped quests are optional but can yield useful and sometimes powerful rewards.
How To Create A Project Decursio Expert Mode Minecraft Server
Purchase A Server
Get started with a BisectHosting server. Using our Minecraft selector, we will automatically setup your server with Project Decursio Expert Mode pre-installed.
Enjoy Your Server
It really is that easy! Ever want to change modpacks? Simply pick one from our Jar Menu with over 2500+ modpacks!
AUTOMATIC INSTALLATION FOR MODS AND MODPACKS
With us, modding is made simple as you can install hundreds of mods in just a few clicks. We take the tedium out of sprucing up your game with all the latest mods and modpacks.