Chroma Technology 2 Server Hosting
Travel and explore the technological ages with Chroma Technology 2. Discover unique technologies and use custom recipes to build your technological empire. Use various mods in the modpack to gather resources and fend off dangers. Will you become the master of this unique land?
ABOUT Chroma Technology 2
Tons of Innovative Mods
Use dozens of helpful mods to fight hostile mobs, defeat fearsome dragons, and build a tech-focused kingdom in Chroma Technology 2. Some notable examples are Ars Nouveau, Blood Magic, and Elemental Craft.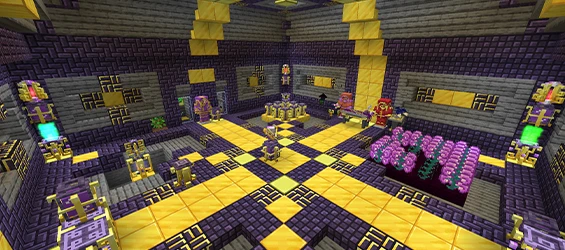 Combine Technology and Magic
Chroma Technology 2 lets players combine technological wonders with the arcane. For instance, the Ice and Fire mod enables you to take advantage of mythical wonders. On the other hand, Dark Utilities, another mod included in the pack, adds many new blocks and items to help release your deepest creative desires in Minecraft.
How To Create A Chroma Technology 2 Minecraft Server
Purchase A Server
Get started with a BisectHosting server. Using our Minecraft selector, we will automatically setup your server with Chroma Technology 2 pre-installed.
Enjoy Your Server
It really is that easy! Ever want to change modpacks? Simply pick one from our Jar Menu with over 2500+ modpacks!
AUTOMATIC INSTALLATION FOR MODS AND MODPACKS
With us, modding is made simple as you can install hundreds of mods in just a few clicks. We take the tedium out of sprucing up your game with all the latest mods and modpacks.